Winter 2006 (14.4)
Page 14

2007 Holiday Calendar
More Official Holidays This Year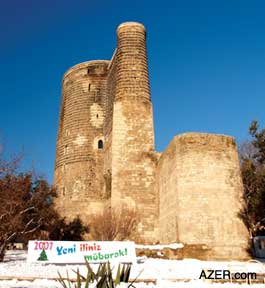 Left: Maiden Tower in Baku with snow, New Year 2007. Banner reads: "2007 New Year Congratulations!" in the colors of the Azerbaijani flag - blue, red, green.




Jan 1-2 (3-4-5)
New Year
Jan 20
Black January (1)
Feb 26
Khojali Massacre (2)
Mar 8
International Women's Day
Mar 20-21
(22-23-24/26)
Novruz Bayrami
Spring Equinox (First Day of Spring)
May 9
Victory Day (3)
May 28
Republic Day (4)
Jun 15
National Salvation Day (5)
Jun 26
Army Day (6)
Sept 18
Music Day (7)
Oct 12 (13/15)
Ramadan Holiday (8)
Oct 18
National Independence Day (9)
Nov 12
Constitution Day (10)
Nov 17
Day of National Revival (11)
Dec 20-21
Gurban Bayrami
Dec 31
Azerbaijan Solidarity Day (12)
Footnotes
1 Commemorates the victims of the tragic events of Black January (1990) when Soviet troops attacked Azerbaijani civilians in Baku. Officially 132 people died (January 20-21), but Azerbaijanis suspect that the number is drastically under-reported. See "Black January: Behind the Scenes - A Photojournalist's Perspective" by Reza with Betty Blair.

2 In 1992 the night when Armenian troops attacked the town of Khojali (population about 8,000) and killed hundreds of civilians, including women and children. The remaining townspeople tried to flee; some succeeded, some didn't. This brutal onslaught marked the beginning of the Armenian military occupation of the entire region of Nagorno-Karabakh and seven adjacent regions - more than 15 percent of Azerbaijan's territory. A final peaceful resolution has yet to be achieved between Azerbaijan and Armenia - nearly 15 years later. See "Khojali - Eyewitness Account From the Following Day" by Thomas Goltz.

3 Holiday from the Soviet period celebrating victory over Germans in World War II, which they refer to as "The Great Patriotic War".

4 Founding of the Democratic Republic of Azerbaijan (ADR), the nation's first independent government (1918-1920). Considered the most important national holiday.

5 When Parliament invited Heydar Aliyev (May 10, 1923 to December 12, 2003) to come to Baku to lead the country (1993). He then was elected President (October) and served two terms (1993-2003).

6 Commemorates the establishment of Azerbaijan's first army under the independent government of Azerbaijan Democratic Republic (1918).

7 Birthday of Uzeyir Hajibeyov (1885-1948), composer and founder of "composed music" in Azerbaijan. Not an official holiday, but this date annually marks the opening of the Theater Season. See HAJIBEYOV.com for Music Samples and oral histories and tributes.

8 Marks the end of the traditional Muslim month of fasting, known as Ramadan in English. Moveable date, based on the lunar calendar.

9 When Azerbaijan declared its independence from the Soviet Union (1991). The USSR officially collapsed on December 8, 1991.

10 When the new Constitution, Azerbaijan's fourth, was ratified under President Heydar Aliyev (1995).

11 When the first demonstrations broke out in Azerbaijan against Moscow's policies as they related to Nagorno-Karabakh (1988).

12 When Azerbaijanis broke down the barriers (during the Soviet period in 1989) along the border that separates them (North Azerbaijan) from (South Azerbaijan) Iran. An estimated 25-30 million Azerbaijanis live in Iran today. This holiday is intended to foster friendship and solidarity among the Azerbaijani Diaspora throughout the world.
Notes
1. (Dates inside parenthesis) indicate extension of official holidays this year.
2. Dates shown with slash (/) such as March 24/26 mean that because the original date (24) falls on the weekend, that 26 (Monday) is also granted as a holiday.

____
Back to Index AI 14.4 (Winter 2006)

AI Home | Search | Magazine Choice | Topics | AI Store | Contact us

Other Web sites created by Azerbaijan International
AZgallery.org | AZERI.org | HAJIBEYOV.com