Autumn 2002 (10.3)
Pages 56-59

Center Stage
My Life as Azerbaijan's First Ballerina
by Gamar Almaszade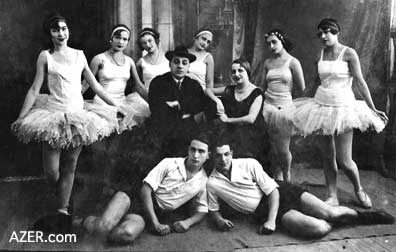 Above: Students at the Kivorkov Ballet Studio in Baku. Gamar is at left. Photo: April 2, 1929.

When Gamar Almaszade (1915- ) was a young girl, the very idea of becoming a ballerina was scandalous. "Good girls" did not perform in public, much less expose their legs. In fact, Gamar was just three years old when opera singer Shovkat Mammadova became the first Azerbaijani woman to ever perform in public without wearing a chador, or veil. (She was unceremoniously run off the stage.)

Despite her father's objections, Gamar persisted in her ballet training and became Azerbaijan's first world-class ballerina. In 1940, at age 25, she performed the lead role in the premiere of Azerbaijan's first ballet, "Maiden's Tower" (Giz Galasi). The ballet was composed specifically for Gamar by her husband, Afrasiyab Badalbeyli (1907-1976). Now, at age 87, Gamar reflects on her career and the important role she played in bringing about the birth of Azerbaijani ballet.
______
When I was 10 years old, I had a Russian friend named Shura Stepanova who was taking ballet classes. At that time, there was no ballet school in Baku, only the private Kivorkov Ballet Studio, which opened in 1923. Each time Shura returned from class, she would show me the new ballet moves that her teachers had taught her. I was so jealous; I would wait impatiently for her to come and show me what she had learned.

Eventually, I got up the courage to go to the studio myself, but without letting my family know. When I went to register, the instructors asked my name. "Almaszade" I told them. They were shocked. Never before had an Azerbaijani girl studied ballet with them. The admission fee was six manats, but I had only managed to save up five manats. The teachers sensed my passion to learn ballet, so they let me enroll anyway.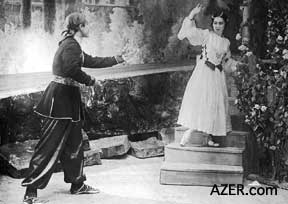 For a long time, only my mother knew about my ballet training. She supported me and kept my secret. My father, a shoemaker, didn't know about my lessons; he thought I was participating in sports.

Left: Gamar, performing the leading role in Azerbaijan's first ballet, "The Maiden's Tower" by Afrasiyab Badalbeyli, Gamar's husband. 1940.

In 1926, the students of our ballet studio performed Leo Delibes' "Coppelia" at the Opera Theater. At the beginning of the second act, the curtain rose to reveal a stage full of dolls that had been made by Dr. Coppelius. I was among them. The audience hushed. Suddenly, a child in the audience started yelling: "Mom, mom! Look! That's Gamar!" Then a doll dressed in a beautiful pink dress-namely me-suddenly started to move to the edge of the stage to comfort my brother Anvar. Eventually, I moved back to my assigned position and turned back into a lifeless doll again. That wasn't the end, however. Though many in the audience found the incident amusing, my mom and brother were immediately ushered from the hall, and I received a severe reprimand from my teachers.

Father's Disapproval
After the staging of "Coppelia", my secret was exposed. My father was shocked by the news. He could not accept the fact that his daughter was performing onstage at the theater. He became so angry that he started smashing everything in our house. I was afraid and tried to hide but he discovered me. I started running around the table in the middle of the room. My father ran after me with a stick in his hands, shouting: "Have you lost your mind? Mashadi Hajiagha's daughter is going to dance in front of men showing off her legs? What does this mean? I'll kill you!"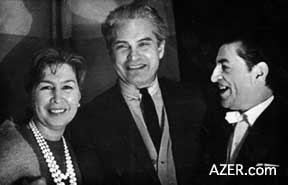 Left: Gamar Almaszade with Maestro Niyazi (right) 1970s.

My mom tried to calm him down and convince him to let me continue taking ballet classes. In the end, he agreed to let me stay at the studio, but warned me never to perform onstage again. In 1930, I graduated from the Ballet Studio and accepted a position at the Opera Theater. Following my father's advice, I also entered the Pedagogical Technical School. This time my father thought I was going to school to be a teacher; he didn't know about my work on the side at the Opera Theater.

I remember those first few years at the Theater. All of our performances turned out to be great successes. But every night after I performed onstage, I was scared to go home. I didn't want to incur my father's wrath. I knew that no matter how hard I tried to keep it a secret, sooner or later he would find out.

One night I was sitting in the makeup room. The program was just about to start. Suddenly the cloakroom attendant [woman] rushed into the room and warned me: 'Your father is in the audience!' I didn't know what to do. I knew I couldn't walk out of the program, so I pulled myself together and went onstage. After it was over, I hung around the theater for a long time before heading back home. That night my father didn't say anything to me. After that, he often came to see my performances, but never again did he say anything to me about my dancing.

My dad told me that I could do anything I wanted after I was married. So I was lucky that Afrasiyab Badalbeyli proposed to me when I was 16. Afrasiyab helped me gain recognition for my dancing. At that time, he was working as the Director of the Opera and Ballet Theater.

The great Azerbaijani composer Uzeyir Hajibeyov also played an important role in my life. He was very concerned about my future and encouraged me to go study in Russia. He inspired me to work hard.


Study in Russia
In 1932, at Hajibeyov's suggestion, I went to Moscow to get professional ballet

training, entering the ballet school of the Bolshoi Theater, where I took classes from famous ballet masters such as Leontyeva, Chekrigin and Monakhov.

The following year, Afrasiyab and I decided to go to Leningrad to continue our education. I entered the Leningrad Choreography School in Leningrad (now St. Petersburg) and took classes from Maria Romanova-Ulanova, the mother and teacher of the world-famous ballerina Galina Ulanova. Maria was fascinated by my talent. I felt that she treated me more seriously than the others. Those were the years when everybody at school called me "Almaz" [Diamond].

In 1936, the year that I graduated from the Leningrad Choreography School, I became a soloist at the newly established Opera and Ballet Theater in Baku. Hajibeyov was aware that I had received a very good education, so he created the Azerbaijani Folk Dance Ensemble of the Azerbaijan State Philharmonic and appointed me as its artistic director. I led this ensemble from 1937 to 1938.

Hajibeyov assigned this ensemble the task of collecting folk dances from all of the regions of Azerbaijan and then introducing them onstage. We organized special expeditions of musicians, composers and cameramen, and then sent them to various regions of Azerbaijan, where they collected folk dances. Those dances were later included in the repertoire of the ensemble and thus performed on a professional level.

"Maiden's Tower"
The year 1940 marked the premiere of "Maiden's Tower", the first ballet ever composed by an Azerbaijani. My husband, Afrasiyab, composed the music; I worked out the choreography and played the main role of the young girl, Gulyanag. We worked on the ballet at home between 1938 and 1940. You could say that Afrasiyab and I were the driving forces behind the creation of this Azerbaijani ballet.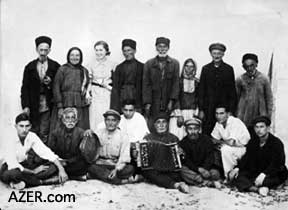 "Maiden's Tower" has always been my favorite ballet. Isn't the first child always the mother's favorite? I was so excited during its premiere. I kept running backstage after every act to sip some water. I was so excited that I could hardly breathe.

Left: Collecting and documenting folk music and folk dances in villages, 1930s and 40s.

The storyline of the ballet is based on a legend about the Maiden's Tower, Baku's most-distinguished landmark, which dates back to at least the 12th century. A poor young man falls in love with the khan's daughter, but the girl's father wants her for himself. The heroine resists her father's advances by jumping off of the tower. Actually, the ballet does not end "happily ever after", but its implicit meaning is that love may end in tragedy, but virtue always triumphs.


When the ballet was first written, the plot was specifically contrived to fit Soviet ideology, as it depicted the khan as being so abominable. This storyline was completely rewritten in 1998, however, through the urging of Afrasiyab's nephew Farhad Badalbeyli, rector of the Music Academy. He thought the details of the story didn't ring true for Azerbaijanis. Incest is such a forbidden offense in Azerbaijani and Muslim culture that there was no need for a folktale or legend to warn against it.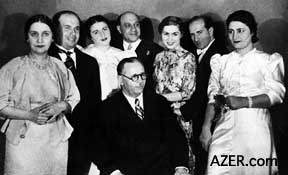 Left: Gamar in floral printed dress and colleagues with Founder of Composed Music in Azerbaijan, Uzeyir Hajibeyov.

"Maiden's Tower" is considered to be a milestone for several reasons. In nearly all other classical ballets, the plot is developed through the dancers' movements on the stage as an imitation of specific actions. But in this ballet, everything was expressed through the movement of dance instead of through pantomime. For instance, when the dancer expresses her love, she does it with her dance only; she doesn't go up and gesture to the male dancer. Love is expressed in the emotion and movement of the dancer alone - not in her interaction with the other dancers.

The first national ballets of the other former Soviet Republics were completely based on folklore. As a result, some of the plots themselves were fairly simple. The "Maiden's Tower" story is also quite straightforward.

However, the introduction is depicted as a dream and becomes the first divertissement, or interlude, in the ballet. That way, the ballet dancers have a chance to show their pure choreographic technique. This method of using divertissements is used in nearly all of the classical ballets.

When you watch "Maiden's Tower", you can sense immediately that it is an Azerbaijani ballet. One of the ballet's scenes features a wedding party with a number of traditional Azerbaijani dances. I introduced the idea of using "Azeri hands", which means the way that Azerbaijani women actually use their hands in dancing. The movement applies only to hands - not to legs. This interpretation is still being used in the ballet.

Ever since "Maiden's Tower" was restaged in 1949, my brother has been the artist for the ballet-55 years. He also designed costumes for the ballet using both national and classical elements. For instance, for the female dancers he created dresses that were short enough so that the legs could still be seen. After all, ballet is the art of the legs. These costumes also included light chiffon sleeves and tights. In the scenes depicting national dances, however, the dancers wear traditional Azerbaijani folk costumes.

Variety of Roles
I have played numerous roles during my career as a ballerina. For instance, I performed the part of Tao Hoa in "The Red Poppy" (sometimes performed in the USSR under the title "The Red Flower") by Russian composer Reinhold Gliere (first staged in 1931). This ballet is set in 1920s China. The main character, Tao Hoa, is exploited by an evil capitalist named Li Shan-fu; obviously, this plot served to support Soviet propaganda.

I also portrayed Medora in "The Corsair" by Adolph Adan (1936); Maria in "Bakhchasaray Fountain" by Asafiyev (1939); Raymonda in "Raymonda" by Alexander Glazunov (1943); Odette and Odilia in Tchaikovsky's "Swan Lake" (1945); and Masha in Tchaikovsky's "Nutcracker Suite" (1949).

In 1952, I received the USSR State Prize for my work. The following year, I started working as head balletmaster for the Azerbaijan State Opera and Ballet Theater. I staged a number of ballets there, including: "Gulshan" by Soltan Hajibeyov (1950); "Seven Beauties" by Gara Garayev (1952); Tchaikovsky's "Sleeping Beauty" (1955); "Giselle" by Adan (1961); and "Don Quixote" by Ludvig Minkus (1973).

In 1959, I was awarded one of the Soviet Union's most respected titles: People's Artist of the USSR.

Touring Abroad
Sometimes I toured outside of the Soviet Union, to countries like India, Nepal and France. Every time a group went on tour outside the country, the KGB would send along a "curator" with them. Actually, the guy who accompanied us to France was a very nice guy. I knew him well. But what could he do? He had been sent there to make sure we didn't do anything that was counter to Soviet policy.

During our 1969 tour in France, the KGB warned me not to speak with the great ballet dancer Rudolf Nureyev (1938-1993), who was there at the time. One of the most celebrated dancers of the 20th century, Nureyev had defected from the Soviet Union in 1961. But during one of the performances, Nureyev bought a ticket for the seat exactly beside mine. Who could ask him to leave his seat? It was accidental, he said. And so we got a chance to talk. After I returned from France, I wasn't sure if the KGB would arrest me or not, but they didn't.

I went on another tour in France with my group in 1974. That time, the authorities didn't let me take one of my dancers; I'm not sure why. His name was Baryshnikov. He was so disappointed. [Baryshnikov defected from the USSR that same year, during a dance tour in Toronto.]

Between 1970 and 1972, I worked in Iraq at the invitation of the Iraq Cultural Ministry. They asked me to create an Iraq Folk Dance Ensemble, a professional ensemble that could perform national dances. In the end, I managed to create a very good Dance Ensemble that went on to perform in more than 50 countries and participate in many international dance festivals.

I also worked hard to establish a Technical School of Choreography in Baku. I went to Heydar Aliyev myself to ask for this school. I also went and asked for apartments and national honors for the members of my artistic group.

Dancing has been my life. The Soviet school of ballet trained so many talented ballet dancers. I just happened to be one of them. I was very disciplined. For example, I didn't smoke like so many of the other ballet dancers did, and I tried never to be haughty or arrogant. Success seemed to come naturally for me.

Even though I basically stopped dancing in the 1960s, I still hear from fans who remember my work. It's very touching. Ballet is the art of youth. I'd like my audience to always remember me as a young girl.
To learn about the recent rewriting and restaging of Afrasiyab Badalbeyli's ballet "Maiden's Tower", see the article "Maiden's Tower Ballet: New Plot Rids Soviet Propaganda" in AI 7.4 (Winter 1999). Search at AZER.com.
____
Back to Index AI 10.3 (Autumn 2002)
AI Home | Search | Magazine Choice | Topics | AI Store | Contact us

Other Web sites created by Azerbaijan International
AZgallery.org | AZERI.org | HAJIBEYOV.com