Autumn 2001 (9.3)
Page 11
Newsmakers
Fulbright Fellow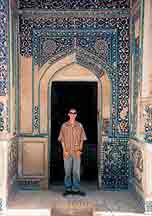 James Dasney has been selected the first-ever Fulbright Fellow to Azerbaijan. He will arrive late September 2001 in Baku where he plans to spend his first months studying Azeri and exploring the non-Azeri Turkic Diaspora living there. Dasney has already identified a Turkmen community that he would like to study. In this way, he will be building upon his experience of serving in the Peace Corps in Turkmenistan from 1996 to 1998.

While there have been Fulbright Scholars (those with Ph.D.s) in Azerbaijan in the past, Dasney is the first Fellow (a professional or student with a bachelor's, master's, JD, or ABD). He will study and conduct research, but not teach.

Dasney has already studied several Turkic languages at Indiana University's Summer Workshops, including Azeri, Turkmen and Uzbek. When asked about his reasons for choosing Azerbaijan, Dasney said, "I like the Turkic world, its languages, culture and hospitality."




______
From Azerbaijan International (9.3) Autumn 2001.
© Azerbaijan International 2001. All rights reserved.
Back to Index AI 9.3 (Autumn 2001)
AI Home | Magazine Choice | Topics | AI Store | Contact us

Other Web sites created by Azerbaijan International
AZgallery.org | AZERI.org | HAJIBEYOV.com