Spring 2001 (9.1)
Pages 74-77



SOCAR Section
Current Trends and Developments in Azerbaijan's Oil

by Valeh Alasgarov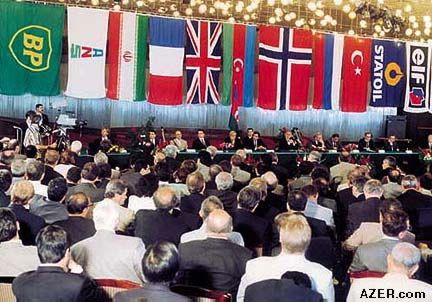 Above: The Signing Ceremony for the Shah Daniz Contract in 1996 - only one of more than 20 contracts that Valeh Alasgarov as General Manager of the Foreign Investment Division of SOCAR has been involved in negotiating.

Valeh Alasgarov has been involved in the oil and gas industry for his entire professional career - more than 30 years. He graduated from Azerbaijan's Oil Academy in 1970 with an emphasis in Petroleum Engineering. He has also studied economy and law at the Academy of National Economy.

After 15 years of experience working in the oil industry in the northern regions of the former Soviet Union, Alasgarov returned to Azerbaijan in 1985, when he was named First Deputy Manager of Azneft, a position he held from 1987 until 1991, when Azerbaijan became independent and Azneft was restructured and renamed SOCAR (State Oil Company of Azerbaijan Republic). Alasgarov now heads SOCAR's Division of Foreign Investment, which is responsible for the legislative and commercial aspects of all negotiations with foreign oil companies.

Main Export Pipeline
Originally, back in late 1994 when we signed what we like to refer to as the "Contract of the Century" for the development of the fields of Azeri, Chirag and deep-water Gunashli fields, many people were hoping that we would be able to determine the direction of the main export pipeline for our oil by 1998.

Of course, this decision is crucial to all of our oil development because we have to find a way to get our oil to market. But here it is already 2001, and a decision is just beginning to be implemented. This isn't surprising: goals are one thing; real life, another. The truth is, it would have been impossible to reach a final decision on the pipeline route by 1998 or 1999.

The proposed Baku-Tbilisi-Jeyhan pipeline will have to pass through three different countries - Azerbaijan, Georgia and Turkey - and there is no historical precedent for such a project. To complicate matters, each country has different legislative regimes, different tax codes and different customs systems. So for this project, we had to create a new regime that would work for all three countries.

Finally, the agreement between these three countries was signed in Istanbul on November 18, 1999. Preparation and signing of the Host Government Agreements followed. Later, these documents had to pass through the parliaments of each of the three respective countries. Otherwise, no investor would have taken them seriously.

Finally, after all these documents were prepared, signed, ratified and signed into law, the three countries had to present this new regime - legal regime, customs regime, tax regime - to all of the interested companies. In the case of the Azeri-Chirag-Gunashli project, eight companies had to sign this agreement.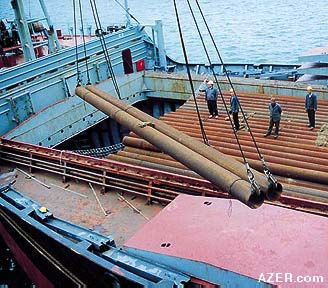 Left: The big question on everybody's mind these days relates to how to get the significant reserves of oil out of Azerbaijan to Western markets. Currently, AIOC is conducting engineering studies to examine the feasibility of the Baku-Tbilisi-Jeyhan route.

Actually, the direction for the main pipeline from Baku to Jeyhan [Turkey] has been determined, and the project is being carried out. The Basic Engineering stage has been going on since November 2000 and will end in April or May of this year. Then the 12-month Detailed Engineering stage will begin. After that is the Land Acquisition and Construction period.

According to our research and the research of the companies involved in this project, we've reached the conclusion that the Baku-Tbilisi-Jeyhan route is the most profitable one available to us. If it weren't so, the companies would not have signed such an agreement.

Finding a Market
Why this particular route? Today, tomorrow and for the next 30 to 40 years, the major markets for oil will be Europe, the United States and South America. These are the regions that have the largest demand for oil. Of course, there are also the markets of Japan, South Korea and Southeast Asia.

But it's obvious that the European market will have to import more and more of its fuel, because the amount of oil produced in Europe is beginning to decrease year by year, while the need for oil is increasing.

When it comes to the U.S. market, even if America were to begin drilling in Alaska, as President Bush has proposed, it's impossible to start producing oil there in three or five years; it will take at least 10 to 15 years. Today the United States imports 55 to 58 percent of its oil annually and produces 450 to 500 million tons. Let's say that 100 million tons of it could come from Alaska. The United States would still have to import the rest.

There's been discussion about our pipeline running south through Iran. But one must ask: how much of the oil produced in the Persian Gulf (by countries such as Iran, Iraq and Saudi Arabia) goes east? Sixty percent. And 40 percent of it goes to Europe and North America. So even if we would take our oil in that direction, there's no one waiting for us in the Eastern market. We could try to penetrate that market by competing with the companies and countries producing oil in the Gulf. We could do this by lowering the price. But if we did this, could we really compete with them?

Not really, because they produce their oil in the Gulf, whereas we produce ours in the Caspian Sea and have to transport it to the Gulf, which requires transportation fees for the 1,500- to 1,700-kilometer journey. So, we simply wouldn't be able to compete with them. So we're left to direct our oil to the European and American market. If that's the case, then why should we take a route through Iran instead of one that is closer to our final destination?

The market now is in Europe and America. By going through Jeyhan, it would be both profitable and feasible for us to access any place in Europe and America via large tankers. But were we to head to the Gulf, we wouldn't be able to do anything there because that market has already been captured, and we wouldn't be able to compete in it.

Status of the Caspian
It's been more than a decade now that the issue referred to as "the status of the Caspian" has been under discussion. When the Soviet Union still existed, of course, usage of the Caspian sea and its bottom was controlled by only two countries - the Soviet Union and Iran. And this delineation was determined by where each respective country bordered the sea. But since the breakup of the Soviet Union, we now have five independent countries that make claims to the resources of the Caspian - Russia, Iran, Kazakhstan, Turkmenistan and us, Azerbaijan.

I should mention that from the very beginning of our discussions, Azerbaijan's position has been to resolve this problem according to international norms and experience. This means that the Caspian Sea should be divided into sectors according to the median line, and each country should work freely in its own respective sector. These days, both Russia and Kazakhstan have joined us in this position.

This problem can't be solved otherwise. You must either solve it according to international experience, or you have to start fighting over these borders. And that's not possible. Nor can we divide the Caspian into five equal parts - as Iran is insisting - because you have to consider the boundaries of the shore of each respective country. So the median line has been found, and boundaries have been drawn accordingly.

But Iran - which has not found as many deposits in the sea as some of the other countries have - wants the sea to be divided into five equal portions. The question is, why didn't Iran insist on dividing the Caspian in such a way during the Soviet period? If it really believed in this principle, why did Iran agree to the Astara-Hasangulu (Astara-Gasankuli) line, which divided the Caspian between the Soviet Union and Iran according to the way each country borders the Caspian? Why didn't Iran make such a proposal back then? Neither the government before the Iranian Revolution, nor the government that has followed ever says anything about this. Why, all of a sudden, do they insist on this principle called "condominium"? If this were a legal principle, they should have brought it up during the Soviet period. But they didn't. But our principle has a legal basis, and those who want to solve this problem will eventually agree to it.

Turkmenistan's position is close to Iran's. But Turkmenistan should consider that if it were to agree to Iran's position, half of the Caspian sector that it could lay claim to would have to be passed over to Iran. And there would be much less left for Turkmenistan.

Gas Exports
There's another development in our country that is beginning to emerge these past couple of years. It's that we are becoming a gas producing and exporting country. Up until now, Azerbaijan has perceived itself as being mainly an oil-producing country, and others have viewed it in that context as well. But now Azerbaijan should also be viewed as a gas-producing country.

The discovery of the Shah Daniz gas condensate deposit, which equals world standards in its size, indicates that Azerbaijan will be able to export 25 billion cubic meters of gas annually. And this only takes into account the resources available from Shah Daniz. We're also convinced that new deposits of oil and gas will become evident in projects where exploration is now being conducted. At the very least, we estimate that Azerbaijan will be able to export 60 to 70 billion cubic meters of gas per year.

So we must begin to think of ourselves in terms of becoming a gas-exporting country as well. This gas can go to Turkey, Iran and other countries. It just depends on the conditions and terms. We're currently carrying on talks with Turkey, and if everything goes well, we'll sign contracts and begin exporting there. [The much sought-after contract was signed on March 12, 2001, after Mr. Alasgarov had written this article.] If we sign these contracts in the next one or two months, gas could be exported to Turkey beginning in 2004.

Iran is also very interested in buying gas from Azerbaijan from Shah Daniz. If we reach an agreement, we could also export gas there. A gas pipeline already exists between Iran and Azerbaijan. It doesn't work now, but it could be repaired, or a new one could be constructed. The distance is only about 300 kilometers. Maybe someday we'll export gas to Russia, too, as there's a great need for gas there as well.

So this is a new page in Azerbaijan's history as a gas exporter. It's very important. I believe that someday Azerbaijan will export gas not only to Iran, Turkey and Georgia, but also to Europe.
When it comes to oil-producing countries east of the Caspian, such as Kazakhstan, I believe that some of its oil will join our Baku-Tbilisi-Jeyhan line, and that gas from some of these other countries will also join our gas pipelines. I believe this because it can be justified economically.

The Bosphorus
Nor would there be a Bosphorus problem if the Central Asian countries joined the Baku-Jeyhan pipeline. If you look at the map, the shortest route to international waters is through Azerbaijan and Georgia and then the Black Sea. But then you have to face the Bosphorus Straits in Turkey, which poses a severe environmental hazard simply because of the volumes of oil that would have to pass through these straits.

Let's say that Azerbaijan tried to export 50 million tons of oil through the Bosphorus, and Kazakhstan added 60 to 70 million tons each year. Then take into consideration that 60 to 65 million tons are already being shipped through this route. That would bring the total oil shipments to 170 to 180 million tons annually. Where would it go? Where could it be sold? You wouldn't be able to sell it in the Black Sea region because even the oil that is being transported there today can't be marketed. So the best strategy is to direct the oil to the Mediterranean Sea, not the Bosphorus.

The Bosphorus can't handle much more than it already does - 65 to 70 million tons of oil per year. So why should they take such serious risks in this environmentally sensitive region? Besides, tankers that are larger than 150,000 tons can't pass through these narrow and treacherous straits. If you want to use large tankers for longer hauls, you have to go to the Mediterranean.

But if we route the oil to Jeyhan, we can use tankers that have the capacity of 250,000 to 500,000 tons of dead weight, which can then be routed profitably to Europe and beyond, even to the United States. So that's just another reason why the Jeyhan route is the most profitable in the long run.

Western Companies
We have a good working relationship with foreign oil-industry companies here. They know that we have great potential here. Over the years, we're seeing foreign companies beginning to replace their own foreign personnel with Azerbaijanis.

In fact, the number of Azerbaijani professionals in foreign companies is increasing by the day. SOCAR's intention from the beginning when we signed the contracts with the foreign oil companies was for them to eventually hire a large ratio of Azerbaijanis.

The aim is to eventually fill the higher positions, now held by foreigners, with Azerbaijanis. For example, say that today there are 100 foreigners working for BP; tomorrow, let it be five. We're simply working according to contract, and that's been our aim from the very beginning - to create more jobs for our own people.

This arrangement works well for the foreign companies, too; they agree to it. Consider how much time and money it takes for a foreigner to adjust to the unfamiliar conditions, psychology and culture here. But Azerbaijanis are already used to this situation.

Today, there's no difference in the quality of work carried out by foreigners or by Azerbaijanis. For instance, Rashid Javanshir is President of BP's operating companies for Shah Daniz, Inam and Araz-Alov. Namig Abbasov works in AIOC and operates all of the export matters concerning the northern (Russian) and western (Georgian) pipelines.

There are other Azerbaijanis who are vice presidents and heads of departments. Azerbaijanis are working and developing, and in the process, they are being chosen for higher positions based on the quality of their work. According to our contracts, someday 100 percent of the workers and 95 percent of the professionals working in these companies will be Azerbaijani nationals.

Future Reserves
Another concern that some people have expressed about the future relates to the amount of reserves that we have in our fields. Some wonder what will happen when the oil contracts with foreign companies run out in 30 years. Let me say this. Azerbaijan's oil and gas reserves are so rich that they will continue to meet our needs for some 70 to 80 years. In fact, we currently have enough oil and gas to meet our own needs and to be able to export for, perhaps, as long as 100 years. It's for this reason that I'm convinced we have many reasons to be optimistic about our future.

_____
From Azerbaijan International (9.1) Spring 2001.
© Azerbaijan International 2001. All rights reserved.

Back to Index AI 9.1 (Spring 2001)
AI Home | Magazine Choice | Topics | Store | Contact us