Reader's Forum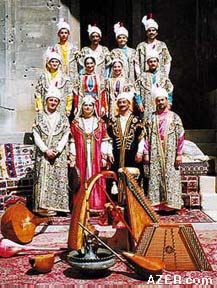 Left: The National Ensemble of Ancient Traditional Musical Instruments in front of the Shirvanshah Palace in Baku's Inner City. Majnun Karimov, who directs the ensemble, has reconstructed eight of these early instruments. Left: Barbat.














Barbat - World Treasure! - J. Miura Hardy - Phoenixville, Pennsylvania

Pre-Soviet Roots - Clement Hadjibailly - Ile D'Yeu, France
Sociolinguistically Speaking - Hafiz Gayibov - Saitama, Japan
Azeri As a Hobby - Demir Goknel - Rio de Janeiro, Brazil

Azeri Grammar - Is There One? - Joe Altnether - Chandler, Arizona

Our Global World - Vusal T. Khanlarov - Saratoga Springs, New York

Where's Azerbaijan? Now We Know - Katie Mullins - Russellville, Arkansas

Issues of Law - Kris Anne Hall - Gainesville, Florida

Do Something Real - Fariz Ismayilzade - St. Louis, Missouri


From Azerbaijan International (9.1) Spring 2001.
© Azerbaijan International 2001. All rights reserved.
Back to Index AI 9.1 (Spring 2001)
AI Home | Magazine Choice | Topics | Store | Contact us