Spring 2001 (9.1)
Pages 82-83



Petroleum Section
LUKoil

Putin's Visit and the Zigh-Hovsan Contract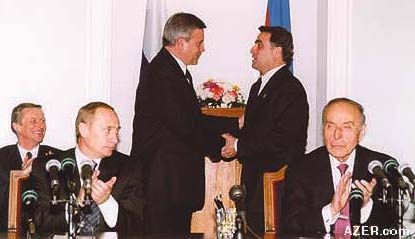 Above: When Russian President Vladimir Putin was in Baku in January, LUKoil and SOCAR signed an update agreement for the Zigh-Hovsan project. Left to right (front row sitting): President Putin and Azerbaijan's President Heydar Aliyev. Standing: Vahid Alakbarov, LUKoil's President with Natig Aliyev, SOCAR's President.

On January 9, 2001, LUKoil signed an updated agreement on the Zigh-Hovsan oilfields for the prospecting, exploration and partition of extraction in shares. The original contract was signed on June 5, 2000. The signing ceremony was held in Baku in the presence of Heydar Aliyev, President of Azerbaijan, and Vladimir Putin, President of Russia. Vahid Alakbarov, President of LUKoil, and Natig Aliyev, President of SOCAR, were present to sign the contract. The total number of contracts that Azerbaijan has signed now with foreign oil companies is 21.

The Zigh oilfield was opened in 1935 and began operating in 1936. The depth of the productive horizons in Zigh range from 1,700 to 2,700 meters. The Hovsan oilfield was opened and started operating in 1948; its productive horizons lie deep at 3,700 to 4,300 meters. According to seismic research, the residual extracted reserves of oil in the Zigh-Hovsan block consist of about 25 million tons.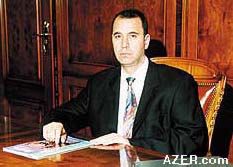 Left: Fikrat Aliyev, General Director of LUKoil in Azerbaijan.

The highest priority for this project will be to rehabilitate existing wells, modernize the infrastructure and take care of the ecological concerns. Then two additional oil wells will be drilled in the Zigh and Hovsan contract areas. Following analysis and interpretation of the data, the full-scale program of rehabilitation and further exploitation of the oil fields will be worked out. General investments for this initial step of the realization of the Zigh-Hovsan project exceed $200 million.

LUKoil expects that if it succeeds with the Zigh and Hovsan oilfields, the level of extraction of oil in Azerbaijan will be raised and result in an increase for the Republic's oil-processing plants. LUKoil is a vertically integrated company, meaning that it is involved with the oil process from beginning of the extraction process to its refining and distribution and sales. With the Zigh-Hovsan project, LUKoil has plans to carry out the entire process in Azerbaijan.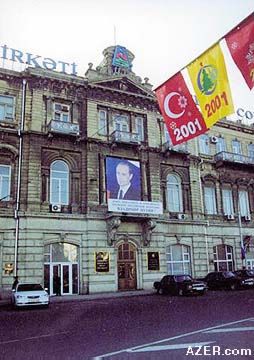 Left: To commemorate Vladimir Putin's first visit to Azerbaijan in January, a portrait of the Russian President was displayed on the SOCAR building.

LUKoil has developed a network of petrol stations in Azerbaijan and intends to expand that number by 15 or 20 in the near future. The volume of fuel needed for these stations annually will be comparable to 120,000 tons of oil products (benzene, kerosene and diesel oil) each year, the capacity of LUKoil's re-loading terminal in the Khatai District, which was opened in January 2000.

These new arrangements mean that LUKoil will not have to process oil outside of the country and import it for use in its petrol stations. Instead, the oil will be extracted from the Zigh and Hovsan oil fields, and then refined and consumed directly in Azerbaijan, which of course works to the benefit of both producer and consumer.

LUKoil is also involved with three other significant oil contracts in Azerbaijan. It owns a 10% share in the Azeri, Chirag and deep-water Gunashli project, 10% in Shah Daniz, which has just been identified as extremely promising in gas deposits, and 60% (as LUKAgip) in the development of the Yalama (D-222) prospective.


_____
From Azerbaijan International (9.1) Spring 2001.
© Azerbaijan International 2001. All rights reserved.

Back to Index AI 9.1 (Spring 2001)
AI Home | Magazine Choice | Topics | Store | Contact us