Spring 2001 (9.1)
Pages 25-27
Resolving Nagorno-Karabakh
Can It Be Done?

by Yoko Hirose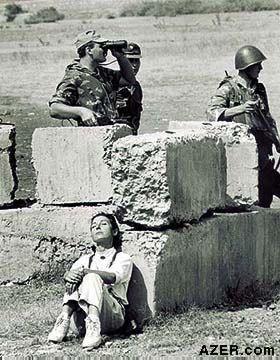 Ms. Yoko Hirose (Master of Law), a graduate student in the University of Tokyo's doctoral program, was among the first four recipients of a newly established grant - the Akino Memorial Research Project on Central Asia from the United Nations University (UNU) in Japan.

Photo: In May 1994, a ceasefire was signed between Armenia and Azerbaijan. But each year, hundreds of casualties still result.

The first fellowships were awarded in 1999. This past year (February 2000 to March 2001), Yoko lived in Baku conducting research on the topic of "The Nagorno-Karabakh Conflict: In Search of a Peaceful Settlement of Ethnic Conflict in the Former USSR".

In April 2001, she returned to Tokyo for her new responsibilities as Research Fellow for the Japan Society for the Promotion of Science, Graduate School of Law and Politics at the University of Tokyo. Here Yoko shares her insights into the conflict between Azerbaijan and Armenia and what she thinks are the prospects for reaching a peace settlement.

This past year, I have been living in Baku and conducting research about the Nagorno-Karabakh conflict. It's been so valuable to interview scholars, journalists, politicians, diplomats, refugees and students about their opinions related to the conflict, from both the Azerbaijani and Armenian sides.

Azerbaijan's Stand
The Azerbaijani explanation of the conflict is basically as follows: They consider Nagorno-Karabakh as part of their motherland, the birthplace of brilliant artists, poets and composers. Now it has fallen prey to Armenian nationalism; many Azerbaijanis have been killed but the remainder have been driven out of the region - their homeland. They consider their ancestors to be Caucasian Albanians, who were the aboriginal inhabitants of the region.

Azerbaijanis say that historical documents prove that Armenians were transplanted en masse to the region quite recently - only 2.5 to 3 centuries ago.

Azerbaijanis believe Armenians have no legitimate right to insist on independence or in uniting Nagorno-Karabakh directly to Armenia itself. However, Azerbaijanis are willing to allow some autonomy, especially in the use of the Armenian language - not only officially, educationally and culturally - but also in mass media.

Azerbaijanis told me that they used to get along well with Armenians as neighbors. Proof of that reality is the considerable number of couples who intermarried (usually Azerbaijani men with Armenian women). But then this problem of land acquisition began to erupt just as the Soviet Union was collapsing (late 1980s). Of course, roots go back to the early decades of this century, even before the Soviets took power. Many Azerbaijanis told me how Armenians who had been living in Azerbaijan had suddenly disappeared without even saying goodbye [1988-1991], even those who had been their closest friends. Even now, many Azerbaijanis cannot comprehend how attitudes changed so quickly and became so hostile.

Another important factor that duly affects the developments related to war and its peaceful resolution center on the events that took place in Sumgayit. Mystery and rumors still shroud the events that took place there on February 28-29 in 1988, when 26 Armenians were killed (along with 6 Azerbaijanis and 1 Lezgin), according to the official count.

However, this doesn't stop the Armenians from using the outbreak of violence in Sumgayit as their rationale for attacking and seizing Nagorno-Karabakh. However, the Azerbaijanis posit that the Sumgayit incidents were masterminded and instigated, not by Azerbaijanis, but in a well-calculated plan carried out by the KGB and Armenian terrorists.

While the KGB involvement will never be possible to prove, the Armenian involvement is known - as the Armenian perpetrator and murderer has actually been named - Grigoryan. They also believe that President Gorbachev turned a blind eye or even helped to facilitate the turmoil. More important from the Azerbaijani point of view is that these events were triggered and clearly linked to the murder of two Azeri youth (Bakhtiyar Uliyev, 16, and Ali Hajiyev, 23) by Armenians in Nagorno-Karabakh on February 24, 1988-assasinations that preceded the Sumgayit tragedy.

Regardless of how or why the attacks started in Sumgayit, Azerbaijanis insist that most of them did not participate in these unfortunate events, and that many of them even protected Armenians instead. Had they not done so, they say that the Armenian casualties would have been much higher. Azerbaijanis are angered that Armenians use this situation as propaganda (often referring to it as "pogroms" or "genocide") to rationalize and gain international sympathy for their attacks on Nagorno-Karabakh.

Many people in Baku said that they don't hate Armenians as people; they want to build good relations with them, if possible. However, they disagree with the actions of the Armenian government in general. They strongly believe that Nagorno-Karabakh belongs to Azerbaijan and should remain so. Many adamantly oppose making any concessions to gain peace.

Refugees' Perspective
Azerbaijani refugees (of whom there are nearly a million) are much more emotional and unrelenting toward Armenians. They say that even though they had not shown any prejudice against Armenians before the conflict began, Armenians took their motherland away by driving them out and killing them. They believe that Armenians were motivated chiefly by selfish interests.

The Azerbaijani refugees insist that they should be allowed to return to their villages and towns in Nagorno-Karabakh and the outlying regions that presently are still under Armenian military occupation. They visualize international peacekeeping forces being stationed to guard what could potentially be a very volatile situation.

If such a peace plan were to be agreed upon, Azerbaijanis say that they would allow Armenians to use Lachin as a corridor to link the isolated enclave of Nagorno-Karabakh directly to Armenia.

Fast or Slow
The Azerbaijani newspaper Zerkalo recently conducted a poll of nearly 5,000 Azerbaijanis, asking if they thought a peace settlement would be reached within five years: 61 percent agreed, 38 percent disagreed. But my own research would indicate that most Azerbaijanis are not optimistic about a quick solution. Many people say that it will be impossible to reach a settlement soon, because the memories of the Armenian invasion are still too painful and fresh. Too many people have been killed, pushed off the land and still nearly 20 percent of Azerbaijan's territory is under occupation.

That's the Azerbaijani perspective. But I was eager to find out first-hand how the Armenians felt about the situation, so in the last two weeks of January 2001, I traveled to Armenia.

My journey was via Georgia, where I found that the youth are really proud of their country and have extremely negative feelings toward Russia and Armenia. They feel that Russia has treated Georgia very badly, especially in regard to the visa regime that has recently been imposed, the Russian military bases that are still operating in their country despite promises of closure and Russia's support for separatist regions of Abhazia and Ossetia inside Georgia.

The youth say that they won't yield to pressure from Russia and are ready for fight for their motherland. For them, the problems of Abhazia and Ossetia, both of which are at a stalemate right now, are extremely serious situations.

Georgians fear a second Karabakh on their territory and are concerned that Armenia might use military force to claim pockets of land where Armenians comprise the majority-just as they did in Azerbaijan.

Georgians also have very strong feelings against Armenians. For example, when I brought Armenian cognac to a dinner hosted by my Georgian friends, most of the guests wouldn't drink it because it had been produced by "the enemy". The Georgians are sympathetic with Azerbaijanis and hope that the Nagorno-Karabakh conflict will be settled peacefully.

Armenian Attitudes
Then I traveled on to Yerevan, where I stayed in a dormitory at the University of Yerevan and talked with many Armenian youth. I was shocked by the hateful attitudes that I found in Armenia.

From childhood, they are taught to hate Azerbaijanis and Turks (these two nations are the same in their minds). I found Armenians to be very narrow-minded, nationalistic and unwilling to make compromises. I am so sorry, I came across no exceptions.

They told me that there is no need for a settlement, because Nagorno-Karabakh (and even Nakhchivan) should belong to them.

I asked them, "If Nagorno-Karabakh should be yours, then what about the six surrounding regions of Azerbaijan that are still being held as a buffer zone by Armenian military forces?" They replied that those regions should also belong to them since they won the war.

I found that many of them despised ex-president Ter-Petrossyan, describing him as "weak-kneed" because he had tried to find a way to compromise and enter into peaceful relations with Azerbaijan. Many held the current president Kocharian in high esteem because he is from Karabakh and has very strong feelings against Azerbaijan. When I tried to introduce the Azerbaijani perspective, they got very angry and insisted that I had been cheated and tried to explain the truth that they believed.

It is very regrettable situation. I think that it will be very difficult for peaceful relationships to develop in the Caucasus for a long time. It may even take a century to settle this conflict, because the ill feelings run so deep on both sides. In Japan, our older generations still have very intense feelings against the United States because of the atomic bombings of Hiroshima and Nagasaki in 1945. Japanese youth, on the other hand, appreciate and like the United States and are eager to study English.

In the Caucasus, it is the youth who will have to make peace and develop this area. I know it will really be difficult, but I hope and expect that it will eventually happen. Also, I'm convinced that another factor is essential if peace is to be established in the region. The international community must take a neutral position and earnestly seek to cooperate in its settlement. So far, this does not seem to have happened, as the major players (Russia, France and the United States as co-chairs of the Minsk Group of the OSCE - Organization for the Security and Cooperation in Europe) generally have expressed a solution that tilts in favor of Armenia.

_____
From Azerbaijan International (9.1) Spring 2001.
© Azerbaijan International 2001. All rights reserved.
Back to Index AI 9.1 (Spring 2001)
AI Home | Magazine Choice | Topics | Store | Contact us