Spring 2001 (9.1)
Pages 38-41
Setting the Style
Modeling and Fashion Design Come to Azerbaijan

by Gulnar Aydamirova and Arzu Aghayeva




Fashion design and modeling are still relatively new careers for Azerbaijanis. During the Soviet period, these two fields held limited opportunity and were not seen as prestigious; parents encouraged their children to go into the sciences instead.

Once Azerbaijan gained its independence in 1991, several women decided to turn their dreams and ideas into businesses. The first private design house, Galatea Fashion House, opened in 1994, and was followed by modeling agencies such as "Venera" and "Paris", which appeared in the late 1990s. To find out what it takes to create a new industry from scratch, we spoke to three of the major figures in Azerbaijan's fashion world: Lala Kazimova, Fakhriya Khalafova and Samira Hasanova.

_____
Baku has still a long way to go to reach the status of Paris or Milan in terms of its fashion industry. Its fashion designers don't have regular seasonal shows with supermodels strutting down the runway in the latest designs. They don't have access to the finest fabrics or even very much information about other designers' latest styles. But then again, Paris and Milan have had decades to build up their reputations; Baku has only had a few years - seven, to be exact.

Designing Women
One of the first fashion designers on the scene in Baku was Lala Kazimova, who founded Galatea Fashion House in 1994. "At first I thought of it as just a hobby," Lala says. "We wanted to do something new, so I put together a collection with Maryam Hajibeyova (now the assistant director), and our friend Narmina financed us. The name of our firm was 'Narmina'. Now when we look back, it's difficult to call it a 'collection'. Our first show was in 1994 in Ichari Shahar, at a place now called 'Mugham Club'."

Even though neither she nor Maryam had studied fashion design, Lala decided to open her own studio. She says she named it "Galatea" after a character in Greek myth: "According to the story, the sculptor Pygmalion creates a statue, Galatea, and it turns out to be so beautiful that he falls in love with her. The goddess Aphrodite brings the statue to life. I take this to mean that with love and art, you can do anything."

Lala has since hired a third designer, Gulnara Ruhullayeva, who has a degree in fashion design from Moscow Textile University. "She's actually one of the few people who have a degree in this field," Lala says. "No fashion house in Azerbaijan has a specialist with this kind of degree."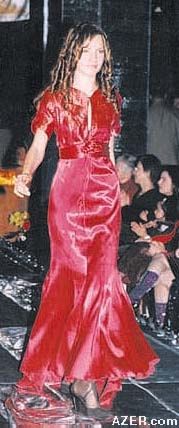 So far, Galatea is the only Azerbaijani fashion house to have given a show in France. "We went there in 1996 to show our collection during the 'Days of Azerbaijani Culture' festival," Lala says. "They liked our collection and models very much."

Now that they've finished their commission to design Azerbaijan's outfits for the Olympic Games, the three designers are currently working on a collection of classic evening dresses made with taffeta, satin and silk.

"We buy our cloth mainly from Syria, Dubai and such countries," Lala explains. "But we sometimes find some nice cloth here in Azerbaijan, too. It's a pity that the Shaki silk factory is not producing anything now."

When asked about her hopes for the future, Lala says she hopes to operate on a much larger scale: "Someday, we'd like to enlarge our fashion house, hire more dressmakers and open a boutique so that people can come and buy our clothes. Right now, we tend to design clothes only for singers or other celebrities who come in and custom order them. Our real goal is to influence Azerbaijani women in general, to help them see things as we see them. We try to influence their taste."

Freedom to Create
Another top designer, Fakhriya Khalafova, has a similar dream. After graduating from the Izmir High Special School of Art Design in Turkey, Fakhriya opened the Fakhriya Khalafova Center of Fashion and Design in Baku in 1997. Someday she hopes to open up a boutique to feature her own designs.

Fakhriya says that while finances are still difficult, she loves the freedom of her work: "I began designing after Azerbaijan gained its independence, so there were no obstacles in terms of creativity. As an independent designer, I have the right to create, develop and demonstrate my own art, style and direction."

With that attitude, plus some media savvy, she has earned her way to becoming one of the most famous fashion designers in Baku. Fakhriya was named designer of the year in 1998 by the magazine "Woman of Azerbaijan"; in 1999 and 2000, she was awarded the "Grant" prize for her contributions to new trends in design.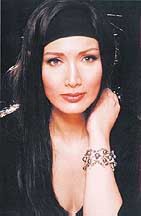 Left: Fakhriya Khalafova, one of Azerbaijan's top designers.

Fakhriya's exclusive designs are often commissioned by celebrities or exhibited to the public in "haute couture" shows that have included "Mystery" (1998) and "Oil Goddess" (1999), commemorating the fifth anniversary of Azerbaijan's "Contract of the Century".

"I've had fashion shows in Russia, Kazakhstan, Georgia, Turkey and Germany," Fakhriya says. "I love to look out into the audience during one of my shows and see the smiles of hundreds of people. Unfortunately, these shows don't happen that often."

Models-in-Training
When fashion designers began opening studios in Azerbaijan, there were no modeling agencies to speak of. If a designer wanted to do a fashion show or photo shoot, she would have to pick out pretty girls from the street and asked them to stand in as models. Admittedly, this wasn't the most professional way to work, since there no time to work with the models beforehand and train them.






"Today's designers understand that they need professional models who have been trained to walk and pose before the camera," says Samira Hasanova, who opened the Venera Modeling Agency in Baku in February 1999.

Venera differs from other agencies in Azerbaijan in that all of the training provided to the models is at no charge. "In agencies around the world, a model has to pay for services like headshots and aerobics classes," Samira says. "I teach the models myself and also hire choreographers to teach them things like how to walk."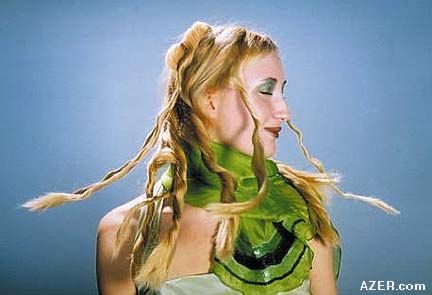 Left: Venera Modeling Agency

Needless to say, there's a lot of competition to become a model at the agency. "Girls come to our agency everyday. But out of 20 applicants or so, I usually choose only one young person to train."

Samira looks for tall, photogenic girls who are 12 or 13, and then trains them to be models. "We need new faces for the future.

I choose the girls, meet with their parents, learn their biography and see if a girl is likely to grow taller or not - you can see it from their bone structure. I have to choose girls who will be accepted as models - not only in Azerbaijan, but in other countries as well," she says.


Above: Fashion Model Narmina Zarbaliyeva demonstrates styles created by the Galatea Fashion House.

Although it's not easy to attract international interest, Azerbaijan has enjoyed some recent success. At the recent "Best Model of the World" competition held in Turkey, Azerbaijani model Sevda Aliyeva from Baku's "Paris" agency took first place among models from 70 different countries. Alakbar Aliyev, a boy model from the "Venera" agency, took first place in the "walking" category.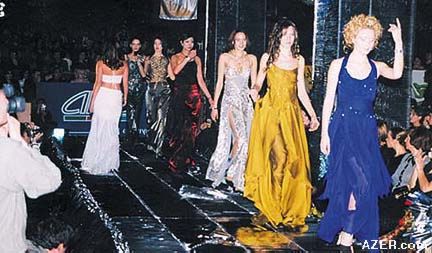 Left: Fashion and modeling have sparked new interest in Azerbaijan since independence (1991). All designs on these two pages were created by the Fakhriya Khalafova Center of Fashion and Design.

"Modeling is becoming prestigious in Baku, as it already is in the West and Moscow," Samira says. "Before, young girls wanted to grow up to be doctors or teachers; now they want to become famous models and appear in magazines and commercials."

These girls are in the right place, Samira says with a smile. "After all, some of the most beautiful girls in the world are from Azerbaijan."

_____
From Azerbaijan International (9.1) Spring 2001.
© Azerbaijan International 2001. All rights reserved.

Back to Index AI 9.1 (Spring 2001)
AI Home | Magazine Choice | Topics | Store | Contact us