Spring 2001 (9.1)
Page 58-59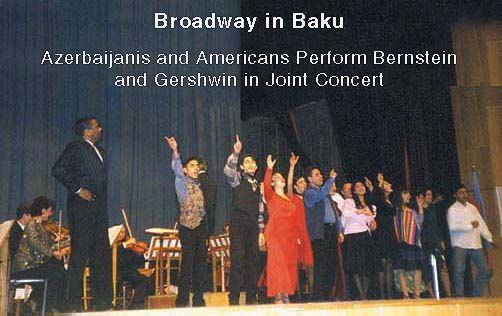 Above: Azerbaijani students of the Baku Musical Academy with Ira Spaulding perform selections from American musicals.

Baku has seen yet another musical debut: the first performance of an American Broadway musical in Azerbaijan. On February 22, 2001, Azerbaijani and American musicians teamed up to perform excerpts from two works: Leonard Bernstein's "West Side Story" and George Gershwin's "Porgy and Bess."

An audience of close to 1,000 packed the Music Academy's Opera Studio Hall to applaud this unique collaboration between artists of the two countries. The performers included 15 of the most talented singers from the Opera Studio program along with conductor David Handel and baritone Ira Spaulding. Highlights of the concert included a rousing "Mambo" by the orchestra under David Handel's strong leadership, a comical version of "It Ain't Necessarily So", featuring Ira Spaulding and the outstanding mimicry of the entire cast of singers, plus the stirring closing number, "Tonight". The concert was recorded by State TV Az1 for later rebroadcast throughout the country.

The project grew out of last year's all-Bernstein concert in Baku, which was put on by American Voices. Post-concert brainstorming between Farhad Badalbeyli, rector of Baku's Music Academy, and American Voices resulted in the idea to produce a concert version of "West Side Story" with students of the Opera Studio. American Voices, a globally active, non-governmental organization dedicated to providing quality American music, had already brought four American concerts and musical workshops to Azerbaijan.



Left: John Ferguson (left), Artistic Director and Pianist for American Voices has been bringing musical programs to Baku since 1997. Here Ferguson presents complete scores of "West Side Story," "Porgy and Bess" as well as several anthologies of American Broadway songs to Azad Aliyev of the Music Academy.

Sponsors for the joint program included the U.S. Embassy, Unocal, Chevron, ExxonMobil, Lufthansa, Radisson Hotel, Devon Energy and the ISR Group.

Anar Rahimov, the Azerbaijan project manager, says that the concert was a huge success: "The hall was completely packed. Next year, we may have an even larger turnout, as American Voices hopes to stage the entire 'West Side Story' musical."

John Ferguson, Artistic Director and pianist for American Voices, who is based in the Netherlands, explains why he wanted to bring Broadway music to Baku: "This was the first performance of an American Broadway musical in Azerbaijan. I've been to Azerbaijan many times in the past, and the subject has always come up.

Broadway and jazz are perhaps the most authentic American repertoires, and Azerbaijanis already know and love them. I thought it important to undertake a project in which, instead of having only Americans coming to perform American music in Baku, we would work together and prepare a concert of an American musical together."

During the two months before the concert, Azad Aliyev, director of Baku's Opera Studio, rehearsed the music with singers from the Opera Studio program and an orchestra drawn from the State Symphony Orchestra and the Baku Music Academy. For the last six days of intensive rehearsal, the American Voices artists helped coach the singers and orchestra in fine-tuning the selections.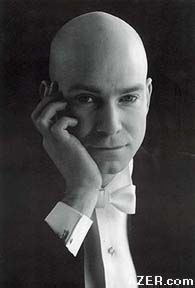 Left: Conductor David Handel who led the performers from the State Symphony Orchestra and Baku Music Academy in these two American musicals.

When asked how they managed to pull together a concert in just a few days, Ferguson says it was surprisingly easy: "Azad Aliyev was crucial in the project and in preparing the singers before we arrived. Also helpful is the fact that, over the years, they have been trained very well as opera singers and are quite enthusiastic about this kind of music. It made our work very easy. Their voices are wonderful, they act well and they are very free onstage. So we came to them primarily to help with questions of style and interpretation and with the language and various dialects used in 'West Side Story' and 'Porgy and Bess'. It was a lot of fun to work with them."

Spaulding says that he also had a positive experience working with the Azerbaijani musicians: "For me, it was the first time that I was in this part of the world. It was very nice to be able to come here and meet these students. They have wonderful voices, and they were very well prepared. They are really very, very good. I tried to give them a little bit of the flavor of American light music. It was very challenging for me to give them the feeling for American music and its diction, but it was also very rewarding, because they have such wonderful voices and were eager to try and learn what I gave them."

"It's a type of music that you don't get to hear very often here," says Farida Mammadova, who performed the part of Maria in the excerpts from "West Side Story." "It's very interesting. It's a special style, a special genre that requires a special approach. Their method of work is very interesting because it's in their blood. They brought it to us in a very 'delicious' way."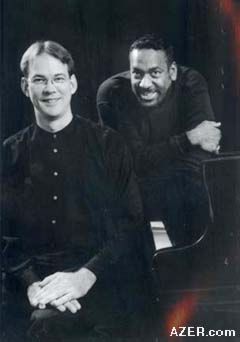 Another important part of the project was the donation of American music scores and teaching materials to the Music Academy as well as master classes for the singers. Ferguson explains: "We donated the complete scores to 'West Side Story' and 'Porgy and Bess' as well as four or five anthologies of American Broadway songs. The Music Academy now has a collection of these scores to work with and perform from in the future.

Left: John Ferguson with Baritone Ira Spaulding.

"Educational projects and educational exchange are perhaps the most important aspects of what American Voices is doing over the long term. It's first of all about providing the educational materials and musical scores for musicians here to work with in the future. Then we provide them with the experience and expertise, in language, style and interpretation."

Ferguson first brought American Voices to Baku in 1997 when he performed a piano recital entitled "Variations on America" and donated American musical scores to the Music Academy's library. Subsequent projects have included "The American Saxophone" and "Jazz from J to Z" in 1998 with CoCo York, as well as "Bernstein and Friends" in February 2000 with soprano Kathryn Magestro.

Upcoming projects in 2001 for American Voices include tours in the Balkans (Bosnia, Albania and Kosovo), Southeast Asia (Taiwan, Cambodia, Laos, Thailand and Malaysia), Russia (St. Petersburg and Archangelsk), Latin America (Venezuela, El Salvador, Panama and Brazil), the Middle East (Syria, Lebanon, Kuwait and Oman) and Japan. To find out more about American Voices, visit its Web site at www.americanvoices.org or email John Ferguson, Artistic Director, at <americanvoices@wxs.nl>.

_____
From Azerbaijan International (9.1) Spring 2001.
© Azerbaijan International 2001. All rights reserved.

Back to Index AI 9.1 (Spring 2001)
AI Home | Magazine Choice | Topics | Store | Contact us