Autumn 2000 (8.3)
Page 97
SOCAR Section
Conoco Sponsors Olympics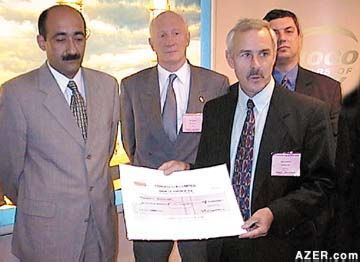 Left: Bob Lambert, Conoco's General Manager in Azerbaijan, presents a $500,000 check to Abulfas Garayev, Minister of Youth and Sports, for Azerbaijan's Olympic efforts.

Conoco has recently returned to Baku and now owns a 20 percent share in the Zafar-Mashal field. The company has donated US$500,000 to Azerbaijan's Olympic efforts; the funds are being used to provide equipment for Azerbaijan's National Olympic Committee facilities in Baku, Nakhchivan and Ganja, including electronic indicator tables, electronic wrestling tables, gymnastic apparatus, rings, a podium for barbell equipment and medical equipment for medical stations.

"Conoco's sponsorship of the National Olympic Team is an expression of the company's confidence in, and support for, Azerbaijan and its people," says Bob Lambert, Conoco's newly appointed manager in Baku. "Establishing Conoco's business in Azerbaijan is a very exciting prospect for me. I'm very grateful for the warm reception we have received from the Azerbaijani people, and we look forward to helping Azerbaijan develop its natural resources in a way that provides maximum economic, environmental and social benefits."

The decision for Conoco to get involved with the development of sports in Azerbaijan was in line with proposals made by Abulfas Garayev, Minister of Youth and Sports and Vice President of the National Olympic Committee for the Azerbaijan Republic (NOCAR) and by Ilham Aliyev, President of NOCAR.

_____

From Azerbaijan International (8.3) Autumn 2000.
© Azerbaijan International 2000. All rights reserved.
Back to Index AI 8.3 (Autumn 2000)
AI Home | Magazine Choice | Topics | Store | Contact us