Summer 2000 (8.2)
Pages 48-50
Breathing Life Back Into Art
The National Art Museum

by Ibrahim Zeynalov, Director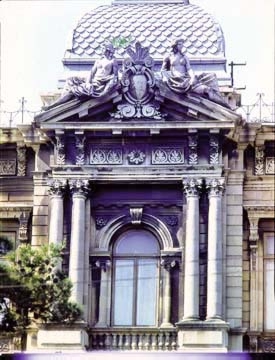 Back in 1994, when I took up the responsibilities as Director of Baku's Art Museum, frankly speaking, the museum was in a terrible condition, especially in regard to the maintenance of the buildings. It was a common problem throughout the Soviet Union. There were problems with the electricity as well as the heating system. Many of the displays had been kept in storage for years just because they were in such deteriorating condition.

Left: The Entrance Building of the National Art Museum was built as a luxurious residence for the manager of Rothschild's and completed in 1891.

Step by step, we started renovating the buildings. We brought many items out of storage and began restoration. Now some of them are being displayed in our halls.

For instance, we organized a recent exhibition for the Jubilee of one of Azerbaijan's earliest artists, Bahruz Kangarli. He was a prolific artist and we brought his many of his works out of storage and restored them. [For more information on Kangarli, see "Bahruz Kangarli (1892-1922), Azerbaijan's Most Prolific Painter," by Ziyadkhan Aliyev, in AI 7.2, Summer 1999, page 26.]

More and more people are visiting the art museum these days. Some are surprised when they come across unfamiliar exhibits. They ask, "Are these new?" Well, they're not new. We're simply starting to rediscover them and put them on display.




Photo: President Heydar Aliyev at the 80th Jubilee for the late Sattar Bahlulzade who has entire room dedicated to his works at the National Art Gallery. Photo: Blair

Historic Setting
The Art Museum named after Rustam Mustafayev is actually comprised of two buildings that stand next to each other. The first building, which serves as the entrance to the museum, houses the European collection. It was once a private residence built for De Bour, the Business Manager for Rothschild's company, the forerunner of Shell. Later Nariman Narimanov lived there. He was an Azerbaijani Bolshevik who was instrumental in bringing the Soviets to power in Azerbaijan (1920).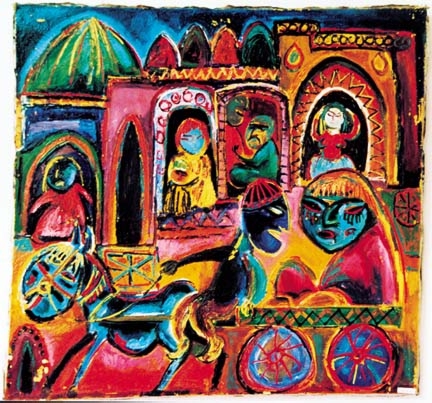 Art: Mirjavadov, mid-century. Photo: Khanlou

After then Mirjafar Baghirov took up residence. He was Secretary of the Central Committee of the Communist Party in Azerbaijan (highest position in the country) from 1933-1953. After Stalin's death, Baghirov was put on trial and sentenced to death.

The second building, located higher up Niyazi Street just below the President's Aparat (office) now houses the Azerbaijani art collection. It was originally built in 1885 by the Baku Municipality as the School of St. Mary's, a high school for Russian girls. Botov, a Russian, designed the building.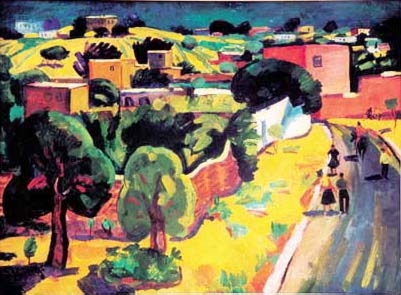 Art: Tofig Javadov, mid-century.

When the Art Museum was first established in 1936, it was located in what is now known as the Taghiyev Museum which now houses the National History collection. Next, it moved to the fifth floor of the Nizami Literature Museum. In 1952 (just prior to Stalin's death and subsequent trial and execution of Mirjafar Baghirov for "crimes against the state", the Rothschild residence was designated to be used as the Art Museum. In 1990, St. Mary's Girl School was added to the art complex.

The art museum was named after Rustam Mustafayev (1910-1940) in 1943. Mustafayev was a talented theater artist who created the opera sets for works such as Uzeyir Hajibeyov's "Leyli and Majnun" (1908) and "Koroghlu" (1937), Muslim Magomayev's "Shah Ismayil" (1931) and Zulfugar Hajibeyov's "Ashig Garib". Mustafayev is believed to have died under suspicious circumstances but these things are only coming to light now since Azerbaijan gained its independence in late 1991.

In total, there are 60 rooms in the Museum complex, with more than 3,000 items on display. Seven of the rooms in the first building feature European artists, 10 are for Russian artists; the remainder are for Iranian, Turkish and Japanese art. All 30 rooms in the second building feature the works of Azerbaijani artists.

Totally, about 12,000 items are kept in storage. If we had more space in the museum, we could exhibit many of the items there as well. We do change our exhibits periodically so that more of the works can be displayed.

European and Russian Art
The museum's collection includes works by various European artists from the 16th to 19th centuries. Featured Italian artists include: Leandro Bassano (1557-1622), Francesko Solimena (1657-1743), Giovanni Guercino (1591-1666), sculptor Lorenzo Bartolini (1777-1850) and Bartolone Skenode (1570-1615).

We have a still life from Flemish artist David Teniers the Younger (1610-1690), and for Dutch art, we have a piece by Franse Hals (1581-1666). Featured French artists from the 17th to 19th centuries include: Gaspard Dughet (1613-1675), Jules Dupre (1811-1889), Pascal Dagnan Bouveret (1852-1929) and Benjamin Constant (1845-1902). German artists include Johann Heinrich Roos (1631-1685) and Fritz August Kaulbach (1850-?).

We also have a good collection of Russian avant-garde artists. We restored all of the works belonging to this collection and have published a catalog. We organized an exhibition of Russian avant-garde artists from the beginning of the 20th century. The artists include: Lazar Lisitskiy, Aristarkh Lentulov, I. Mashkov, A. Kuprin, V. Kandinski and F. Botkin.

Our collection of works by 18th-century Russian painters includes F. S. Rokotov (1730-1808), V. L. Borovikovsly (1757-1825) and N. I. Argunov (1727-1802). Russian artists from the 19th century include: K. P. Bryullov, A. A. Ivanov, V. A. Tropinin, A.G. Venetsianov, I. I. Shishkin, S. F. Shchedrin and I. K. Aivazovsky. Some of the landscapes painted by 19th-century Russian artists depict the life and nature of the Caucasus and Azerbaijan. These paintings include "View of Baku from the Sea" (1872) by P. Vereshchagin and "Ship in Storm" by I. Aivazovsky, which used to be owned by Taghiyev.

Azerbaijani Art
The second museum building has exhibitions of Azerbaijani art. The exhibitions change. From April 28 to May 15, for example, there was an exhibition of more than 60 works from 11 young Azerbaijani artists featuring such artists as Bahram Khalilov, Ilaha Zeynalova, Emin Mammadov, Elshan Ibrahimov, Khatira Hasanzade and Javid Mammadov.

Our permanent exhibition of Azerbaijani art is organized according to the time period during which the artist lived and created. The first room features works from the 1920s, including artists like Salam Salamzade and Amir Hajiyev. Another room represents Taghi Taghiyev and his contemporaries. A third room has works by Mikail Abdullayev, Tahir Salahov and Toghrul Narimanbeyov. Sattar Bahlulzade's works fill an entire room .

There's also a section for ancient Azerbaijani art, where we display ceramics and metalwork, utensils, miniatures, needlework, national clothing and jewelry. There are pile and pile-less carpets from Karabakh, Gazakh, Shirvan and Absheron on display. There's also a special section for male and female belts and daggers. These belts were traditionally decorated with precious and semi-precious stones.

Behind the Azerbaijani building is a small yard with statues of the busts of composer Uzeyir Hajibeyov, the singer Bulbul and the poetess Natavan. These statues, now bullet-ridden, were originally on display in the town of Shusha in Karabakh which has been under Armenian military occupation since 1992. Shusha is considered the cultural heart of Azerbaijan because so many poets, writers, singers and musicians came from the area. These works of art featuring beloved personalities from Shusha were brought back to Azerbaijan from Georgia where they had been sold for scrap metal.
National Art Museum
9 Niyazi St. Tel: (99-412) 92-51-17; 92-10-85
Hours: Tuesday to Sunday, 10 a.m. to 6 p.m.,
Closed Mondays
Admission: Tourists: 10,000 manats, Residents: 5,000 manats, Students: Free

Ibrahim Zeynalov, is Director of the National Art Museum. He was interviewed by Mazahir Panahov and Farida Sadikhova. For more samples of Azerbaijani artists, visit AZgallery.org on the Web where 1,000 works from 20th century Azerbaijani artists are on display. The Site has been organized by Azerbaijan International magazine.


From Azerbaijan International (8.2) Summer 2000.
© Azerbaijan International 2000. All rights reserved.
Back to Index AI 8.2 (Summer 2000)
AI Home | Magazine Choice | Topics | Store | Contact us