Spring 2000 (8.1)
Page 87
SOCAR Section
Conoco - Back in Town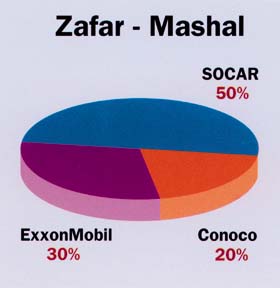 Conoco will be acquiring the remaining 20 percent interest in the Zafar-Mashal exploration block in the Azerbaijan sector of the Caspian Sea, subject to ratification by the Azerbaijan Parliament. The contract for Zafar-Mashal was originally signed between Exxon and SOCAR [State Oil Company of Azerbaijan] in the Senate Building in Washington, D.C. on April 27, 1999. It was the 18th contract that Azerbaijan signed with international oil companies. Since then, Exxon has merged to become ExxonMobil. SOCAR has a 50 percent share of the project and ExxonMobil, the operator, has 30 percent.

The deepwater offshore exploration block includes both the Zafar and Mashal prospective structures (previously known as D-9 and D-38). It is located about 75 miles (110 km) southeast of Baku in the Caspian at water depths ranging from between 1,800 feet (550 m) to 2,900 feet (900m). The block covers an area of about 250 square miles (640 sq km).

Conoco had recently closed their office in Baku in the fall of 1999 after not being able to come to agreeable terms in negotiations with SOCAR on the further development of the shallow-water Gunashli field. While in Azerbaijan, Conoco had been involved with several humanitarian and cultural projects including a rehabilitation project for children suffering from Thalassemia, a rare chronic genetic blood disorder.





From Azerbaijan International (8.1) Spring 2000.
© Azerbaijan International 2000. All rights reserved.

Back to Index AI 8.1 (Spring 2000)
AI Home | Magazine Choice | Topics | Store | Contact us