Spring 2000 (8.1)
Page 67
Publishing Azeri Latin
We Need 15 Years - At Least

by Nazim Ibrahimov, Director of Azerbaijan Publishing House




In 1986 and 1987 nearly 1,200 books were being published annually with relatively large print runs of 25,000 to 50,000 copies. Today, very few books are being printed - especially in Azeri Latin, the country's new script.

Nazim Ibrahimov has been Director of the Azerbaijan Publishing House for the past seven years. Prior to that, he served in the Cabinet of Ministers. We asked him to describe the current publishing scene and what his company is doing to foster publishing in Latin.
_____
These days we're living through a very crucial transition period in publishing. In my opinion, it's a period that requires government planning and direction. I don't mean censorship. I mean simply that the process should be very well planned and directed especially with the larger publishing houses.

Right now, less than 10 percent of new books are being published in Azeri Latin. The government could insist on 40 percent in Azeri Latin and the rest in Azeri Cyrillic. Three years from now, the ratio could be increased to 80 percent Latin. But one of our problems is that we don't have very many editors who can work with the Latin script.

Just as the Ministry of Health licenses clinics and hospitals, the government should license publishing houses and direct them as to the kinds of books they should be publishing to cover the needs of schools and institutes.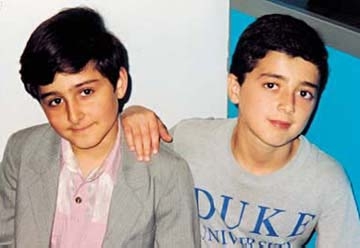 Photo: Kids who learned Azeri Latin in primary school are now almost ready to enter the university. Unfortunately, there's been so little available for them in the Latin script except a few text books. At the university, all texts are still in Cyrillic-Azeri and Russian.

If we want the younger generation to grow up to be intelligent and productive, we need to make the classics available to them in our new official Latin script. Consider that the majority of classes in our institutes and universities hardly have a single textbook and classes are based entirely on the professors' lectures. There's a big difference in the quality of instruction between lectures and textbooks. At least 50 percent of a lecture is based on the professor's personal opinion and yet students have nothing else to refer to. It's a real shame.

And the textbooks that we do have are usually outdated - 10 and 20 years old. Science and technology have changed tremendously in the last years and it's important that we reflect this progress in the books that we offer our youth.

Even if we do manage to publish the fundamental textbooks for public schools, there are few reference books and texts being published for students in Azeri Latin at the university level. The first students who learned Latin are already in the 11th grade and will soon graduate from high school. Our own generation grew up reading great thinkers such as Nizami, Fuzuli, Samad Vurghun, Pushkin, Dostoyevsky, Lermontov, Shakespeare and Dumas. But what have we published for the younger generation to read? None of these classic writers are available to them in Azeri Latin. The truth is that our youth is being deprived of fundamental education that even their parents and grandparents received.

Textbooks
Right now, we're not receiving any orders from the government for school textbooks. Three years ago, we used to publish all of them, but today it seems they are being published elsewhere. The quality is very bad as it seems they are being printed almost on newsprint. I think it's a crime. It's very bad for vision and, besides, it doesn't meet up to sanitation standards. Printing companies should not mix commerce with textbook publishing. I think it's possible to publish good quality textbooks and make money at the same time. Unfortunately, since we are not getting the textbook orders these days, we are only operating at 30 percent our capacity. Only one shift works.

In the 1980s, our publishing strategy was based on the fact that we thought that every Azerbaijani intellectual should have 180 to 200 books in his own private library. Therefore, we set out to publish 100 volumes of world literature, 20 of which were Azerbaijan's own classics.

We also prepared 50 volumes in a series called the World Children's Literature Library; 14 of these were Azeri classics. Most of the Russian classics had already been translated into Azeri so we merely had to choose which ones we wanted to publish.

Ganjlik (Youth) Publishing House did the children's volumes. At the time, many people complained that we would run into financial problems, but the opposite happened. Ganjlik became a profitable company because of that one project alone. About 50,000 sets were produced but only 32 of the 100 volumes for adults were finished while I was directing the company. The remainder has never been completed. We also published 10 volumes of the Azerbaijan Soviet Encyclopedia, make a total of about 200 books that we published.

Post-Soviet Era
With the technology available to us today, it's very easy to publish those same books in Azeri Latin as they have already been translated into Azeri; they only need to be converted to the Latin script. Even though there are about 100 other publishing houses in Baku, none of them is publishing these valuable texts. For example, nobody is publishing our poets Nizami or Fuzuli.

It used to be that Azerbaijan Publishing House only published newspapers and magazines. In 1993, we started publishing books as well. We're considered the publishing house of the President's Office, but we don't receive any aid from the government. We buy our own computers and equipment. When I first came to the publishing house in 1993, it was still part of the Cabinet of Ministers. When President Aliyev asked me to take the position, I promised to do everything I could­under one condition: only if the publishing house were made independent of the Ministry. And so, it was agreed.

When I arrived, everything was in bad condition. Machines were broken and we had collected considerable debts. Some people suggested that we apply for a government loan. But I knew that if we took credit from the government, we would become dependent upon them. Besides, I wasn't sure that we could pay back a loan as we have 400 employees.

During this difficult period, some of our customers took their book orders to Turkey or Dubai and now it's very hard to attract them back. Even though our standards are much better than in the past, people still have this perception that the quality will be better if they print abroad.

New Releases
Since so few books are available, we feel that each one that we print must be essential to society. Our press has a policy of printing very important books in both Cyrillic and Latin, although Cyrillic will gradually disappear.

For instance, Mobil [before it merged with Exxon] helped us publish the first volume of "Anthology of Oghuz Poetry of 1500 Years" in both Latin and Cyrillic. It's a large volume of 930 pages. Our printing house is the only place where you can publish such a sizable book in Azerbaijan. We also have published "The Greatness of Dada Gorgud," prepared by Elchin and a five-volume set called "The History of Azerbaijan's Oil."

We've done several literary works featuring the poet Fuzuli and other writers such as Magsud Ibrahimbeyov, Bakhtiyar Vahabzade, Zalimkhan Yagub and Mammad Araz. The Cabinet of Ministers commissioned us to publish the Azerbaijani Constitution in German, Russian, English, French and Azeri.

Encyclopedias
A few years ago we published the Encyclopedia of our great composer Uzeyir Hajibeyov and now we're working on an encyclopedia dedicated to the works of Jalil Mammadguluzade in Azeri Latin. Mammadguluzade published "Molla Nasraddin" (1906-1932) at a time when there was no such magazine in the East satirizing social conditions.

Our work is critical to the intellectual growth of our nation. If we recognize the importance of our task, and plan carefully and if this transition period is coordinated well, I think that our transition process from Azeri Cyrillic to Latin can be completed in 10 to 15 years.


From Azerbaijan International (8.1) Spring 2000.
© Azerbaijan International 2000. All rights reserved.

Back to Index AI 8.1 (Spring 2000)
AI Home | Magazine Choice | Topics | Store | Contact us