Winter 1999 (7.4)
Pages 80-81
Youth at work
Magsud Mirzayev, McDonald's Comes to Baku

by Jean Patterson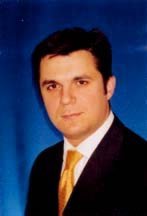 In the fast-food business, no company is more prestigious or better known worldwide than McDonald's. On average, the company opens a new restaurant somewhere in the world every day, with a grand total of more than 25,750 restaurants in 118 countries. The sun literally never sets on the Golden Arches.

Photo: Magsud Mirzayev, 1999.

When Magsud Mirzayev (Maksud, spelled through Russian) ate his first McDonald's hamburger in 1990, he had no idea it would be a life-changing experience. He had walked into the new McDonald's on Moscow's Pushkin Square. Magsud marveled at the high quality of customer service and saw the potential of bringing the restaurant franchise to Baku. Nine years later, that dream came true when he opened the first McDonald's restaurant in Azerbaijan. Here Magsud describes his struggle to bring McDonald's to Baku and his vision for the future.

Ask Magsud Mirzayev about his very first visit to McDonald's and you'll learn it was no ordinary experience for a 21-year-old from Azerbaijan. "I was surprised that it was so fast and clean, with very good service, a warm atmosphere and a friendly team serving the customers," recalls Magsud, now 30. "Everyone had a smile. And it wasn't expensive. People liked it because they got very good quality at a reasonable price."

At most restaurants in the former Soviet Union, employees received their salaries whether they served the customers or not. The staff was very slow and usually indifferent. McDonald's was quite the opposite - the employees were there to help the customers. Food was served quickly, with a smile.

Fast-forward to November 6, 1999, the grand opening of Baku's first-ever McDonald's off Fountain Square in the center of town. Azerbaijan was only the second country in the Caucasus to get a McDonald's; Georgia opened its first in February 1999. Magsud, the Managing Director, helped make it all possible.
"It wasn't so easy to organize a McDonald's in Baku," Magsud admits. "It became possible because of the strong financial support of Isgandar Khalilov (Iskender, spelled through Russian), the owner of the McDonald's Development License in Azerbaijan." Khalilov is a businessman who has invested in sites such as the ISR Plaza, Ramstores, Mr. Bricolage and The Fitness Club.

Flipping Burgers



Magsud had studied at both St. Petersburg University and Baku State University, graduating with a degree in Foreign Relations. After working for the Ministry of Foreign Affairs for a year, he realized that he wanted to participate more in Azerbaijan's economic development. Bringing McDonald's to Azerbaijan seemed like an ideal way to do just that.

Photo: Fireworks announced the opening of McDonald's in Baku on November 6, 1999.

Magsud first approached McDonald's with his idea in 1996. At the beginning of the negotiations, he thought that he would be able to open a store within three to four months. The company really liked the idea of coming to Azerbaijan, but there was a great deal of training and preparation to be done first. Magsud remembers, "The vice president told me: 'If you're going to be the Managing Director for Azerbaijan, first you have to get some experience working for McDonald's. Otherwise, we won't give you permission to open one.'"

Magsud was surprised that the process would take longer than he thought, but was prepared to go through with it. "The very next day I left Baku for my training," he says. "I didn't know how long I was going to be away. I had to leave my family, wife and two kids for nearly two years."

During his training, Magsud learned just how high McDonald's standards were. "If McDonald's decides to go anywhere, it doesn't mean that the company is coming as a trademark only," he says. "It has to bring all the operation standards, all the quality standards, all the taste standards and management standards to that country as well."

Magsud's training began at an entry-level position - cleaning floors and throwing out the garbage at a McDonald's in Belarus. Over the course of two years, he went through the positions of shift manager, assistant store manager, store manager and operations consultant. He worked for McDonald's in Belarus, Croatia, Austria, the U.K. and the Ukraine. He also visited the company's Hamburger University in Oak Brook, Illinois. After passing his last exam in London in July 1999, he was finally ready to open his own McDonald's.

Assembling a Team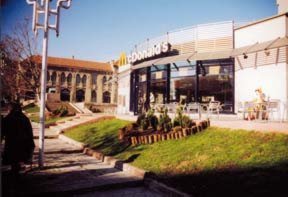 Halfway through his training, Magsud came back to Baku to recruit employees and managers for the new restaurant. Out of approximately 400 applicants, he chose ten people. Those candidates then went to the Ukraine to complete a year of training.

Photo: McDonald's first restaurant in Baku is located in the heart of the city on Fountain Square near the main library (background).

"From the very beginning I told them that everything was in their hands," Magsud recalls. "I said, 'You are the top management - the first management group from the first McDonald's team in Azerbaijan.' I told them that one among them would be chosen as the first store manager. I told them that everything depended on them." For many of the new employees, this sense of shared responsibility was a new concept. Eventually, Bela Mustafayeva was chosen as store manager.

After the first group came back to Baku, another set of future employees was sent abroad to be trained. Altogether, 50 people received training abroad. By the time the restaurant was ready to open, they had been shaped into a professional team.

Details, Details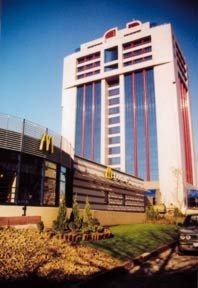 As for the design of the McDonald's building, Magsud decided to go with a modern look, with lots of steel and glass. A local Azerbaijani architect designed the exterior. The restaurant's interior was laid out according to company standards. "We wanted to design everything so that the customers would feel comfortable with their families and parents," says Magsud. "I think we achieved this. During these first two months of operation, I've been so happy to see that grandparents are not afraid to come in with their grandchildren even though they see an expensive exterior and interior."

Photo: McDonald's is in the shadow of the ISR Plaza.

Getting the food to meet McDonald's standards has taken a lot of effort. Since a hamburger must taste the same in Baku as it does in Paris or New York, each ingredient has to be approved by a central McDonald's office. In many cases, products have to be imported from McDonald's suppliers in other countries. For example, the hamburger buns come from a bun factory in Georgia; the lettuce, from Turkey.

Magsud hopes that one day most of the ingredients will be produced in Azerbaijan. "Last year we started growing our own lettuce," he says. "Each product that will be produced in Baku has to be approved in Frankfurt in a McDonald's laboratory. The lettuce must taste absolutely the same, no matter where it's grown." The company imported seeds and used fertilizer to try to get the exact quality of soil necessary to grow McDonald's-tasting lettuce. The first few samples were not close enough, but Magsud is hopeful that the next batch will meet company approval.

In this way, McDonald's is helping to develop Azerbaijan's agricultural sector. "I believe that there's more potential in Azerbaijan's agricultural sector than there is in the oil sector," Magsud says. "But we have to know how to take advantage of it."

Another important management decision was setting prices for each item. "McDonald's is not a restaurant for rich people," Magsud insists. "We tried to be as low as possible with our prices." A hamburger costs 3,500 manats - less than a dollar. Other options on the menu include the Big Mac, apple and cherry pies, shakes and sundaes, plus Magsud's favorite - French fries. All text for the menus (including an explanation of French fries), posters and marketing materials is written in Azeri Latin.

Happy Meals
One obvious benefit of having a McDonald's in Azerbaijan is the job opportunities it opens up, especially for the nation's youth. Right now the restaurant employs 154 Azerbaijanis working various shifts around the clock, either serving customers or cleaning the restaurant for the next day. Each new restaurant that opens will offer jobs for around 100 more employees. Magsud predicts: "Over the next five years, we plan to create 600 to 700 jobs for young people - that's just in actual McDonald's restaurants. That doesn't include any of the other aspects of production."

Workers are trained according to high standards of customer service, learning skills that they can apply throughout the rest of their careers. Within the McDonald's system itself, each employee has the opportunity to work his or her way up to the management level.

"When McDonald's comes to a country," Magsud explains, "it comes for forever." It's not just another fast-food restaurant - it's a symbol of the nation's political and economic stability and participation in the world market. McDonald's sets high standards for cleanliness, efficiency, quality and customer service - in effect, raising the bar for the other restaurants in the area.

Magsud's second project will be a drive-thru restaurant that will allow customers to eat in their cars. He plans to open two locations in the year 2000. "Our goal is to serve drive-thru clients in three minutes, which is really fast," Magsud says. Drive-thrus are still a new concept in Azerbaijan; McDonald's will be the first restaurant to have this convenience.

None of this would have been possible without Magsud's positive attitude and contagious enthusiasm. "When I entered a McDonald's for the first time, I was a customer. I was looking at everything from the customer's point of view. Now I'm looking at it from the other side. I can compare and see what the customer needs. But it's more than a job to me. I'm proud to be helping Azerbaijan develop its economy."


From Azerbaijan International (7.4) Winter 1999.
© Azerbaijan International 1999. All rights reserved.

Back to Index AI 7.4 (Winter 1999)
AI Home | Magazine Choice | Topics | Store | Contact us