Winter 1999 (7.4)
Pages 34-35

Famous People: Then and Now
Firangiz Alizade
Pianist and Composer (1947-)





Left: Firangiz as a child. Early 1950s
Right: Firangiz Alizade, 1990s

Firangiz Alizade is known for her musical compositions in a new field called "Yeni Musigi" (New Music). She studied piano with Ulfan Khalilov and composition with Gara Garayev at the Baku Conservatory where she graduated as a pianist in 1970 and a composer in 1972. Her doctoral dissertation in 1989 was devoted to "Orchestration in Works by Azerbaijani Composers". In 1980, Alizade received the annual award from the Azerbaijan's Composers' Union, and in 1990 was named "Outstanding Artist."

Her works have been performed at festivals in Stockholm, Warsaw, London, Heidelberg, Amsterdam, New York, Boston, Los Angeles, Mexico City, Frankfurt, Berlin, Zurich, Bonn and Cologne.
Since Azerbaijan gained its independence in 1991, Alizade has worked abroad in Turkey, Switzerland and Germany.
_____
What experiences and interests in childhood would you say shaped your life and career?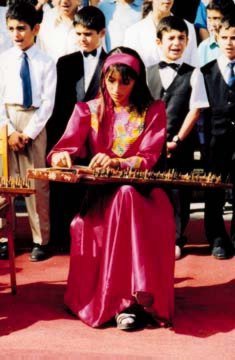 When I first opened my eyes to the world, Baku was flourishing as a center of the arts. There were frequent orchestral performances conducted by the great Maestro Niyazi (1912-1984) in the Philharmonic Hall. We grew up listening to superb operas such as "Koroghlu" (1937) by Uzeyir Hajibeyov (1895-1948), and ballets like "Seven Beauties" (1949) by Gara Garayev (1918-1982), along with the symphonic mughams of Amirov and works of other composers like Jahangir Jahangirov (1921-1992) and Jovdat Hajiyev (1917-).

I spent many enjoyable hours watching Hajibeyov's musical comedies, "Arshin Mal Alan" (The Cloth Peddler, 1913) and "O Olmasin, Bu Olsun" (Not This One, That One, 1911). Of course, during those years the great tenor Rashid Behbudov (1915-1989) was performing the popular lyrical songs of Tofig Guliyev (1920-) and Rauf Hajiyev (1922-1995) and also starring in the movie, "Bakhtiyar" (1942).

Myself-I didn't grow up in a family of musicians. My father was an oil engineer but he had a great interest in the traditional stringed instrument called the tar and used to play it as a hobby. When my family realized that I was keenly interested in music, they decided to buy me a piano. So I started playing when I was five years old.

Photo: Azerbaijani youth performing at the Children's Palace in Baku, October 1999. Instrument is a traditional stringed instrument known as "canon" in Azerbaijan.

By age seven, I had written my first composition-a song for kids called "Spring." Usually when kids start composing, they don't write down the notes. But I started writing down the notes from the very beginning. My friends used to sing the song in class.

Also, my first composition teacher, Adila Huseinzade, encouraged me a lot. She used to tell me that I had talent, and that I should study harder than the other students did. It's for this reason that I think one's environment is a critical factor in life. Family, school, friends, teachers, TV, radio, cultural life, books and wonderful people can all have a profound impact on us. Young people should be nurtured in an atmosphere of love and care. This creates a strong foundation for their lives.

How was your own childhood different from that of kids growing up today?

Our childhood was more modest and simple. Our schedule was more regimented and there wasn't much ready-made entertainment. My parents didn't let us watch TV more than an hour a day.

Gara Garayev, the well-known Azerbaijani composer, was my teacher. He would say something only once and we had to remember it. We had more respect for our elders back then. Today in Azerbaijan as well as in other countries, young people don't respect the elderly like they used to. But if you want to learn something in life, you have to pay attention to people who are older and more knowledgeable. I was very lucky when I was young because I was surrounded with people who cared and wanted to nurture me.

What advice would you give to young people growing up in the 21st century?

I would encourage the youth to find purpose in their lives and to work hard to reach their goals. They should learn foreign languages and have an open mind to new inventions and developments in the world. They should never feel themselves boxed in. The world is so large and knowledge and technology are developing so fast. Young people should always be ready to learn new things.

If they go into music, they need to understand that it is hard work. You need to commit yourself and work night and day. It takes a lot of time. I would like to say that my love and devotion to music has benefited me in many ways. It is our duty to introduce Azerbaijani culture and music to the world and to demonstrate its depth and richness. That's what I've always tried to do-to make Azerbaijan known in the world because I love my country.

What would you say is your greatest achievement in life? What do you want to be remembered for most?

Well, the Western world first came to know me through the piece, "Habilsayaghi" (Habil's Style) which is available on CD. My second major work is "Charpazlashma" (Crossing). Then there is "Songs About Motherland", which were composed to lyrics by Nabi Khazri. Most recently I created the work "Oasis" for string quartet.

Recently, I was included in an encyclopedia called "Music of Our Time", which is supposed to be distributed all over the world. Two pages are devoted to my activities.

Last August 1999, some of my works were performed at a major music festival in Switzer-land called "Festival of Stars". This festival has been held for the last 35 years and during that entire period, I was the only female "Composer-in-Residence" who has ever won a prize at the Festival. It was such big news that every newspaper in Switzerland wrote about it.

I set music to some of the poetic works of Nazim Hikmat, a Turkish poet. The event took place in September this year, just after the earthquake hit Istanbul. The director came onstage and announced the tragic news of the earthquake so we devoted that piece to the victims who had lost their lives. People were crying. They gave me a 20-minute standing ovation. After the concert, people came up and told me that they didn't know that "New Music" (Yeni Musigi) could be so close to their hearts.


Firangiz Alizade was interviewed by telephone in her home in Berlin, Germany, where she currently resides. The interview was conducted in Azeri by Vafa Mastanova.

From Azerbaijan International (7.4) Winter 1999.
© Azerbaijan International 1999. All rights reserved.

Back to Index AI 7.4 (Winter 1999)
AI Home | Magazine Choice | Topics | Store | Contact us