Autumn 1999 (7.3)
Page 9
Reader's Forum
Azeris' Love for Kids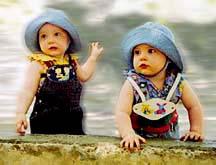 I loved the Winter issue

about Architecture [AI 6.4, Winter 1998] and learned so much about the buildings that I had passed so many times during the three years when we used to live in Baku and work with the humanitarian organization, ADRA (Adventist Development Relief Agency).

Identical twins Katherine and Alexandra Ridley caused quite a stir in parks in Baku.

During our assignment in Azerbaijan, I returned to London in 1997 to give birth to twins-two little girls, Alexandra and Katherine. Two months later we returned to Baku to continue our work there.
I soon learned how much Azeris love children. They were so kind and helpful to me in my new role as a mother. I used to take the girls for walks twice a day in a front-to-back double buggy, which just barely fit into our elevator with only an inch to spare! Actually, I became quite a celebrity at the Sahil Park [formerly 26 Commissars Park]. Very few people had ever seen red-headed identical twins in a back-to-front buggy before.

Of course, the Azeri obsession with having a son sparked comments such as, "Never mind, what Allah gives, we must accept!" or "Better luck next time!" I learned to take it all in good stride and humor.

It was in Baku that Katherine received her first kiss. We were walking around the park when a little boy just ran out of nowhere and planted a big kiss right on her lips! He was severely scolded by his mother, but I had a good chuckle. Whenever I went anywhere with the girls, people would fall all over themselves to help me open doors or lift the buggy up and down the steep curbs.

Seeing a tough Azeri security guard stoop down and say, "Goo-sey-goo!" is truly a sight to behold! I'll never forget once at the airport, a customs officer volunteered to get us to the front of the line simply because he had a daughter the same age.

The care we received brings back such fond memories. I miss walking around the streets of Baku, as it's not possible to do so here in Haiti where we are now assigned. We do have a garden here in which the children play, and at least I don't have to be so cautious about the girls picking up cigarette ends and broken glass like I did in Baku.

Much of our work in Azerbaijan took place in Nakhchivan [the non-contiguous part of Azerbaijan, which borders Turkey] and yes, ADRA is still involved there and, in fact, the work has even expanded since we left. In addition to the Emergency Feeding Project, there is a Primary Health Care Project that we began in August 1997 and a Micro-Enterprise Project just starting up. As well, ADRA has built an office there on land leased from the government.

And in Baku, ADRA has become the first NGO [non-governmental organization] to purchase their own office building. Since we left, the burnt-out shell of a building on Vidadi Street has been renovated and officially opened by the U.S. Ambassador. It contains a staff apartment, offices, guest rooms and a community center. One of our biggest regrets in having to leave Baku was that we weren't there to see the building completed. We had been so involved in getting it started. In the meantime, we've received photos and are amazed at the changes.

We hope that by establishing a more permanent presence, ADRA can demonstrate to the Azeri people that our agency will remain there as long as we can be of assistance. In the meantime, I cherish the many, many happy memories and am so glad for your magazine that keeps me in touch.
Elizabeth Ridley
Port-au-Prince, Haiti


From Azerbaijan International (7.3) Autumn 1999.
© Azerbaijan International 1998. All rights reserved.
Back to Readers Forum
Back to Index AI 7.3 (Autumn 99)
AI Home | Magazine Choice | Topics | Store | Contact us