Azerbaijan Oil Contracts

Muradkhanli
Phil Maxwell, Project Manager
The signing of the Muradkhanli contract signals that Azerbaijan is beginning to concentrate on projects which have the possibility of early cash flow. Incremental oil from Muradkhanli is anticipated in 1999.
The Muradkhanli Project is comprised of the three fields (Muradkhanli, Jafarli and Zardab) and is located 110 miles southwest of Baku. The area (565 sq km) is divided into two sections, one for rehabilitation and the other for exploration and development. Preparation for the rehabilitation project has already begun. Later in 1999, the obligatory work program will begin in the exploration area with 3D seismic surveys and two exploration wells. The feasibility study, upon which SOCAR concurs, has concluded that the prospect includes at least 5 billion barrels of oil (nearly 685 million metric tons).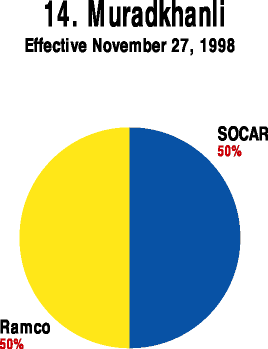 Signed July 21, 1998



Map: Click to enlarge

Since Muradkhanli is located on the Kura River next to AIOC's western pipeline, it can have direct access to Georgia which is expected to be operational in 1999. Also, a railway next to the field links Baku to the Georgian ports of Poti and Batumi on the Black Sea. This rail link is currently being used by Chevron to export part of its Tenghiz production from Kazakhstan and for transport production from Turkmenistan as well.
The Production Sharing Agreement (PSA) was signed on July 21, 1998 at 10 Downing Street in London in the presence of British Prime Minister Tony Blair and Azerbaijan President Heydar Aliyev who was in the UK on an official visit.
Ramco Energy plc (Ramco) is a UK-based independent exploration and production company which focuses on the Caspian area and Central and Eastern Europe. In addition to involvement with the Muradkhanli project and the Azerbaijan International Operating Company (AIOC) consortium for the development of the Azeri, Chirag and Gunashli fields, Ramco is involved in various other projects in Georgia, the Czech Republic and Poland.
Steve Remp, Chairman and Chief Executive of Ramco, first visited Azerbaijan in 1989 prior to the collapse of the Soviet Union. He was the first Western oilman to enter the country since the 1920s since most other western companies were under the impression that Azerbaijan's oil had already been depleted. But after speaking with Azerbaijan engineers and Azerbaijan government officials, it became obvious that there were vast resources yet to be developed in the Caspian Sea. Remp played a pioneering role in the creation of the giant western consortium for the AIOC Consortium which Azerbaijanis often refer to as the "Contract of the Century."



Signing Ceremony of the Muradkhanli Contract. Natig Aliyev (SOCAR) and Steve Remp (Ramco) while Azerbaijan's President Heydar Aliyev and the UK Prime Minister Tony Blair watch. London, July 21, 1998.






9 Boyuk Gala Street
Old City (Ichari Shahar), Baku
Tel: (99-412) 92-40-63
Fax: (99-412) 97-10-87
From Azerbaijan International (6.3) Autumn 1998.
© Azerbaijan International 1998. All rights reserved.

SOCAR Contracts
Back to Index AI 6.3 (Autumn 1998)
AI Home | Magazine Choice | Topics | Store | Contact us