Spring 1998 (6.1)
Page 31
Democratic Republic of Azerbaijan Leaders
(1918-1920)
Alimardan Topchubashev - Minister of Foreign Affairs
(1862-1934)
by Fuad Akhundov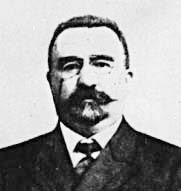 An outstanding public and state figure, Topchubashev was born on May 4, 1862, in Tbilisi (Georgia) into a land-owner legacy. After graduating from the First Tiflis High School (now known as Tbilisi), he graduated from the Department of Law at the University of St. Petersburg in 1888. He was awarded a diploma of distinction and offered a professorship at the University if he would convert to Christianity. He refused and returned to Baku. There he married Pari Khanum (Mrs.) Malikova, daughter of Hasan Zardabi (outstanding journalist and public figure, founder of "Ekinchi," an Azerbaijani newspaper).
While in Baku, Topchubashev became well known as the editor-in-chief of "Caspian," one of the largest local newspapers. Soon he was elected to the City Duma (Municipal Parliament of Baku). In May 1906, Topchubashev was elected to the First State Duma (Parliament of Russia) as the representative from the Transcaucasia. Soon he became one of the leaders of the Moslem Section within the Russian Parliament. However, the First State Duma existed for only 72 days. As the Parliament was becoming harder to control, Nicholas II (the last Czar of Russia), disbanded the Duma in July 1906.
After the dissolution of the Parliament, Topchubashev was among the group of members of the State Duma who made a public appeal to the peoples of Russia, calling them to civil disobedience and protest. As a result, he was imprisoned and deprived of the right to be elected to any future Municipal or State Dumas. Despite official persecution, Topchubashev remained a highly esteemed public figure in Russia, famous for his efforts for equal political, social and civil rights for the Moslem nations of the Empire.
With the independence of the Azerbaijan Republic declared on May 28, 1918, Topchubashev became the first Minister of Foreign Affairs in the Cabinet of Khoyski. On December 7, 1918, the ceremonial opening of the Parliament of the Azerbaijan Republic took place in Baku and Topchubashev was elected Chairman (Speaker) of Parliament. It is important to note this achievement, as he had not belonged to any political party since 1917.
In early 1919, the official delegation from the Azerbaijan Republic, headed by Topchubashev, left for Paris to participate in the Versailles Peace Conference held at the end of World War I. There he played an enormous role in the de-facto Azerbaijan Republic, by the Council of Allied Powers in January 1920. However, four months later the communist army took over in Baku, and Topchubashev was never able to return to Azerbaijan. He died on November 8, 1934, in Paris.

From Azerbaijan International (6.1) Spring 1998.
© Azerbaijan International 1998. All rights reserved.

Back to Index AI 6.1 (Spring 1998)
AI Home | Magazine Choice | Topics | Store | Contact us