Spring 1998 (6.1)
Page 23




Democracy-Never-Ending Struggle
"Transitions to democracy and free market economies require patience and persistence. In the United States, we became a newly independent state in 1776 and for the past 222 years, our democracy has been a work in progress.

It took us more than 10 years to draft a constitution, 89 years to rid our nation of slavery, 144 years to give our women the vote and 188 years to make all our citizens equal under the law. Democracy does not end with a constitution and the right to vote. It is a never-ending struggle that we must grapple with every day."
Hillary Rodham Clinton, wife of U.S. President Bill Clinton, speaking in Ukraine in November 1997 on her tour to some of the former Soviet Republics-Kazakhstan, Kyrgyzstan, Uzbekistan, Russia and Ukraine.
Assassination Attempt Won't Destroy Freedom
"Tell the people that their President is in good shape and our fight for democracy and independence will continue with even greater fervor."
Georgian President Eduard Shevardnadze, 70, on February 10, 1998, after surviving the second attempt on his life in 30 months. He attributed the assassination attempt to a "third force" of "international terrorism" in Russia. The highly organized attack with rocket-propelled grenades injured two body guards in his motorcade and killed another, Kakha Shevardenidze, 37, who was credited with having saved the President's life in 1995.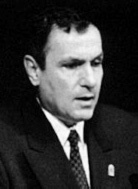 Compromise or Resistance?
"Time will tell who did what for Karabakh, and who, indeed, is selling it out."
Levon Ter-Petrossian, former Armenian President in his resignation speech in Yerevan on February 5, 1998, referring to accusations from hard-liners and members of the opposition, including Robert Korcharian [former "President" of the self-proclaimed, so-called "Republic of Nagorno-Karabakh," who was elected President of Armenia on March 31, 1998].
Ter-Petrossian was accused of being conciliatory towards Azerbaijan in resolving the Karabakh conflict. In November 1997, he said publicly, "We must be realistic and understand that the international community will not tolerate for long the situation created around Nagorno-Karabakh, because it is threatening regional cooperation and security as well as the West's interests in oil.

Destiny Chooses Us
"We do not choose our destiny. It chooses us. We, who are destined to die one day, are the carriers of the destiny that has chosen us.
I was schooled in the theory of journalism during the Soviet period, but my real initiation came while reporting about Azerbaijan's quest for national independence-at the demonstrations at Azadlig Square [1988-1990], in the bloody streets of Baku during Black January [1990], at the front-line with soldiers in the Karabakh war [1992-1994]. I have personally witnessed the most critical moments in contemporary history in our struggle for independence."
Elmira Amrahqizi, 47, one of the most respected journalists in Azerbaijan, helped shape the new independent press since the collapse of the Soviet Union. She worked tirelessly as a daily news correspondent in Azeri with Radio Liberty (Prague) and was Azerbaijan International's correspondent in Baku. She often traveled internationally with President Aliyev's press team. Elmira tragically passed away in the prime of her career in March 1998, of cancer. She was buried in Baku's "Fakhri Khiyabani" (Cemetery of the Honored Ones) where personalities who have made the greatest contribution to the nation-artists, writers, musicians, academicians and government leaders-are memorialized.

The Right to be Azerbaijani
"You cannot begin to know the pain I have suffered all my life for being branded a political prisoner and sent by Stalin to a labor camp in Siberia. Even after I was freed, the KGB spied on me for 35 years, up until the collapse of the Soviet Union in 1991. My friends and I were accused of speaking Azeri and of wanting to separate Azerbaijan from the Soviet Union. They sentenced us to 25 years of hard labor. Nobody ever expected us to come back alive.
I'm old now but if I had the chance to live my life all over again, I would do the same thing despite the hardships, the cold, hunger and abuse that I have had to endure. Through it all, I never lost my pride or dignity as an Azerbaijani."
Ismahan Rahimov, 73, reflecting upon the seven years he spent in Siberian labor camps, beginning in 1948 when he was 22, until shortly after Stalin's death when he was released. Rahimov, an English language professor is one of the most favorite, esteemed and sought-after instructors in Baku.

From Azerbaijan International (6.1) Spring 1998.
© Azerbaijan International 1998. All rights reserved.

Back to Index AI 6.1 (Spring 1998)
AI Home | Magazine Choice | Topics | Store | Contact us