Spring 1998 (6.1)

Photo Essay
Spirit of Novruz
Festival of Spring (March 20-21)
In Baku
Novruz...Celebration That Would Not Die
Above left: Performances on zurna, a traditional wind instrument and with traditional dumbbells (background).

Above right: Tightrope performance in front of Maiden's Tower in Baku.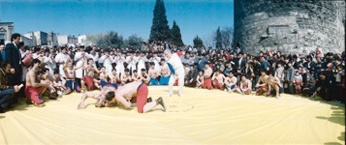 Public display of traditional Azerbaijan wrestling, called "gulash," in front of Maiden's Tower.
Above Left: Field of wild poppies

Above Right: "Kosa," bears a close resemblance to Father Christmas. Another Novruz character is "Kechal," the bald-headed one.
Above: Sprouted wheat in all shapes and sizes - a sign of spring and Novruz!
From Azerbaijan International (6.1) Spring 1998.
© Azerbaijan International 1998. All rights reserved.

Back to Index AI 6.1 (Spring 1998)
AI Home | Magazine Choice | Topics | Store | Contact us