Spring 1998 (6.1)
Page 75
New Flag Stamps
World Beyond War - A Child's Perspective
by Patricia Palmer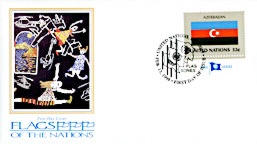 In February 1998, the United Nations issued a series of eight stamps featuring the flags of some of the countries which have most recently joined the UN. Azerbaijan is included in this series as are the Czech Republic, Estonia, North Korea, Micronesia, Monaco, Slovakia and Uzbekistan. The last time this flag series was issued by the UN was in 1986.

First Day Cover for Azerbaijan Flag Stamp. The design for the envelope was painted by Elnar Salishev, eight years old.
Azerbaijan joined the UN on March 9, 1992. Its mission includes the UNDP, UNHCR, UNICEF and WHO which deal with economic development as well as the consequences of war especially trying to help meet the needs of approximately 1 million Azerbaijani refugees who were forced to flee their homes in Nagorno-Karabakh and the surrounding areas. Since 1988, Armenians have been at war trying to link Nagorno-Karabakh, an enclave inside of Azerbaijan, with Armenia.
First Day Covers
Envelopes were issued along with stamps. The art work for these First Day Covers was organized by the Flags of the Nations Program in New York and printed in Switzerland. In search of art by or about children from Azerbaijan, the Flags Program contacted Azerbaijan International magazine in California. From AI's photo archives, the work of Elnar Salishev, 8, was selected from a painting he had done for the exhibition in Baku entitled "Children Against the War."
His work depicts the chaos and powerlessness children feel when war strikes their country. Against a black background, children outlined in white are trying to flee from the deadly machines of war - helicopters and bombers. Puncturing the black background is an arch-shaped window that looks out on an idyllic, peaceful, sunny landscape of sea and mountains. Elnar's painting proves that children do, indeed, understand war. Elnar came up with the idea; his teacher, Tatyana Kesar, suggested some of the colors and techniques.
Elnar comes from a talented family. His mother and father are both engineers. His father is also a musician. Elnar's sister, Negar, 9, is also a gifted painter and won a painting competition in Baku in 1996 dedicated to the 3,000-year celebration of Jerusalem. Elnar, though so young, has already won several art competitions.
To Order
Stamps can be purchased on a half page of 16 stamps which includes four blocks each of Azerbaijan, Micronesia, Slovakia and North Korea. Contact the UN Postal Administration, Box 5900, Grand Central Station, New York, NY 10163-9992. Tel: 1-800-234-UNPA; Fax (212) 963-9854.
For information regarding First Day Covers, contact Groth AG, Gewerbestrasse 19, P.O. Box 167, CH-6314 Unterägeri, Switzerland. Tel: (41) 41-750-45-72; Fax: (41) 41-750-5355; e-mail: <groth@swissplace.ch> or check with stamp collector's outlets in Europe.

From Azerbaijan International (6.1) Spring 1998.
© Azerbaijan International 1998. All rights reserved.

Back to Index AI 6.1 (Spring 1998)
AI Home | Magazine Choice | Topics | Store | Contact us