Winter 1997 (5.4)
Pages 12-16
Baku Diary
Music in the Air - Everywhere

by Susan Cornnell

If someone had told me seven years ago that I would be hosting an evening of classical and traditional Azerbaijani music in my home in Baku, I would have said "Where's Baku?" Needless to say, I would have had no idea what Azerbaijani music sounded like either.

One normally doesn't count composers and opera stars among their circle of friends, but here in Baku you do, because music is everywhere. It flows out of apartment windows and buildings. Musical instruments peek out of back packs on the Metro. Every major event in town seems to include music whether it's the 200th Jubilee for a Caucasus revolutionary hero like Sheikh Shamil or the inauguration of oil terminals at Sangachal. In Azerbaijan, music is impossible to ignore. In fact, the test of whether a person is truly educated or not seems to be whether he or she can perform music.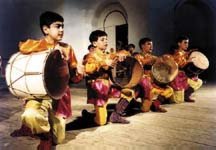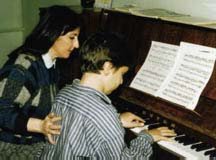 Left: The Jujalarim Drummers. Photo: Courtesy BP
Right: Piano Lessons. Photo: Maziar Mahjoobi
Music Transitions
These past several years since I've been living in Baku, I've witnessed many transitions in the music scene. For example, back in 1992 when I first tried to buy a recording of Azerbaijani classical music, there were no cassettes to be found, only vinyl records. Nowadays, it seems Azerbaijanis all want compact discs (CDs), even if they don't have CD players at home yet. It seems they've almost completely bypassed the cassette stage and gone directly from vinyl to CD. It's a bit like the new modified Latin alphabet that they adopted in 1991, when essentially they went from handwriting directly to the computer, skipping the typewriter stage.

Once I got a chance to hear those vinyls with samples of music from great composers like Gara Garayev and Fikrat Amirov, I found that I was in love with sounds I had never heard before. It was a curious blend of the modal tones of the East combined with the classic traditions of the West.

Back in 1993, I remember one evening when I wanted to attend a mugam concert. Mugam was new to me, and I was curious to hear what it sounded like. I arrived at the Opera House on time only to discover that the concert had been canceled.

Apparently, the four tickets I had bought were half of the tickets sold that night. It was a great disappointment, but I shouldn't have been surprised, given the context of what was going on in Azerbaijan at the time. Everyone was so consumed by the ongoing war and with the hundreds of thousands of refugees having to flee their homes because of the Armenian intrusion into their territory. Of course, everyone in Baku has friends and relatives among these refugees. Many opened their hearts and homes to offer shelter, food and clothing.
But people weren't in the mood to go out and listen to music when their country was in such danger. Besides, mugam as a genre, can be one of the saddest forms of music. No one wanted music to trigger the deeper feelings of depression more than what they were already experiencing at that time.

Another very disturbing trend that I've seen developing over the years has been the "brain drain" of some of the most talented musicians who have left Azerbaijan seeking greener fields abroad. Even more troublesome is the fact that as years pass and if musicians don't return home, there could be a "gene drain" of some of the best musical minds.

Many great talents have left for Turkey, others for Europe. This was especially true in 1994 and 1995. It still happens today but not as much. In Soviet Azerbaijan, music used to be entirely funded by the government, but now everyone has to scramble to find private sources, which are just now beginning to emerge. As yet, there is no system for long-term endowments as we have in the West.

Alive with Music
Nevertheless, there is still a great deal of quality music to be found here. Not long ago, the Azerbaijan - Finland Friendship Association sponsored their sixth annual concert celebrating the Independence Day of Finland. Like many Azerbaijani concerts, it included a wide range of performances.

One of the most striking examples was an ensemble of drummer boys from the Jabar Garyagdi Musical School who have been performing for seven years under the leadership of Fazil Jafarov. These young boys (age 13 and younger), dressed in bright-colored, national costumes, flew across the stage, beating their drums and wearing smiles so wide that even people in the balcony could see. They performed with such enthusiasm and joy. This group has already traveled to France, Scotland and Turkey.

Next, came a children's dance ensemble. Young boys and girls danced traditional steps with arms uplifted, agile feet and boundless energy. The girls were dressed in true Eastern style with lots of sequins, flowing silk, harem pants and pillbox hats with veils. The young boys cocked their hands behind their heads, and with their skinny, yet strong, legs, stamped and stomped the stage. They created such a ruckus that all I could do was sit there with my mouth agape and wonder at the spectacle of it all. For more than 20 years, young students from all over the city have performed in this troupe under the leadership of Boyuk Aga Mammadov.

To tell you the truth, I've lost count of the number of concerts I've attended since I first came to Azerbaijan. Each time, however, I discover something new, whether it's a performance by opera star Khuraman Gasimova accompanied by the Music Academy Rector Farhad Baydalbeyli or a performance by The National Choir.

I'll never forget one particular evening at the Republican Hall where excerpts were played from all of the Azerbaijani greats. There were selections from the Hajibeyov's opera, "Leyli and Majnun," from Garayev's ballet "Seven Beauties" and Amirov's "1,001 Nights," plus performances of jazz, chorus, mugam and national wind and stringed instruments (such as saz, balaban, kamancha and tar).

Not long ago, I had the chance to hear the Western University Choira group that has been performing together for about two years. Despite the fact that members of the audience talked among themselves throughout the entire performance (a disruptive practice typical of Baku concert goers), we somehow "overheard" the choir which performed selections from Bach, to popular pieces in English including "Sunrise, Sunset" from "Fiddler on the Roof" and even "Jingle Bells." There were Azeri pieces as well, such as "Girl's Song" from Hajibeyov's opera, "Leyli and Majnun." The choirs' voices blended together in stunning harmony. Mark Shapiro leads the university group as well as the dynamic choir, Atiqva, which is sponsored by the Jewish community and composed of young women aged 16-22. Atiqva has been performing for more than five years and has gained recognition outside of Azerbaijan.

Trends
The 1997-98 musical season has rather slim pickings because the Philharmonic Hall is closed for renovations, and the Symphonic Orchestra has not yet given any of their regular performances. Occasionally foreign composers and musicians are invited to town. For example, recently, "Rigoletto" was performed by Ukrainian soloists and "Swan Lake" with artists from Moscow.

Another trend these days is the revitalization of jazz throughout the city. Jazz clubs are beginning to open everywhere. It's to be expected because jazz is a natural extension of national mugam music. Not only does this improvisational form have a wide audience, but there are many, many superb performers-especially pianists.

So many of my Baku friends are musicians. They seem to have a natural inborn talent for it-playing by ear, improvising-not just as technicians with good hand-to-eye coordination. Music flows through Azeri veins. Even the smallest child seems to be able to sing on key or dance with style and grace. Once I played a new CD at the Baku International School where I teach. Everyone-both teachers and students-broke into a spontaneous sing-along. A few began to move their hands in that rhythmic way that is only seen east of Istanbul.

Azeri Music Beyond Its Borders
Azeri music is beginning to be heard outside its borders now, especially with the tremendous popularity of Aziza Mustafa Zadeh, who lives in Germany and packs out the house whenever she performs in Europe. She has just released her fifth CD called "Jazziza." Aziza is the youngest of the musical daughters of Vagif Mustafazade, who was a driving force in helping establish the Mugam Jazz movement in Azerbaijan in the 1970s.

Azerbaijan International has produced a superb set of six CDs highlighting classical works-symphonic, ballet, concerto, piano, opera and chamber orchestra. This collection, sponsored by Amoco, is a first in the cultural history of Azerbaijan and contains 74 favorite classical pieces composed by 15 individual Azeri composers. Recently, National Public Radio featured Azerbaijan's classical music from these albums on one of their programs that was broadcast to more than 260 classical radio stations throughout the United States.

Another innovation comes from the Norwegian choir "SKRUK" which recently came to Baku in search of their roots, convinced that maybe their Scandinavian ancestors originated from Azerbaijan. The result of their journey is an extraordinary CD just released this fall entitled, "The Land We Came From" (Landet vi kommer fra). It features soloists Brilliant Dadasheva and Ilgar Muradov singing Azeri folk melodies along with the choir which simultaneously sings in Norwegian. There are numerous other musical exchanges going on these days as well.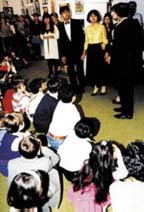 The Mirzayev Family Quartet singing at the Children's Art Gallery on the occasion of the 19th Jubilee of Katana Gazi-Sharifova's Studio (1997).

Photo: Oleg Litvin
Mirzayev Family
On the local scene, yet to be discovered is the Mirzayev family, who does four-part harmony, a cappella. They recently gave a little concert in my home. This family just loves to sing. Mom and Dad, son and daughter all hold hands while they perform. There's no artistic pretension, no accompanist-just two teenagers and their parents with breathtaking voices soaring together. Their songs are whimsical, passionate and harmoniously beautiful. Besides, they sing in so many languages-Azeri, Russian, English, Spanish and even "scat singing" (just syllables).

The Mirzayevs are from the city of Sumgayit outside of Baku. When they performed at the Finnish Celebration, the audience of some 700 people hardly let them leave the stage. These people are very humble folks. When they see how much their talent and hard work is being appreciated, tears well up in their eyes. Musicians like these deserve to be heard.

We, Americans, have a tendency to listen to music in the background-like "muzak"bland, non-descript music that fills our time and space. But Azerbaijani music is different, you can't ignore it. It's "in your face" as we Americans say. It affects you, forcing you to pay attention. Azerbaijani music is passionate, deep, and at the same time, mostly optimistic. If you haven't had the chance to hear it, give yourself a treat. You won't regret it.
From Azerbaijan International (5.4) Winter 1997
© Azerbaijan International 1997. All Rights Reserved.

Back to Index AI 5.4 (Winter 1997)
AI Home | Magazine Choice | Topics | Store | Contact us