Winter 1996 (4.4)
Page 73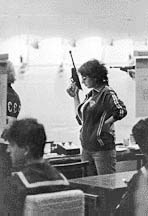 In July 1994, only three short months after the cease-fire between Azerbaijan and Armenia, President Aliyev and his administration turned their attentions to the future of Azerbaijan-its youth. The first Ministry established by Presidential decree was the Ministry of Youth and Sports, which has been led by Abulfaz Garayev since its inception. Garayev estimates that at least 30% of Azerbaijani refugees are youth-people under the age of 25. So the activities of this Ministry have a significant impact upon the lives of many Azerbaijanis.
Left: Irada Ashumova-2nd Place Riflery Winner at World Cup (1996).
Under the Soviet regime, the empire had only one centralized organization dedicated to young people-the Komsomol-a governmental entity whose activities naturally conformed to communist ideology. Likewise, there was only one organization for the administration of sports-the Committee of Sports. With the collapse of the Soviet Union and its communist ideology, these organizations ceased to exist, leaving behind a huge void.
These days in Azerbaijan, there are more than 80 different youth organizations, completely independent of the government, which focus on many aspects of the youth experience. Seeking support for their efforts, as well as guidance, many of these organizations have voluntarily become associated with the new Ministry of Youth and Sports. And together, a decision was made to try to establish an overall ideology, or vision, of what they wanted to achieve for the Azerbaijani youth. To that end, 14 committees have been formed which are currently analyzing how young people should relate to such topics as religion, business, crime, drugs, education, agriculture, health, sports, ideology, politics, entertainment, etc.
As its name implies, Azerbaijan's Ministry of Youth and Sports is also active in the athletic arena. One of its goals is to protect the rights of all people to be engaged in sports and physical culture. Through the implementation of laws, the Ministry establishes guidelines for: (1) the championships which take place inside Azerbaijan, (2) the determination of who qualifies to participate in international tournaments, and (3) the activities of the companies and organizations who are arranging and funding sporting competitions.
Left: Ilgar Mammadov. Fencing Gold Medalist at Olympics in Barcelona (1992); Two-Time World Fencing Champion; Three-Time European Fencing Champion.
Middle: Zulfiyya Huseinova. Four-Time World Judo Champion, most recently in Japan (1996).
Right: Namig Abdullayev. Wrestling Silver Medalist at Olympics in Atlanta (1996).
Since independence, Azerbaijanis have taken pride in receiving international recognition for their athletic achievements. They no longer have to perform under the anonymous umbrella of "Soviet," which was often assumed to be "Russian." In 1995, they brought home 52 medals, including 23 gold. They excelled most in wrestling, boxing, judo, and karate. This past summer in Atlanta, however, was the first time that Azerbaijan had participated in the Olympic games as an independent state, under its own flag. When the Azerbaijani delegation of athletes arrived in Atlanta, few spectators seemed to know this country. But after one of the Azerbaijani wrestlers won the silver medal, suddenly people were saying, "Oh, you're from Azerbaijan? You have good wrestlers and good boxers."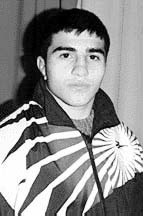 Of course, producing world-class athletes these days is quite a challenge for Azerbaijan due to the limitations imposed by its struggling economy. There is simply not enough money to support everyone who wants to participate in international competitions, nor to provide for the development of their athletic skills to their ultimate potential. However, during this period of transition, the Ministry of Youth and Sports is doing what it can to combine the best of the Soviet system for breeding high-class athletes with what it has learned through exposure to the West.
Tahir Zahidov. Greco-Roman Style Wrestling World Champion (1995).
As the Minister of Youth and Sports, Garayev senses that the prevailing attitude among the Azerbaijani youth of today is optimism. According to Garayev, "Fortunately, youth are flexible and recover quickly from difficulties. Our country must look to the future with optimism. Our President does, and we must do everything in our power to make sure that the youth continue to face the future with hope, too."
From Azerbaijan International (4.4) Winter 1996.
© Azerbaijan International 1997. All rights reserved.
AI Home | Magazine Choice | Topics | Store | Contact us