Autumn 1996 (4.3)
Page 35


University Honors Oil Industrialist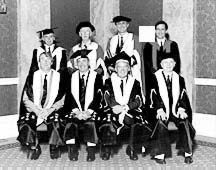 Left: Steve Remp, second row, third from left.
On July 3, 1996, Robert Gordon University of Aberdeen conferred an honorary degree of Doctor of Technology upon Steve Remp, Chairman and Chief Executive of Ramco Energy. Remp was honored for his pioneering work in the former Soviet Union, specifically Azerbaijan, which has transformed Ramco from a small oil services business into one of the UK's largest independent oil companies.

Since the mid-80s, Remp has devoted considerable time to building business ties with the former Soviet Union. In September 1994, Ramco was one of the companies which signed a production-sharing contract, as part of an 11-company international consortium (AIOC), for the development of the giant Azeri, Chirag and deep-water Gunashli oil fields in the Caspian Sea.

Remp was also honored earlier this year in April by the Aberdeen Junior Chamber of Commerce as "Grampian Industrialist of the Year."

From Azerbaijan International (4.3) Autumn 1996.
© Azerbaijan International 1996. All rights reserved.
Back to Index AI 4.3 (Autumn 1996)
AI Home | Magazine Choice | Topics | Store | Contact us