Autumn 1996 (4.3)
Page 29

Press Conference
President Heydar Aliyev
Official Presidential Visit to Germany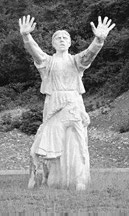 Bonn-July 3, 1996
President Aliyev: I'm grateful to you for the opportunity to speak with you at this press conference. As you know I'm here on an official visit by invitation of the German government.

Left: Recent memorial to the victims of the Karabakh conflict. Mother trying to halt advancing troops. In Sheki cemetery.

This is the first visit of any head of the independent Republic of Azerbaijan to Germany. Our official meetings started yesterday morning. I have already met with President Roman Herzog and Chancellor Helmut Kohl and other officials.

Azerbaijan is an independent state. We've been independent for five years now. Our deep wish is to take our place among the independent states of the world. Towards this end, Azerbaijan is in the process of signing bilateral treaties of mutual benefit with countries throughout the world. Among these states, the Federal Republic of Germany is very important for us. Germany has made great strides in their economy and, as a democratic country, occupies an important place among world countries.

The goal of my visit to Germany is to strengthen relations between Azerbaijan and Germany that had already been established before. I hope that yesterday's discussions have established favorable grounds to realize these goals. I want to say that I'm very pleased with this visit and I would like to express my gratitude to the German government and the German people for their hospitality.

During our discussions, we emphasized economic cooperation and ways to develop economic relationships. I have also held meetings with leading German companies and have described the economic opportunities that exist in Azerbaijan for German businessmen.

Azerbaijan is situated at the crossroads of Europe and Asia, and the country is in a favorable geopolitical and geographical position to serve as a bridge between Asia and Europe. The Republic has great natural resources. These factors make Azerbaijan an interesting country for the world.

Thank you for coming. I'm ready to answer your questions.
Mr. President, you've said in the past that the conflict between Armenia and Azerbaijan is a complicated issue and that international organizations can participate in the peaceful resolution of this conflict. Can you provide more details? How do you see the role of international organizations in the solution of the Karabakh problem?

It's true. This conflict is a complicated problem. This conflict started eight years ago. And I would say that it is one of the most difficult problems existing in the world as far as its continuity and complexity. This conflict started as the result of the military aggression of Armenia against Azerbaijan. Armenia wanted to unite Nagorno Karabakh-a part of Azerbaijani territory-to their own territory, Armenia.

As a result of this aggression, 20% of Azerbaijani territory is now under Armenian occupation. More than one million people have been forced to leave their homes and are currently living under the worst conditions. The majority of them are living in tent camps.

As a result of this conflict, Azerbaijan has sustained tremendous losses. Many people have been killed, and the Republic has undergone tremendous economic damages. Many monuments, production areas, villages, houses, electric stations, schools, and cultural centers have been devastated.

Despite all these damages and devastation, Azerbaijan seeks a peaceful solution to this conflict. Two years ago, we signed a cease-fire agreement with Armenia but, unfortunately, there is no permanent peace. We want peace and are against the resumption of hostilities.

Therefore, in order to achieve peace, we have taken very serious, constructive and compromising steps. Of course, as you said, this is a complicated problem. But there are certain essential principles from our point of view that we consider absolutely necessary to observe.

First of all, we insist on the withdrawal of Armenian armed forces from the occupied [Azerbaijani] territories. We insist on the re-establishment of the territorial integrity of Azerbaijan and upon recognition by international organizations of these borders.

Azerbaijan guarantees the security of Armenians living in Nagorno Karabakh and undertakes to give Nagorno Karabakh the highest degree of autonomy according to the most advanced world standards. As you see, our conditions are very simple and fair.

But these principles are not supported by the Armenian side. Armenia's attitude towards the solution of this problem is unfair. Armenia wants Nagorno Karabakh to become an independent state. But I declare: there is no way that Nagorno Karabakh will be given independence from Azerbaijan. The demands of Azerbaijan do not contradict international standards. Every state must defend the integrity of its own territory.

The Minsk Group of the OSCE [Organization for Security and Cooperation in Europe] has been involved with the settlement of this conflict. Various negotiations and meetings are being conducted. We have put forward our proposals. I think they are fair. But, unfortunately, the Minsk Group has not achieved any serious results.

I think the Minsk Group should reinforce its activity and States, regardless of whether they are in the Minsk Group or not, should take effective steps. Germany, an important member of this Group, should play a decisive role in the solution of this problem. I think Germany can play a very important role and can contribute to the achievement of peace in the region. We want peace, and I hope that the conflict will be peacefully solved.

You were speaking about building a democratic, legal government. But experts have proved that democratic principles are being violated in Azerbaijan. They say the rules of democracy were not observed during elections, opposition parties were banned, newspapers were blocked and journalists are in jail. How can you speak about democracy in such a country?

This question shows the reporter's intentional and prejudiced attitude towards Azerbaijan. I declare that all that has just been said is a complete lie. The truth is that there are more than 30 political parties that have been officially registered and are functioning in Azerbaijan. The majority of these parties are opposition parties.

In November 1995, eight political parties participated in the elections. As a result, representatives of these parties have been elected to Parliament, both by the principle of majority rule and proportional rule. Now eight political parties have seats in our Parliament. Some of these parties are in strong opposition against the Government and rarely ever agree with it.

There is political pluralism, and the media is free. There are probably more than 60 newspapers being published in Azerbaijan. The majority of them are opposition newspapers. Journalists write whatever they want. They often criticize the Government very seriously and sometimes they even write complete lies like those you have heard here today. I accept this as quite normal.

I'm telling you quite frankly that there is no correspondent or journalist in custody in Azerbaijan. One year ago, several young journalists were arrested for insulting the Presidency of Azerbaijan. After they were arrested, they appealed to me and asked me to forgive them, and I did.

In April, a Turkish journalist was arrested in Baku, together with other criminals. But after an appeal by Representatives of Turkey, I forgave him, and he was released. We are really building a democratic legal state in Azerbaijan where human rights are protected. One-third of the articles of the New Constitution adopted last year cover items related to the protection of human rights.

At the same time, I'd like to thank you for your question since it allowed me to reveal the democratic processes that are going on in Azerbaijan.

There have been several attempts to resolve the Nagorno Karabakh conflict. There was an attempt by Boris Yeltsin, another attempt and another by Yeltsin and Nazarbayev, the President of Kazakhstan. As well, the OSCE has been trying to do something. How do you value Russia's role in the solution of this problem? What can Russia do in this respect?

All these attempts are positive, of course, but unfortunately they haven't led to a complete solution of this problem. The Minsk Group of the OSCE has been involved with this problem already for four years. Since 1994, Russia and Finland have been co-chairing the Group. Russia has been taking direct, independent initiatives as have some other countries. Boris Yeltsin and I have discussed ways of solving this conflict several times. And we are expecting him to take more steps in this direction. The USA has also taken several initiatives to solve this conflict, and I've had several discussions with President Clinton about it. After the Presidential elections in Russia, the Russian government will probably get more involved with this issue.

What concrete treaties have you signed during your visit?

Several treaties were signed between Azerbaijan and Germany in 1995 when Germany's Minister of Foreign Affairs visited Azerbaijan in December. And several treaties were signed yesterday with President Roman Herzog and the Ministry of Economy. These treaties relate to the economic sphere and the field of development of economic relations with Germany. I think these treaties are a good foundation for our future economic cooperation.

What was the priority given during discussions?

We didn't discuss anything except priority issues. A strong emphasis was placed on the economic relationship between the two countries. Presently, the involvement of German firms is very weak in Azerbaijan despite the fact that the German companies, Siemens and Mannesmann, were already operating in Azerbaijan at the turn of the last century.

We also held discussions in the sphere of industry related to oil, gas, metallurgy and machine-building. We discussed all these questions with Mr. Kohl and are hoping that the German side will present concrete proposals and that the Federal Chancellor will help realize concrete programs in these areas.

The Chancellor and I also discussed in detail the issue of the Transcaucasian Transportation Highway. This highway will connect Transcaucasia to Central Asia through four countries. An agreement has already been signed to build a major Transcaucasian highway through Georgia, Azerbaijan, Turkmenistan, and Uzbekistan. It will allow all cargoes and goods to pass through Azerbaijan to Georgia. From the Georgian port, they will disperse to Europe and the rest of the world. All of these items were discussed as priority issues.

But of course, the basic subject of all our discussions was the conflict between Armenia and Azerbaijan. So, as you see, all questions were of top priority.

Are you worried about the health of Yeltsin?

I don't know whether he's sick or not. But even if he is, there are many professional doctors that can treat him. I've lived in Moscow and know the high level of their doctors. I don't believe Yeltsin needs me to be worried for him about his health.

About 30 million Azerbaijanis in Iran are living under suppression. What do you think about the rights of Azerbaijanis there?

During the past 50 years, world practice has shown that democracy must be established in all countries. I am sure there will be democracy in all countries in the future whether it exists there now or not.

Thank you.


From Azerbaijan International (4.3) Autumn 1996.
© Azerbaijan International 1996. All rights reserved.
Back to Index AI 4.3 (Autumn 1996)
AI Home | Magazine Choice | Topics | Store | Contact us