Autumn 1996 (4.3)
Pages 36-37

Capital Construction
Ahmad Zeynalov, VP of SOCAR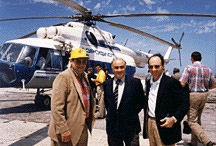 Left to Right: Tom Hamilton of Pennzoil, Ahmad Zeynalov, and Rondo Filberg.
Ahmad Zeynalov, SOCAR's Vice President for Capital Construction, was born and educated in Baku. He studied Geology at Azerbaijan's well-known Oil Academy and civil and industrial engineering at the Polytechnic University where he graduated in 1958. His work experience includes Oil Rocks where he directed the Construction Department. In 1980, he came to Kaspmorneft (Caspian Sea Oil) which, after independence became known as SOCAR. Zeynalov has been a Vice-President since that time.

Zeynalov has two state prizes: the first (1980), "The State Prize of the USSR" was given for construction of the pass through the Kuybishev Bay for the Azerbaijan-Urengoy Gas Line, and the second (1990), "The State Prize of Azerbaijan," was received for construction work in the Gunashli oil field.
SOCAR's Construction Department
Zeynalov is the General Supervisor of all of SOCAR's construction work. The department consists of 11,000 construction engineers, and six trusts-each with its own specialty. Each trust is responsible for a specific kind of construction which includes building and repairing refineries, social structures (such as schools and hospitals), road construction, deep technological equipment (compressors), etc.

According to Zeynalov, from 1949 up until the collapse of the Soviet Union in 1991, Azerbaijan was responsible for all its offshore work themselves-there was no foreign involvement. Everything was organized by the Oil Ministry at the USSR level which provided pipes and all the other equipment.

However serious neglect set in after oil was discovered in Siberia as the Central authorities in Moscow focused their attention on those gigantic fields and ignored Azerbaijan. It wasn't long before Baku's equipment became obsolete.

These days since economic relationships have been broken within the former USSR and the financial system has changed, provision for construction in the fields has become a complicated issue.
Joint Ventures
"To overcome these problems, we are involving Western technology and equipment. We're trying to learn their working methods and financial practices. When we were in the Soviet Union, we didn't pay attention to these matters, especially to finances. Now that we're independent, this is our chance to solve financial problems to our advantage. All this is for our benefit."

"Such joint ventures will be beneficial for Azerbaijani people as well," Zeynalov believes. There will be more job opportunities. The market economy will develop quicker. "Today we are talking about the primary or early oil. The scale will increase exponentially when the main oil production begins," he noted.

SOCAR is currently involved in two joint construction projects with McDermott. The first one, known as MacShelf, is doing repair work in the "Chirag 1" field and modernizing the topside submarine pipelines by replacing outdated equipment installed during the Soviet period. The second, MacDock, is repairing ships, hydrotechnical installations and submarine pipelines to use in offshore construction. These projects will eventually employ more than 600 Azerbaijanis when new equipment and machines are installed. Eventually, 70-80 foreign experts and workers will be involved.
Brodero Price
SOCAR is quite involved with Brodero Price (Netherlands) in a project cementing 200 km pipeline to transport the primary oil to shore. Another project involves a 50 km gas line.
CSM (Consolidated Supply Management)
One of SOCAR's main goals is to establish a single supply base rather than organizing for each consortium to have its own supply center. Already 60,000 tons of chemical reagent have been received and soon 3,000 tons of pipes will arrive. Zeynalov has no doubt that SOCAR will establish a joint venture with CSM.
Petrofac
The construction of the northern pipeline route (to the Russian border) for the transportation of early oil has been awarded to Petrofac. SOCAR has been operating that route since 1983. The installation of pumps and other routine equipment is being made along the pipeline route and at Siyazan.
Future Tenders
In terms of SOCAR construction, the only tender left to award right now in relation to primary is for the western pipeline (to Georgia). Once assigned, the main direction of this project will be established. After the decision of the pipeline route for the major oil production has been made and tenders assigned, construction on the main pipeline will begin and numerous tenders will be awarded.

From Azerbaijan International (4.3) Autumn 1996.
© Azerbaijan International 1996. All rights reserved.
Back to Index AI 4.3 (Autumn 1996)
AI Home | Magazine Choice | Topics | Store | Contact us