Autumn 1996 (4.3)
Page 29
Aliyev's Presidential Visit
to Germany
by Betty Blair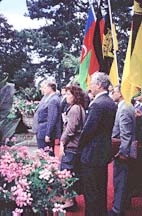 Left: President Aliyev in Stuttgart, Germany. The majority of early German settlers in Azerbaijan came from this region after the Napoleonic Wars in Europe (1818). The President also visited the Mercedes factory there (July 4, 1996)
Once again, Heydar Aliyev was boarding a plane for another Presidential State visit. This time he was off to Germany (July 1-4, 1996), leading a delegation of more than 50 Azerbaijani governmental representatives (Ministers, Parliament members, administrative assistants and even a few musicians). It's all part of his foreign relations' strategy in the unending task of establishing independent bilateral relations with the international community.

During Aliyev's three years as President, he has made State visits to more than 25 different countries, including Belgium, Bulgaria, China, Denmark, Egypt, France, Georgia, Iran, Kazakhstan, Luxembourg, Morocco, Norway, Pakistan, Romania, Russia, Saudi Arabia, Sweden, Switzerland, Turkey, Turkmenistan, United Kingdom, the United Nations, and Uzbekistan. A trip to Japan is anticipated in the near future.

Aliyev, 73, is an indefatigable traveler and somehow manages to keep going longer than most who accompany him, including those considerably younger. For the past fifty years, he's had a strong tendency to work very late into the night, often not quitting until 2 or 3 a.m.

The President's itinerary included visits with German President Herzog, Chancellor Kohl, Foreign Minister Kinkel, VP-Deputy Speaker of Parliament Felmer and Chairman of the German Caucasus Committee of
Parliament Wimmer. He also met with business representatives in Bonn, Dusseldorf (to meet with Deutsch Bank officers), and Stuttgart (Mercedes Factory).
| | |
| --- | --- |
| | |
Left: The Azerbaijani Diaspora meet President Aliyev at a reception at the Rotunda of the Petersburg Gastehaus in Konigswinter outside Bonn (July 1, 1996)

Right: Aliyev's motorcade in Bonn on the way to visit Chancellor Kohl (July 2, 1996)

The Trip's Agenda
Diplomats and government officials from both countries anticipate that the President's trip will serve as a catalyst for strengthening ties and beginning many significant projects. Three major documents were signed: one related to educational cooperation, the second pledged to honor treaties that had already been signed years ago between the USSR and the Federal Republic of Germany, and the third will lead to a substantial loan needed for updating technical equipment at Baku's airport.

With this visit, the Germans became much more aware of the economic potential in Azerbaijan, especially after the President addressed 150 German company representatives in Bonn. With few exceptions, German companies are not involved with the oil exploitation and production in Azerbaijan. However, businesses such as Siemens, Thyssen, Ferrostal and Mannesman have already signed letters of intent for other projects. Many companies are developing a keen interest in the industrial redevelopment of Sumgayit, a satellite city about 30 miles north of Baku on the Caspian, which is being set up as a Special Economic Zone (SEZ) for international trade.

Germany to Co-Chair Minsk
One of the most significant achievements of the trip was to persuade the German government to take a more active role in helping resolve the Nagorno-Karabakh conflict which has being going on for eight years. To this end, the Germans have agreed to co-chair the Minsk Group of the Organization of Security and Cooperation in Europe (OSCE). The Minsk Group has been mandated by the 51 country members of the OSCE to find a resolution to this problem. The Germans will take on these responsibilities in December 1996, replacing the Finns as co-chair with Russia. Azerbaijanis welcome this Western alliance.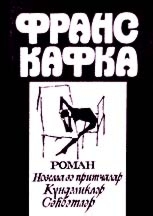 Left: Franz Kafka's novel, "The Castle" recently translated from German into Azerbaijani by Charkaz Gurbanov.
Historical Links
Azerbaijan had early links with Germany. Large-scale migration from Germany's Stuttgart region to the fertile valleys in Western Azerbaijan began around 1819 as a consequence of Napoleon's wars in Europe. German immigrants settled in a village they called "Helenendorf," which is known today as "Khanlar." It soon became the largest German rural settlement, not only in Azerbaijan but in the Caucasus as a whole. With hard work and ingenuity, the Germans developed prosperous vineyards, and Azerbaijanis credit them with the introduction of the wine industry still flourishing 170 years later.

The Soviet Occupation of Baku led to a reverse situation in the 1920s. This time Azerbaijanis sought refuge in Germany. However, with World War II (October 1941), Germans found themselves again on the move, being rounded up and exiled to Central Asia, particularly Kazakhstan. With the current renewal of economic, cultural and educational ties, Germany's legacy, no doubt, will continue to make a profound impact in Azerbaijan.


Betty Blair, Editor of Azerbaijan International, accompanied the Presidential delegation to Germany.


From Azerbaijan International (4.3) Autumn 1996.
© Azerbaijan International 1996. All rights reserved.
Back to Index AI 4.3 (Autumn 1996)
AI Home | Magazine Choice | Topics | Store | Contact us