Spring 1996 (4.1)
Page 77
British Secretary of State
Visits Azerbaijan
by Thomas Young, British Ambassador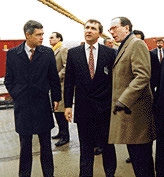 Left: British Secretary of State, Malcolm Rifkind (right), visit SOCAR's oil installation, Khazardanizneft. Thomas Young, the British Ambassador to Azerbaijan, (left) looks on. January 1996.
British Secretary of State, Malcolm Rifkind, made an official visit to Azerbaijan on January 3-4, 1996. Rifkind met with Azerbaijan's President, Heydar Aliyev; Minister of Foreign Affairs, Hasan Hasanov; and with opposition leaders during his visit. Discussions covered a wide range of bilateral and international issues including the recent elections in Azerbaijan and elsewhere in the former Soviet Union. Both sides emphasized that their relations are based on full respect for the principles of the UN and OSCE, including that of territorial integrity. They expressed concern about the continuation of armed conflicts, reaffirming their view that acquiring territories by use of force is unacceptable. [Armenia presently occupies 20% of Azerbaijan's territory].

During his visit, an Investment Promotion and Protection Agreement between Britain and Azerbaijan was signed underling the importance both sides give to the promotion of bilateral trade and investment opportunities.



From Azerbaijan International (4.1) Spring 1996.
© Azerbaijan International 1996. All rights reserved.
Back to Index AI 4.1 (Spring 1996)
AI Home | Magazine Choice | Topics | Store | Contact us