Spring 1995 (3.1)
Page 52
Violin Concertos and Dolls
The Musical Beginnings of Nasrin Rashidova
by Svetlana Turyalay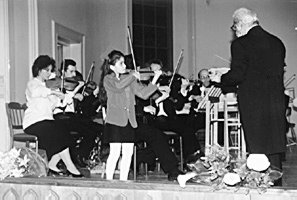 She was six this past December when she gave her first violin solo performance at the Baku State Philharmonia. And four when she performed with Cairo symphony Orchestra at the American University in Egypt. And three when she made her debut at the Golden Autumn Music Festival at the Baku State Palace. And two and a half when she held a violin in her hands for the first time.
Nasrin Rashidova was born into a world full of music. Both her mother, Sadigat, and father, Shamil, have violins and are accomplished musicians. All the people coming to their home for lesson had violins it seemed the only important person in her life who didn't have a violin was her grandmother and it didn't take Nasrin long to ask, "Where's you violin, grandma?"
The Rashidova family now lives in Egypt where her father plays for the Cairo Symphony. They're there because of the economic difficulties that musicians face in Azerbaijan. It was her father that tracked down a master violin maker in Baku a few years who had built a violin, size 1/32, for his son who didn't learn to play. Shamil finally convinced him to let Nasrin try and she's been playing ever since.
Among her repertoire are pieces by Paganini, Tchaikovsky, Handel, Bocherini and Thad Jones as well as Azerbaijani composers, Hagibeyov, Garayev and Melikov and Niyazi.
Nasrin learned to read notes only last year. Until then she used to paly the complicated pieces by ear. Nasrin has become well known in Egypt. Even President Husni Mubarak has expressed his admiration to her for her successful performances.
When Yehudi Menuhin was on concert tour in Cairo two years ago, Nasrin played, and the world famous violinist applauded and invited her to his world-famous school for musically gifted children at Stoke d'Abernon in Surrey, England. She's seven now and her family is making plans for her to attend this fall.
At home, Nasrin speaks Russian and Azerbaijani; at school, English, and with her new Egyptian friends, Arabic. Daily practice is limited to two hours. And in her leisure--well, she loves Michael Jackson videos but her favorite pastime is still dolls.

From Azerbaijan International (3.1) Spring 1995.
© Azerbaijan International 1995. All rights reserved.
Back to Index AI 3.1 (Spring 1995)
AI Home Page | Magazine Choice | Topics | Store | Contact us