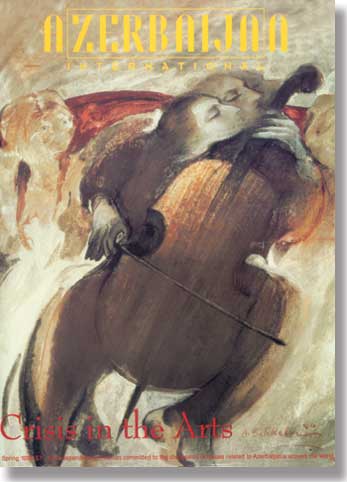 Front Cover

Spring 1995 (AI 3.1)
Azerbaijan International
Art: Akbar Behkalam



The Cello Player (64 x 62, mixed media on paper, 1984) by Azerbaijani painter, Akbar Behkalam, from Tabriz who now lives in Germany. The artists's wife, German musician-physician was the inspiration for this painting. Behkalam said that, his wife becomes so engrossed when she plays music that she almost embraces the instrument. "I've tried to capture the motion of this phenomenon." This issue, "Crisis in the Arts" explores the impact on artists and musicians whose lives are intrinsically tied to their arts - a love affair which is being torn apart in Azerbaijan because of lack of economic support. See article about Behkalam on page 14.