Spring 1995 (3.1)
Pages 38-40

Azerbaijan's Brain Drain in Music
The Question of Survival
by Khuraman Gasimova, Opera Singer
Click to hear music sample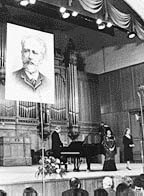 Above: Khuraman Gasimova (Huraman Kasimova via Russian spelling) performing at the Tschaikovsky International Competition in 1982 where she took second place. She was the first Azerbaijani ever invited to compete in this world famous event and the only vocalist from the Caucasus present. Performance was in the Grand Hall of Tschaikovsky Conservatory in Moscow.
Everyone speaks about the great contribution that the Soviet system made to the arts, especially music. We're proud of the education we received. It was world class and Azerbaijani musicians became very famous within the Soviet Union. Unfortunately, outside those borders, we were hardly known except by the non-differentiating label of "Soviet". Part of the legacy of the collapse of the Soviet Union is that so few people know our musicians on an international scale.

Even Azerbaijani world-class composers like Hajibeyov, Garayev, Amirov, and Malikov, or the conductor Niazi, are hardly known outside the Soviet Union. And yet they rank with the world's best. We had, and still have, many capable performers and composers-some of the most talented in all of the Republics.

One of the reasons so few people knew us was that we seldom got to participate in international competitions. It was extremely difficult to compete. You had to be more than an exceptional performer to be selected to represent the Soviet Union. First, you had to win various levels of competitions (local, national, and Soviet). But then there was the subtle, but insidious discrimination against artists who came from regions outside of Russia's borders. Decisions were always made in the center-from Moscow and there was an undeniable bias favoring their own musicians. We always felt it.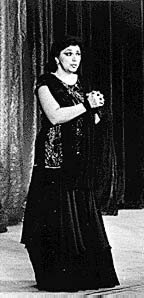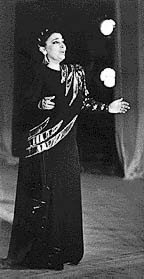 Above:
Baku's Brilliant Opera Stars: the Gasimova Sisters: Khuraman (left) and Fidan (right). Both are presently working in Turkey.
So few managed to succeed. Farhad Badalbayli, now the Director of Azerbaijan's Music Academy (previously called Conservatory) was the first Azerbaijani ever to win an international competition when he took first place in the International Piano Competition in Portugal (Viana a Mota) in 1972.

In my own case, I won the Grand Prix at the Maria Callas International Opera Competition in Athens in 1982. This recognition, in turn, enabled me to qualify the following year to participate in the USSR's Tchaikovsky International competition in Moscow, an event which occurs only once every four years. Every musician is so proud just to get the chance to participate in that event. In all honesty, I still don't understand why I didn't win first place there except to wonder if my nationality didn't play a role.

Despite how extensively the arts were supported during the Soviet period, we young people were extremely frustrated. We couldn't reap the benefits of our education and ability. Even after we made such incredible efforts and became recognized, we often were denied the chance to pursue our careers. For example, after winning the Maria Callas competition, I was invited to study in Florence by the famous baritone, Tito Gobbi, who had supervised the jury. I appealed to the Soviet Ministry of Culture but my invitation fell on deaf ears and this unique opportunity was lost.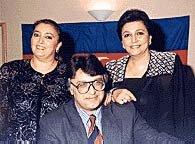 Left: The Gasimova Sisters, Fidan (left) and Khuraman-famous opera singers in Baku with Farhad Badalbeili, pianist and Director of Azerbaijan's most distinguished music institution, the Music Academy (formerly Conservatory). Badalbeili was the first Azerbaijani to win an international music competition. Lisbon 1971. Photo in London, November 1994.
Music Today
But now, everything has collapsed. Life is upside-down. There's a crisis going on in the arts; it has become very difficult for musicians to live in Azerbaijan. Many have abandoned their careers in opera, dance, and instrumental music even though it was like a second home to them.

Nobody can really blame those who leave; it's very difficult to survive. Musicians get such a pittance of a salary from the State and often payment is delayed for months. What kind of performance can you give if you don't get paid? It's true that art provides spiritual strength but if you're hungry, how can you perform? How can you create?

Many have left the country and signed contracts abroad. There has been an incredible brain drain. The majority of our best musicians have left for Turkey. They'd go to England, Germany, Italy, Austria and the States, too, if they had the chance. It's just that Turkey is nearby. Our languages are similar so it's easy to communicate. Our musicians are performing in orchestras, night clubs, and teaching at universities and privately.

But there are some advantages to being abroad, too. It's not all negative. It gives us a chance to begin to build our reputations and become known internationally-both for ourselves and for our country. When we accept contracts outside our own country, part of our salary automatically goes to the Azerbaijan government - that's part of the deal. I've been back and forth between here and Turkey myself and am working there, too. My sister, Fidan, is a superb sopranist. It's no exaggeration to call her "great". We're a rare combination - where can you find two opera singers in the same family? She's in Turkey now, teaching in the university, singing and touring. If my sister and I had a good manager, we'd be performing throughout the world.

But I think this period will be temporary; not permanent. The fact that musicians leave the country really helps preserve our culture. The same phenomenon occurred during World War II. I think it's peculiar to music; simply, we have no way to earn a living except through our fingers, our feet, and our voices. We have to preserve the culture. Leaving the country is one way to do that. It's sheer survival. One person does not do much for the war effort, but if we lose a single musician, if one violinist or one pianist goes to the war and loses his fingers, his hands or his life, it's an irreplaceable loss.

As long as I live, I want to sing. I'm not afraid of any competition. In the past whenever I've set a goal for myself, I've usually succeeded in achieving it. These days I dream of singing with Pavarotti or Domingo. What's wrong with dreaming? They say that the soldier who doesn't want to become a general is a bad soldier. And so I dream.

You'll see. There will come a time when the whole world will know our culture - we'll work to achieve it. We have a marvelous bouquet of prominent musicians. Our music is something we're immensely proud of. We've given the world a vast treasury of music; now, we must help them discover it.
Khuraman Gasimova as Soloist
Khuraman Gasimova has been a soloist at the Azerbaijan State Theater of Opera and Ballet since 1976 and has performed throughout the world in Italy, Austria, Germany, Hungary, Malta, Yugoslavia, Turkey, France, China, Egypt, Finland, the US, Cuba as well as many cities within the former Soviet Union such as Leningrad, Moscow, and Minsk.

Her repertoire includes Stradella, Pergolesi, Handel, Schumann, Mahler, Rachmaninoff, Tchaikovsky, Vivaldi, and Hajibeyov and others. In Opera, she has performed many of the star roles including Verdi's Aida, Puccini's Tosca, Tchaikovsky's Iolantha and Tatyana in "Eugene Olnegin", Bizet's Michaella in "Carmen", Leonora in Verdi's "Troubadour", Mimi and Musetta in Puccini's Boheme, Marfa in Rimsky-Korsakov's "Tsar's Bride", and Sevil and Dilber in Amirov's "Sevil".

Ms. Gasimova won the "Grand Prix" gold medal at the Maria Callas Competition in Athens in 1981. One of the highlights of her career was in winning the 2nd place silver medal in the International Tschaikovsky Competition in 1982. She and her sister, Fidan, also a soloist, performed together at the 1993 Presidential Inauguration of President Heydar Aliyev.


From Azerbaijan International (3.1) Spring 1995.
© Azerbaijan International 1995. All rights reserved.
Back to Index AI 3.1 (Spring 1995)
AI Home | Magazine Choice | Topics | Store | Contact us