Winter 1994 (2.4)
Pages 26-28, 65

Azerbaijan's "Contract of the Century"
Finally Signed with Western Oil Consortium
by Nasser Sagheb and Masoud Javadi
In the Spring 1994 issue of Azerbaijan International, we reported on the progress of Azerbaijan's negotiations with the Western Oil Consortium. (See "Azerbaijan's Economic Rebirth," 12-16). Further developments follow.
Contract Finally Signed
On September 20th, after three and a half years of arduous negotiations, Azerbaijan and a Consortium of foreign oil companies signed a production sharing contract in Baku's Gulistan Palace to develop Azerbaijan's Caspian oil reserves. The only remaining barriers are the ratification of the contract by the Azerbaijan Parliament and approval of the contract by the boards of the companies comprising the Consortium.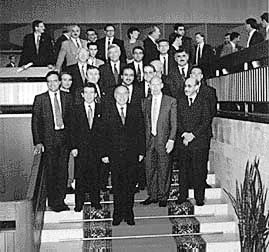 Dignitaries and Signatories of the Oil Contract between SOCAR and the Western Consortium, at the Gulistan Palace in Baku, September 20, 1994. Front row (left to right): Tim Eggar, UK Energy Minister; John Browne, BP; President Heydar Aliyev; Bill White, US Energy Deputy Secretary; Usam Jafari, Islamic Bank of Development. Second Row: BP Interpreter; Stanislav Pugach, Russian Ministry of Fuel and Energy; Nabil Al-Khowaiter, DNKL; Tom Hamilton, Pennzoil; UK interpreter; Lukoil. Third Row: Johan Nic Vold, Statoil; John Imle, Unocal; Natiq Aliyev, SOCAR; Thomas Young, UK Ambassador; Sitki Sancar, Turkish Petroleum. Back Row: Richard Kauzlerich, US Ambassador; Eldar Namazov, Presidential Advisor; Hasan Hasanov, Foreign Minister.
Once ratified and implemented, the agreement is certain to transform the economy, political standing, and standard of living in Azerbaijan for decades to come. Speaking at the signing ceremony, British Petroleum Exploration's Managing Director John Brown said, "The investments will open new possibilities for Azerbaijan and will ensure thousands of occupations for all people. It will be one of the greatest projects in the history of Azerbaijan."

The agreement brings full circle the recognition of Azerbaijan as the birthplace of the international oil industry, the subsequent demise of the oil industry due to Soviet mismanagement, the premature conclusion on the part of the Western companies that Azerbaijan's oil had been depleted, and the ultimate comeback of Azerbaijan as a leading world supplier of light sweet crude petroleum.

President Heydar Aliyev, at the signing ceremony, recounted the long and significant history of Azerbaijan as an international oil supplier and referred to oil as "the main and richest national wealth of the Azerbaijan Republic and Azerbaijani people."
Investment and Production Details
The agreement calls for a total $7.4 billion investment (at today's rates) over 30 years in three offshore oil fields.1 The fields include Guneshli (82 km offshore in the section which is deeper than 200 meters), Chirag (94 km) and Azeri (113 km). The reserves are estimated at 4 billion barrels (511 million tons). The crude which these field produce is considered to be among the lightest in the world. The lighter the oil, the less expensive to refine. Azeri crude weighs 36.7 degrees average API gravity, which is even lighter than Saudi Arabia's, which weighs 34.2

Production, is scheduled to begin at 40,000 barrels per day after 18 months (perhaps as early as 1997) and will rise to 80,000 barrels per day during the first years, peaking at 700,000 barrels per day in ten to fifteen years. Current Azerbaijani oil production stands at 160,000 barrels per day.
Division of Stakes and Profits
Azerbaijan's government will receive approximately 80% of the total profits from a combination of royalties and SOCAR's share. (Calculations indicate that 55 billion cubic meters of gas will also be extracted which will wholly belong to Azerbaijan). The remaining 20% of profits will be divided among the other Consortium members. The final division of stakes (and therefore division of expenses) among the eleven final multinational signatories is as follows:
SOCAR (Azerbaijan) 20%
British Petroleum (UK) 17.127%
Amoco (USA) 17.01%
Lukoil (Russia) 10%
Pennzoil (USA) 9.82%
Unocal (USA) 9.52%
Statoil (Norway) 8.563%
McDermott International (USA) 2.45%
Ramco (Scotland) 2.08%
Turkish State Oil Company (Turkey) 1.75%
Delta-Nimir (Saudi Arabia) 1.68% (See chart on page 29 for actual percentage of total profit)
Delta-Nimir (DNKL) is a privately-held Saudi oil company which joined the Consortium this year after buying 15% of Unocal's 11.2% original stake.

A sliding scale mechanism factoring output and oil prices will determine the exact division of profits. According to one Azeri official, preliminary estimates of Azerbaijan's overall profit are projected to be $81 billion over 30 years.

In addition, the Azeri government will receive a $300 million bonus from the Consortium for signing the agreement. Of this total, $80 million has already been paid. Another $70 million will be paid after the agreement is ratified by Azerbaijan's parliament, $75 million will be due when production reaches 40,000 barrels per day (expected in 18 months), and $75 million will be paid when export of oil through a pipeline commences.

At the signing of the Contract on September 20th in Baku, John Browne of BP on behalf of all the Consortium members, presented a $5 million gift to President Aliyev to be used upon Parliament's ratification of the Contract for the rejuvenation and refurbishing of a hospital in Baku.

Two important impediments still remain unresolved. First, there is no definite plan transporting oil from Azerbaijan to Western markets, and secondly, a lukewarm endorsement by Russia could create problems in the future.
The Turkish Route
The agreement calls for construction of a pipeline within 54 months. President Aliyev expressed his preference for a route to the Mediterranean via Turkey to Azerbaijan International's Editor on September 30th. Later that same day enroute back to Azerbaijan from New York, Mr. Aliyev stopped off to meet with Turkey's President, Mr. Demirel, to discuss this possibility.

However, several political and logistical factors stand in the way of this solution. The basic problem is to get the oil from Azerbaijan to Turkey as the two countries are not contiguous. A narrow strip of land belonging to Armenia which extends about 40 kilometers in width separates Azerbaijan's mainland from Nakhchivan, an Autonomous Republic of Azerbaijan, which borders Turkey. To reach Turkey, oil either has to go through Armenia or south through Iran for this short distance. The Armenian route is not viable until there is a peace treaty with Armenia.

An agreement with Turkey to build such a pipeline from Baku to connect to the presently unused Iraqi-Turkish Mediterranean pipeline, tracing a route south to the Iranian border, was signed in March 1993. It would have carried oil from Azerbaijan and Kazakhstan. Construction was set to have begun this year and end in 1997.3 However, the interjection of Lukoil early this spring into the Oil Consortium complicated the issue.
Russian Route
Lukoil is offering a pipeline route through Russian territory to the Black Sea port of Novorossiysk. From there, super tankers would carry the oil through the Bosporus into the Mediterranean Sea. Consortium members are skeptical that Lukoil will be able to transport the volumes anticipated since Lukoil has committed these same pipelines to Chevron's Kazakhstan output and Chevron expects an eventual output of 1 million barrels per day from Kazakhstan's Tengiz field.4
Georgian Route
Another alternative for exporting the oil was a proposal to rebuild an old pipeline through Georgia to the Black Sea from where ships could carry the oil out to the Mediterranean. But civil war in Georgia and its subsequent instability, have ruled out any likelihood of pursuing this option.
Iranian Route

A route to Iran to connect to the Persian Gulf pipeline route has been ruled out given Iran's international status and the objections by the US government. Furthermore, exposure to risks rising from Iran's perceived lack of reliability and credibility make it unlikely that a pipeline through Iran could receive financing.5

But Iran has suggested an oil location swap arrangement that would enable Azerbaijan to deliver oil to Northern Iran for Iran's use in that region. In turn for every barrel delivered to Iran by Azerbaijan, Iran would export from the Persian Gulf, one barrel of Iranian oil on behalf of Azerbaijan. Iran has a similar agreement already signed with Kazakhstan.6 This may be the most viable alternative during the first years of production and there are reports that the Consortium plans on taking advantage of it.7
Russian Interference
Confusing signals from Moscow also cast a cloud over the contract. Immediately after the signing ceremony on September 20th, an official of the Russian Foreign Ministry, Grigory Karasin, stated that, "unilateral actions, especially on resources and the Caspian Sea, contradict international law and risk damaging the ecological system of the sea."8 Mr. Karasin claimed that Russia would not officially recognize the deal. His remarks were reinforced by Russian Foreign Minister Andrei Kozyrev who was quoted by ITAR-TASS on September 22nd as warning Azerbaijan and the western oil companies that they must "take into account all interests including Russia's," and that they must "find a mutually acceptable solution."9

The Russian Foreign Ministry contended that the Caspian Sea is an inland water entity and its resources should be shared by all states surrounding it. Russia refers to 1921 and 1940 treaties between Iran and the former Soviet Union. Azerbaijan does not recognize treaties made by the former Soviet Union and is asserting its rights as a sovereign republic.

The Russian Foreign Ministry's position on the legal status of the Caspian Sea was further emphasized in an October 5th letter addressed to the General Secretary of the United Nations. The letter stresses that no single country surrounding the Caspian can make unilateral claims to the sea's natural resources and states that "national claims made by any Caspian Sea state in connection with the sea and its resources inevitably effect the rights and interests of the other Caspian states and cannot be considered legitimate." The legal precedent cited in the letter again refers to the Soviet-Iranian agreements of 1921 and 1940. These agreements pertained to the coastal access rights of Soviet and Iranian fishing vessels in the Caspian Sea (not oil rights under the sea). The letter concludes with a warning that unilateral action in the Caspian Sea will be considered illegal by the Russian Federation which "reserves the right to take such measures as it deems necessary and whenever it deems appropriate, to restore the legal order and overcome the consequences of unilateral action."

These statement are consistent with other remarks made by Russian Foreign Ministry officials in recent months. Russian Ambassador to Azerbaijan Valter Shonia could not have been more frank when he was quoted as saying, "We have had 200 years of cooperation with Azerbaijan. Any politician denying the reality of Russian power is not going to remain long in office. Russia is interested in cooperation with the West over Azerbaijan but if there is some attempt to unseat Russia, there will be unpleasant consequences."10
But Russian Energy signed Consortium Contract
In contrast to the above statements, Russia's Fuel and Energy Minister Yuri Shafranik backed Lukoil's participation in the agreement and downplayed territorial disputes over the Caspian. The news of Russian Foreign Ministry objections have surprised Lukoil, Russia's state-owned oil company and its Azeri head Vahid Alekbarov. Azerbaijan's concession of 10 points from its 30% original stake in the Consortium to Lukoil and the subsequent participation of Lukoil in the Consortium negotiations were arranged with the full knowledge and apparent consent of the Kremlin. Given Lukoil's significant share in the Consortium, it would be in Russia's interest for Azerbaijan's Caspian oil agreement to succeed.

Official Russian government's inter-ministry contradictions may be the result of irreconcilable power diffusion in the still emerging post Soviet new order. Whereas the state oil concern and the Ministry of Fuel and Energy may be adjusting to the realities of free market enterprise, Russia's diplomatic bureaucracy takes more account of Russia's historical hegemony over its newly independent neighbors.11

Iran has also chimed in, citing objections to increased western influence in the Caspian region. Russia and Iran were reported to be coordinating a joint strategy to oppose the Azerbaijani deal during a meeting of Caspian states in Moscow on October 10. Tehran Radio commented on October 9 that "Russia sees in Iran a natural ally" in resisting completion of Azerbaijan's agreement with the Western Consortium.12
Russia's Opposition Cools Down
However since the failed coup attempt against President Aliyev in early October upon his return from the United States, Russia has toned down its opposition to the Consortium agreement.
Minister Kozyrev was quoted as saying that he had talked by telephone with President Aliyev and that they had come "to the conclusion that we need to cooperate and that the temperature around the Caspian oil deal should not be raised."13 Russian Prime Minister Victor Chernomyrdin is also reported to be devising a better coordination strategy between the Foreign and Fuel and Energy ministries regarding the Caspian status.
More Vocal US Role
The role played by the United States in softening Russian objections is yet unclear. The recent warming of relations between Azerbaijan and the US has appeared to expedite the conclusion of the oil contract negotiations. Notable meetings have taken place between Azeri and American officials since last year including when Congressman Greg Laughlin (Texas, Democrat) and William White, US Deputy Secretary of Department of Energy visited Baku.

In mid-August this year, Ilham Aliyev (SOCAR's Vice President of Foreign Economic Relations and son of Azerbaijan's President, Heydar Aliyev) met with Rosemarie Forsythe of the US National Security Council (Director of Russian, Ukrainian, and Eurasian Affairs). That meeting was followed by a visit to Baku by US Ambassador to the United Nations, Madeleine Albright, on September 3rd. Next, US Vice President Al Gore met with President Aliyev in Cairo a week later during the Population Conference. On September 19th, the US Embassy in Baku issued a statement congratulating the Consortium partners and SOCAR for their upcoming Consortium agreement signing ceremony.14 Finally, on September 26th, after the contract was signed, Aliyev and US President Bill Clinton met in New York City.

In yet another sign of greater U.S. involvement after the contract was signed, Madeleine Albright was quoted as saying, "The US does not recognize Moscow's rights to spread the sphere of its interests outside of Russia's borders. We openly declare that the US does not recognize Russia's or somebody else's right to have special commissions or spheres of influence outside of its borders."15
Azerbaijan Presses On
The production sharing contract is a sign that President Aliyev has succeeded in balancing the conflicting interests vying for shares in Azerbaijan's potential oil wealth. Despite remaining obstacles and threats in its path, the oil Consortium contract should proceed toward implementation after parliamentary ratification by Azerbaijan.

The economic interests of foreign states and companies are obvious. However, for Azerbaijan, the contract signifies not only greater prosperity, but of equal importance, a greater degree of sovereignty and stability.

Nasser Sagheb is a management consultant in San Francisco. Masoud Javadi is a business attorney in Washington, D.C.

Footnotes

1 Statement of Heydar Aliyev, Azerbaijan's President, regarding Oil Contract to press on Sept 16, 1994, as printed in Century's Contract, Government Publication, Baku 1994, p. 34.

2 "Unocal, Partners Move Closer to Oil Production in Azerbaijan," Unocal Seventy Six, (Oct 1994), 1.

3 "Country Report: Azerbaijan," The Economist Intelligence Unit Country Report, (Quarter 2, 1993), 41.

4 Peter Galuszka, "Exxon of the Steppes," Business Week (Mar 14, 1994), 78E.

5 "Moscow Rules," The Economist (Sept 24, 1994), 71.

6 "Country Report: Kazakhstan," The Economist Intelligence Unit Country Report (Quarter 4, 1993), 43.

7 Stephen MacSearraigh, "Russia Puts Chill on Signing of Caspian Agreement," The Oil Daily (Sept 26, 1994).

8 "Aliyev: Azerbaijan to Develop Relations with Neighbors," ITAR-TASS, Sept 20, 1994.

9 Vladimir Socor, "Kozyrev Reinforces Objections to Azerbaijan-Western Oil Deal," Radio Free Europe / Radio Liberty, Sept 22, 1994.

10 "Russian Pressure on Azerbaijan," Foreign Report (Published by the Economist Newspaper Limited), (July 14, 1994), 2.

11 "Moscow Rules," Economist, (Sept 24, 1994), 71.

12 Vladimir Socor, "Russia, Iran Jointly Oppose Western Influence in Caspian Region," Radio Free Europe & Radio Liberty, Oct 9, 1994.

13 "Russian Foreign Ministry Seeks to Ease Tensions Over Caspian," Reuters (Oct 12, 1994).

14 "Statement of the US Embassy in Azerbaijan on Occasion of Signing of Oil Contract," Turan News Agency (Sept 19, 1994).

15 "US Permanent Representative in the UN Does Not Recognize Russia's Special Rights Outside of its Border," Turan News Agency (Oct 27, 1994).

From Azerbaijan International (2.4) Winter 1994.
© Azerbaijan International 1994. All rights reserved.
Back to Index AI 2.4 (Winter 1994)
AI Home Page | Magazine Choice | Topics | Store | Contact us