Autumn 1994 (2.3)
Pages 26-27, 30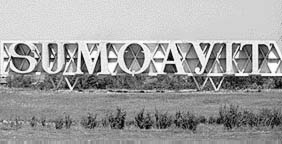 Sumgayit
Soviet's Pride, Azerbaijan's Hell
by Arif Islamzade
Photography by Oleg Litvin
Skies are bright and blue these days in Sumgayit. Especially on Sundays. In fact, it's almost impossible to believe that this city, so beautifully situated on the Caspian, is home to one of the largest chemical industrial complexes in the entire former USSR. Insane concentrations of chemicals were produced in Sumgayit. Environmentally, it's a death zone for the people who live and work here, with no exaggeration. But it's impossible to close all the plants because of the devastating economic impact it would have on the country.

But skies are clear these days-not because there have been sweeping environmental reforms; only 20% of the 33 factories are operating. Almost all of them have come to a complete standstill because the interconnective fabric of the former Soviet Union has been severed between the Republics. For lack of a very simple part-a screw from one Republic, a bolt from another, some raw material from another, an entire factory employing thousands can be shut down. It's happening to hundreds and thousands of factories all across the former Soviet Union.
Proud of Sumgayit
This autumn, Sumgayit, Baku's satellite city, celebrates its 50th anniversary. In 1939, it had a population of 6,000; today there are 350,000 including 62,000 refugees. Azerbaijanis are proud of this city. They built it with their own hands during this century shaping it into one of the largest industrial complexes in the Soviet Union. They're proud of their highly trained chemists. They appreciate its ethnic mix-Azerbaijanis, Russians, Georgians, Jews, Udins, Lezghins, Moldovians, Ukrainian, Belarussians, Kurds, Talysh and Armenian (an estimated 200 still live in the city today according to the mayor).

It was easier to get housing in Sumgayit than in other major cities, a strong card for attracting young people from the villages and smaller towns. And the money was good-factory workers make more than doctors. (For example, an aluminum factory worker makes the equivalent of US$10-14 a month these days).
Sumgayit has the greatest concentration of petro-chemical production in the former Soviet Union. Photo: June 1994.

Paradise Really Hell
Azerbaijanis considered Sumgayit a Paradise, unaware that it was really hell. Some of the chemicals they produced are known carcinogens, especially the chlororganic products such as hexochlorine, DDT, Lindane, and caustic sodium. Others injure the heart, internal organs, bones, and teeth. Others suppress the immune system. A permanent sharp-smelling substance hovers in the air irritating nose and eyes. Many chemicals clearly cause severe birth defects and embryotoxic effects. During the Soviet Period, the severity of the pollution was never made public. Health officials never released true statistics. The government used to compensate workers by providing milk, cheese, and meat to those at factories where toxicity was known to be high. Even today, workers in certain factories, such as the aluminium factory, are required to retire after ten years' work because the conditions are so detrimental.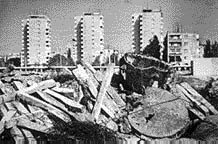 Hazardous solid wastes from tube rolling plant dumped close to residential area in Sumgayit. Photo: June 1994.

Dumping Wastes
Nobody used to pay attention to ecology. When the city was designed 50 years ago, a buffer zone was built between the industrial and residential sections. It's one kilometer wide; to be environmentally safe, there should be a minimum distance of twelve kilometers.

The emphasis was only on producing from raw materials; and then simply dumping the wastes-into the air, into the sea and onto garbage heaps. When the factories were fully operational, an estimated 70 to 120,000 tons of harmful wastes were released into the air each year.

Less than one third of industrial sewage was directed to the town's dilapidated purifying sites. The majority of the sewage simply was dumped into the sea unprocessed, causing the Caspian shoreline to be turned into a biologically "dead zone" extending 20-25 km into the fishing regions.

Factories generated over 300,000 tons of solid wastes of 64 different types; only 170,000 tons are actually utilized. The remaining 130 thousand tons were partially discarded in special furnaces, transported to the city dump as consumer wastes, or left lying around in the yards of factories. The city dump takes 250,000 tons of consumer wastes every year. The country can't finance the waste recycling factory that has already been approved to be constructed.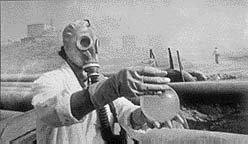 Testing industrial sewerage in Sumgayit. Photo: 1993.

Hazards Unknown
Scientists know the effect these separate chemicals can have on human beings. But when it comes to the chemicals being mixed together, they don't have a clue. Alone some of these gases may not even be dangerous but combined with other chemicals in the atmosphere, the soil, or water, they may become highly toxic. How dangerous they are simply is not known. Some of the processes themselves are hazardous such as smelting and electrolysis which produces strong magnetic fields.
The Baby Cemetery
The Sumgayit cemetery reveals the tragic story that was hidden so long during the Soviet period. Dead babies don't lie. This may well be the only cemetery in the world that has an entire section set apart for children. Lots of people don't know about it. Down in the south corner, there amidst the tall overgrown grasses, you've find hundreds and hundreds of graves, mostly unmarked and unnamed. The only identification is a pile of earth heaped up with small slabs of stones on top to prevent the wind from blowing the dirt away. The few grave stones that do exist almost always indicate deformity and retardation on the child's portrait.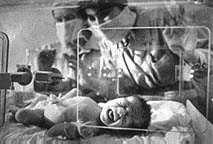 Sumgayit has a high percentage of babies born premature, stillborn, and with genetic defects: Photo: June 1994.
The doctors and nurses in the maternity hospitals will tell you the same thing. They see it every day-a high percentage of deaths. On average 27 out of 1,000 born don't survive the first year (a good rate would be less than 10 as in Japan) There's a high rate of aborted fetuses and still births and a considerable number of birth defects such as Mongolism, anencephalia (no brain), spina bifida (absence of one or more vertebra arches), hydrocephalus (enlarged head with excessive mount of fluid), osteochandro dystrophy (bone disease), and mutations such as club feet, cleft palate, four or six fingers or toes. Once a child was born with its heart on the right side. Nowadays, compared even with last year, doctors are seeing more children born with more than one defect. Approximately 62% of the babies are born with asphyxia. At this writing there were 43 babies in the nursery at the Maternity Hospital; ten of which were premature; they had only three incubators to sustain them.
Most mothers show evidence of chronic heart disease and anemia and have low counts of hemoglobin.

The medical profession knows there's a strong relationship between the tragic birth rate and the ecology; they just haven't had a chance to really research and quantify it. They don't know for sure, for example, which chemicals are most harmful. They haven't had an ambulance for this 150 bed clinic since 1990; they often run out of antibiotics as they are dependent on humanitarian agencies to donate them now that the economy is so bad. They can offer no pain killers to the mothers during delivery. Patients have to provide their own.
Revolutionary Changes Needed
Some changes have been made; revolutionary changes are needed. Environmentalists have managed to get a few factories closed including the Lindane factory. Workers are no longer permitted to grow little vegetable plots at some factory grounds where the pollution is considered so toxic. In some factories pregnant women are allowed to go on leave or to transfer out to less dangerous work.
The situation requires serious changes and huge capital investments, without which solutions are nearly impossible. The UNIDO (United Nations Industrial Development Organization) is now drafting a city plan for Sumgayit for restructuring the entire chemical sector. They're hoping to find a balance between ways to protect human health but yet produce industrially.

Some believe the real solution lies in converting the plants into other technologies such as producing machinery, equipment building, electronics, robot technology. Until then, Sumgayit remains Azerbaijan's most critical environmental problem.

Arif Islamzadeh is a university-trained environmentalist who serves as Head Counselor on Ecological Problems to Sumgayit's Mayor.

Translation assistance was provided by Mehry Zahidova, Aliya Abasova, and L. Akbarova
Factories in Sumgayit
Sumgayit had the highest concentration of petrol and petro-chemical production in the former Soviet Union. Here are some of them:

Aluminum
Antifreeze
Benzol1
Bricks
Butadiene
Carbomethyl cellulose
Caustic soda2
Chlorine2
Compressors
DDT3
Drilling pipes
Electrical heating
Epichlorine
Ethyl benzol
Ethyl alcohol, synthetic
Glass
Glycerin
Hexachloride
Lime
Lindane4
Polyethylene
Prophylaeum
Rubber, organic
Rubber, synthetic
Sodium chloride
Steel
Steel-tube rolling plant
Sterol
Superphosphates
Washing powder, synthetic

Footnotes
1 Used in rubber production, produces a narcotic effect on workers who get "intoxicated" from working around it.

2 Also produced by mercury (quick silver) method.

3 Produced in Azerbaijan until 1981 and used even later although a resolution of the Vienna Convention had banned its use in 1965.

4 Similar to Agent Orange used in Vietnam. Because of its extremely toxic effect on workers, the factory was closed although the Soviet Government resisted for a long time as they had paid the French $24M for it.

From Azerbaijan International (2.3) Autumn 1994.
© Azerbaijan International 1994. All rights reserved.
Back to AI 2.3 (Autumn 1994)
AI Home | Magazine Choice | Topics | Store | Contact us