Summer 1993 (1.2)
Our Last Conversation
Shovkat Alakbarova (1922-1993)
Shokat Alekperova
by Rafael Huseinov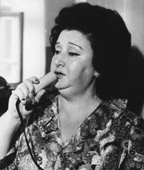 Shovkat Alakbarova was one of Azerbaijan's legendary singers whose career spans more than fifty years. She was admired by millions both in the Republic of Azerbaijan and in Iran. The soviet state bestowed upon her their highest honor for artist-that of Khalq or "People's Artist." From 1938 to 1945 she was Soloist with the Azerbaijan State Song and Dance Ensemble. From 1945 onward, she had performed as soloist with M. Magomayev Azerbaijan State Philharmonia.
She had toured many countries of the world including France, Sweden, Sri Lanka, Afghanistan, India, Hungary, Algeria, Poland, China, Germany, Turkey, and Iran. Dearly loved, she died in January 1993, and was given a State Funeral with television coverage in which mayors, ministers, and other high ranking government officials participated.
The following article was written by Rafael Huseinov, one of Baku's leading art critics who interviewed Shovkat shortly before her death.
At this time, as we are approaching spring. The Azerbaijani people have suffered an incredible loss. We have lost Shovkat Khanum-Shovkat Alakbarova, whose sweet voice had become one of Azerbaijan's symbols.
And, now, during these days that we are without Shovkat Khanum, there is only one thing that makes me happy, and that is that she was one of our singers who had made so many recordings. So many moments of her life have been preserved on tapes which have captured her beautiful songs. These songs will always remain fresh, lively and lovely.
A short while before her death I went to her home to see how she was doing. Through the years, I had talked to her about various subjects. Most of these tapes still exist. But this time I had a feeling that it would be one of our last talks because Shovkat Khanum had weakened considerable after so many different illnesses and after the death of her beloved daughter. She had lost weight and she looked very weak. But her eyes were full of light and the love for life that she had had during her healthiest and happiest days. Here are some excerpts from our last conversation:
Shovkat Khanum, how did you become interested in music?
I was born at home on Mirza Fatali Axundzade Street. My father, Feyzullah, was a laborer but he loved music. And my mother, Hokuma Khanum, was a good tar player. My father had bought a tar for my brother, Alakbar, and a tambourine for my other brother, Pasha. So we had a little ensemble in our home. the passers-by would stop in front of our house to listen to our music and songs.
When was the first time that you appeared on a big stage?
In 1937, they were evaluating the activities of recreation centers of the trade union. The concert of finalists was being held at the Opera Theater. Great musicians such as Uzeyir Hajibeyli, Said Rustamov, Bulbul and other were some of the judges.
At that time I sang Qarabagh Shikastasi. Uzeyir Bey really liked my singing. That year he was establishing the Azerbaijan State Choir. He invited me and one other teenage girl to join that choir.
Undoubtedly, each one of your songs has its own history.
Of course, there are both happy, joyful songs and, also, sad ones. There is a song called, "You Beautiful One, Sing." The lyrics were written by Samad Vurghun and the music composed by Said Rustamov. On May 12, 1956, there was a State Party celebrating the 50th birthday of Samad Vurghun. But the poet himself was lying ill in bed. He was dying, and he wouldn't make it to that party. This song was sung that night for the first time. The party was broadcast live on radio. When I sang it, the people cheered and they didn't want to stop applauding.
But I felt sad. The image of this great poet, Samad Vurghun, in the final days of his life, was in front of my eyes whether I wanted it to be or not. Even now, whenever I sing that song, or whenever I hear the recording, I remember him.
You have seen the Republic of Azerbaijan, village after village, and you have performed everywhere. You have given concerts in many foreign countries. Tell us about your memories from the trips that you still remember.
There are a lot of memories. Let me tell you about one incident. In 1965, I was on a trip to Iran. Our first concert was held in Nasr Hall (Tehran) which sat 1200 people. The concert continued until 1:00o'clock in the morning and the audience wouldn't let me go.
I also sang "Qatar" that night. I had just begun to sing and there was a huge noise, like an explosion. Some people were crying. Some were smoking away sadly. Some were shouting, "I give my life for your voice!"
I stopped singing and told them, "My dearly beloved ones, please, don't cry. I am a human being, too, and it (your crying) effects my emotions. It makes it difficult to sing. And please don't smoke. And don't make any noise. I am not used to singing in this kind of environment."
And they replied, "We won't smoke. We won't make a sound. We'll do whatever you want, but we cannot help but cry. Shovkat Khanum, when you sing, it's as if you put salt in our wounds. How can we help but cry!"
There were thousands in the audience from Southern Azerbaijan who came to our concerts. I insisted on having a concert in Tabriz, too, but they wouldn't permit us. I wanted to meet Shahyar (the poet). That wasn't possible either. But the excitement from that trip is still deep in my heart.
There isn't a lucky person in the (entire) world. Everybody has a thousand problems.And so do I. But I consider myself a lucky person anyway.
I can send my love to people whose faces I've never seen. And (I know) the greatness of my people, the sweetness of my language, and the giftedness of my nation. There are people that I have never seen even on a single occasion, but they have a great love and esteem for me. Can there be any greater luck than this? Shovkat Alakbarova, November 1992

"You Beautiful One, Sing!"

Song written especially for Shovkat
Lyrics by Samad Vurghun, music by Sayid Rustamov

There are caravans of stars
Passing by in the sky.
Everybody chooses a star
(To live by) according to his luck.
We are getting old
Days are passing.
Life is getting shorter.
Sing, you beautiful one, sing!
Let your voice shake my heart
Like the quivering of a bow (and arrow)
Every heart is overflowing with worlds of wishes
And yet the world is full of so many hearts.
There is neither a beginning
Nor an end to love.
Sing, you beautiful one, sing! Let your voice
Shake my heart
Like the quivering of a bow!

From Azerbaijan International (5.4) Winter 1997
© Azerbaijan International 1997. All Rights Reserved.

AI Home | Magazine Choice | Topics | Store | Contact us