Compromise or Resistance?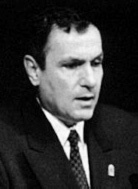 "Time will tell who did what for Karabakh, and who, indeed, is selling it out."

Levon Ter-Petrossian, former Armenian President in his resignation speech in Yerevan on February 5, 1998, referring to accusations from hard-liners and members of the opposition, including Robert Korcharian [former "President" of the self-proclaimed, so-called "Republic of Nagorno-Karabakh," who was elected President of Armenia on March 31, 1998].
Ter-Petrossian was accused of being conciliatory towards Azerbaijan in resolving the Karabakh conflict. In November 1997, he said publicly, "We must be realistic and understand that the international community will not tolerate for long the situation created around Nagorno-Karabakh, because it is threatening regional cooperation and security as well as the West's interests in oil.

From Azerbaijan International (6.1) Spring 1998.
© Azerbaijan International 1998. All rights reserved.