Autumn 2006 (14.3)
Pages 36-37
Expanding Westward
Azerbaijan Opens New Consulate in Los Angeles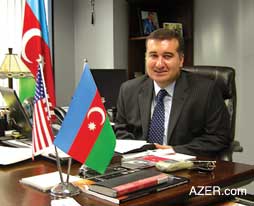 Azerbaijan has just opened another presence in the United States- the first consulate apart from the one adjoined to the Embassy in Washington, D. C. The new Los Angeles Consulate has jurisdiction over 13 western states: Alaska, Arizona, California, Colorado, Hawaii, Idaho, Montana, Nevada, New Mexico, Oregon, Utah, Washington and Wyoming.

Why Los Angeles? According to Consul General Elin Suleymanov, it was a logical choice.

Left: Elin Suleymanov, the first Consul General in Los Angeles.

Azerbaijan needed a presence beyond Washington, D.C. where the Embassy opened in late 1992 under the direction of Hafiz Pashayev [see article about his return to Baku after serving as Ambassador after 14 years.

Why California?
Los Angeles is the second largest city in the United States and is known for its dynamic business community. As a mere state - not even a country - California boasts the seventh largest economy of any financial entity in the world. Both California and Alaska have strong oil reserves, which make them very conscious of similar issues.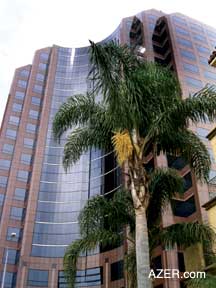 Left: Azerbaijan Consulate in Los Angeles is located at 11766 Wilshire Boulevard

In addition, according to Elin, there is a very strong high tech industry in Silicon Valley California. In August, Azerbaijan's Minister of Communications and Information Technologies Ali Abbasov visited California to explore the possibility of making Azerbaijan a hub for Information Technology (IT) in the Caucasus and Caspian region.
In addition, alternative new energy technologies are also being developed on the West coast- both solar and wind power. "To foster such relationships, naturally, you need a presence nearby," says Elin.

In addition, there is a significant Azerbaijani community in Southern California, especially Azerbaijanis from Iran.


Elin also admitted that another strategic criteria for the new location was the strong Armenian community in Los Angeles. Still the war between the two countries over Azerbaijan's territory in Nagorno-Karabakh is not over though a cease-fire was signed in 1994.
The war has resulted in tens of thousands of deaths and nearly one million refugees. "One of our objectives is to make the Azerbaijan point of view known here. In discussions, which concern us or our entire region, we want our views to be heard," Elin pointed out..
Background Experience
Considering his youth, Suleymanov brings considerable experience to his new position as diplomat. Prior to his appointment as Consul General, he worked in Baku as Senior Counselor in the Office of President Ilham Aliyev in the Department of International Relations (2004-2006).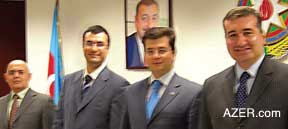 Left: Staff of the newly established Azerbaijan Consulate in Los Angeles. Left: Khalid Hasanzade (Financial Manager), Elshan Baloglanov (Consular and Legal Officer), Elman Abdullayev (Political and Economic Officer) and Elin Suleymanov (Consul General)
Elin studied Political Geography at Moscow State University where he graduated in 1992-just months after the Soviet Union had collapsed when Azerbaijan, along with 14 other former Soviet Republics, gained independence.
That same year Elin became the first Edmund S. Muskie Fellow from Azerbaijan to be selected to pursue graduate studies in the U.S. where he pursued a Master's Degree in Public Administration at the University of Toledo, Ohio (1994).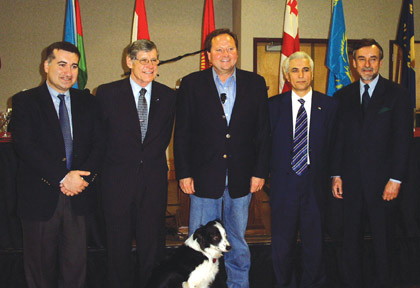 Left: Fourth Annual Central Asia Conference at the University of Montana in Missoula (April 18-22, 2006). Left: Elin Suleymanov (Consul General of Azerbaijan to Los Angeles and Western States), George Dennison (President of the University of Montana), Brian A. Schweitzer (Governor of Montana), Khamrokhon Zaripov (Tajikistan Ambassador to the United States) and John G. Fox (Director, U.S. State Department Office of Caucasus and Central Asian Affairs)

Then he headed to Europe to the Czech Republic to work with the Open Media Research Institute (1995).

He returned to Baku in 1997 and became Public Information Officer for the Office of the UN High Commissioner for Refugees (UNHCR).

Reflecting on those years working with refugees throughout the Azerbaijan countryside, Elin observes: "It was a very fulfilling job to work with the refugees.

It was a very important, despite how tragic it was to see the conditions under which so many of our people were living who had been displaced by the war with Armenia.
In reality, the refugees were very hopeful people. I learned so much from them: when people face strong, serious and deep problems, somehow, they are able to overcome."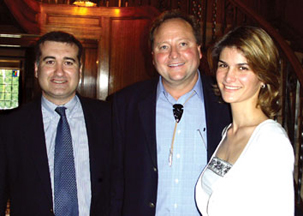 Above: Elin Suleymanov and his wife Lala with Montana Governor Brian A. Schweitzer

From 1998-2002, Elin returned to the States and was appointed Press Officer and First Secretary at the Azerbaijan Embassy in Washington, D.C. under Ambassador Hafiz Pashayev.

Those were very important years and the team working with Pashayev went on to take very important leadership roles in the diplomatic world of the Azerbaijani government.

Elmar Mammadyarov was later appointed Minister of Foreign Affairs, Fakhraddin Gurbanov became the Ambassador to Canada and Tahir Taghizade heads of the Information Department of the Foreign Ministry. And Elin now serves in Los Angeles.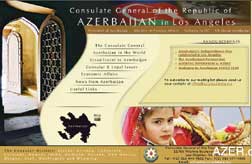 Left: Home page of the Web site of the Consulate General of the Republic of Azerbaijan in Los Angeles. Visit: AZconsulateLA.org. Useful information on their Web site includes: forms related to Visas. Links to media with daily updates in English and Azeri coming from Azertaj, Today.AZ and Public TV. Satellite TV from Azerbaijan. Useful Web links.

These were the years during which Azerbaijan had stepped up its relationship with the United States quite strongly. We were there during the 1999 NATO Summit. Elin was in Washington on the notorious date of 9/11 (September 11, 2001).

After that he took an academic leave and was admitted into a two-year program at the Fletcher School of Law and Diplomacy, a program established by Harvard and Tufts universities. Again Elin was the first Azerbaijani student to enter this program.

His MA thesis was entitled "Emergence of New Political Identity in the South Caucasus: Energy, Security, Strategic Location and Pragmatism."
Appointed as Consul General in December 2005, Elin admits that it has taken considerable time to work through the logistics of setting up an office in Los Angeles. "We had no presence here," he said. "It took time to find a building and apartments for our staff. The office began functioning in June. I'm particularly grateful to the Consulate Corps here in Los Angeles, who helped me identify many issues here. I'm also very grateful to the Azerbaijanis who live here. Foremost, I would name Pirouz Khanlou and Javid Huseinov."
Community Activities
The Consulate held an Independence Day Reception on October 18, 2006, and assisted the Azerbaijan Council of California (ACC) in the organizing of the First Azerbaijan Youth Forum on October 21st. Various cultural events are in the works to attract both Azerbaijanis as well as mainstream community members. They are planning to organize Azerbaijan Language Classes for members of our Diaspora and their children who would be interested.
The Consulate offers the following services: Issuing of visas for residents living in the Western U.S. In addition, the Consulate produces a Newsletter called "Azerbaijani Perspective: News from the Caspian's West Coast." Request to be added to mailing list. Contact: Consulate General of the Republic of Azerbaijan, 11766 Wilshire Boulevard, Suite 1410, Los Angeles, CA 90025. Tel: (310) 444-9101, Fax: (310) 477-4860. Email: office@azconsulatela.org. Web: AZconsulateLA.org. Request their newsletter.
Read More by Elin Suleymanov
Elin Suleymanov is no stranger to Azerbaijan International. Over the years he has written several major articles before being appointed to a diplomatic government post.
1. "Azerbaijanis Are Not Alone" (Deep appreciation to the magazine for publishing about Azerbaijan). AI 2.2 (Summer 1994).
2. "Youth in Search of the Future: Identity Changes in Post-Soviet Azerbaijan. Guest Editorial. AI 4.4 (Winter 1996).
3 "Boxcars, Dugout Shelters and Promises to Keep: Azerbaijan's Refugees. AI 6.3 (Autumn 1998).
4. "Inside the Soul of a Caucasian," Book Review of "Ali and Nino" written by Kurban Said. AI 12.2 (Summer 2004). Note: This essay is always at the top of Google when you Search for "Ali and Nino".
______

Back to Index AI 14.3 (Autumn 2006)
AI Home | Search | Magazine Choice | Topics | AI Store | Contact us

Other Web sites created by Azerbaijan International
AZgallery.org | AZERI.org | HAJIBEYOV.com