Autumn 2006 (14.3)
Pages 38-39

Nationhood
15 Years of Independence:
Azerbaijanis Celebrate in Los Angeles - October 18th

The Consulate General of Azerbaijan in Los Angeles hosted a reception to mark 15 years of Azerbaijan's independence at the Regency Club in Los Angeles on October 19, 2006. This is the first time that the National Independence Day of Azerbaijan has ever been officially celebrated on the West Coast.
Above Left: Chingiz Sadikhov (born 1929), famous pianist and accompanist of some of Azerbaijan's most beloved singers of the past including Rashid Behbudov (1915-1989) and Muslim Magomayev (born 1942). Sadikhov, a long time resident of Baku, now resides in San Francisco. Sadikhov performed at the gala reception of the 15th Anniversary of the Independence of the Azerbaijan Republic which was organized by the new Consulate which has just been established in Los Angeles.

Right: Rahman Asadullahi (born 1951), well-known Azerbaijani garmon player who this year performed in Carnegie Hall with the Kronos Quartet. Rahman's roots stem from Ardebil, Iran, but he currently lives in Los Angeles. He has just recently produced a new CD of garmon dance music entitled of Sattarkhan Ringi (Traditional Music of Azerbaijan).

Community and friends of Azerbaijan were delighted to have the occasion to meet the new Consulate staff and renew acquaintances with each other. Members of the Los Angeles Consular Corps and representatives of the federal, state and local governments were also among the guests.

Speaking at the reception, Consul General Elin Suleymanov highlighted Azerbaijan's remarkable achievements since the country declared its independence on October 18, 1991.
Official greetings from California's Governor Arnold Schwarzenegger as well as from the County of Los Angeles Board of Supervisors, Orange County (south of Los Angeles) Board of Supervisors and the Office of Protocol and Mayor of the City of Los Angeles Antonio R. Villaraigosa were formally presented at the event. The Consulate General also received greetings from Governors Brian Schweitzer of the State of Montana, Bill Richardson of the State of New Mexico and Christine O. Gregoire of the State of Washington.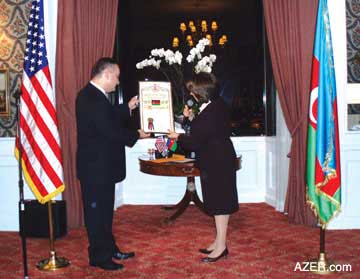 Above: Consul General Elin Suleymanov being presented a certificate recognizing the 15th Anniversary of the Independence of Azerbaijan. The presentation was made by Lourdes Saab (Deputy Chief of Protocol, County of Los Angeles Board of Supervisors).

"I am privileged to join with the Azerbaijani-American community on this day of celebration," wrote Governor Schwarzenegger. This sentiment was seconded by Governor Gregoire, who described the National Independence Day as "a wonderful opportunity to rejoice in the freedom and sovereignty of Azerbaijan, as well reflect on the journey and sacrifice leading up to Azerbaijan's declaration of independence." In turn, Governor Richardson stressed that "like New Mexico, Azerbaijan numbers diverse and beautiful landscapes among its great treasures" and Governor Schweitzer recognized that Azerbaijan "has contributed greatly to the region and world."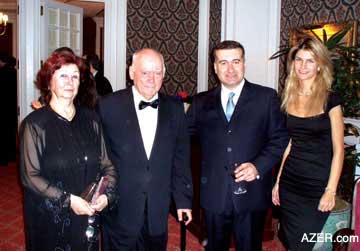 Above: Pianist Chingiz Sadikhov and his wife Jeyran with the Azerbaijan Consul General Elin Suleymanov and wife Lala.
The event also featured cultural performance by masters of Azerbaijani music and dance, including Chingiz Sadikhov, pianist who had accompanied some of Azerbaijan's most popular singers such as Rashid Behbudov and Muslim Magomayev. Sadikhov and his wife flew in from San Francisco where they live. Extraordinary performances of Azerbaijan Folk Dances were given by professional dances from Namus Zohrab and his wife Aliya, formerly of Baku but now living in Los Angeles.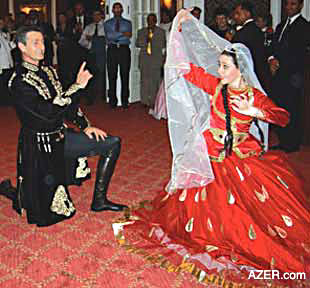 Rahman Asadullahi, an Azerbaijani from Iran who lives in Los Angeles performed on the traditional instrument known as garmon. Mohammad Omranifar, also from Los Angeles, played tar and Elnara, popular vocalist, flew in from Baku. To receive information about future events organized, contact:
Azerbaijan Consulate in Los Angeles
11766 Wilshire Blvd., Suite 1410
Los Angeles, CA 90025

Tel: (310) 444-910
Email: office@AZconsulateLA.org
Web: AZconsulateLA.org.
Left: Traditional Azerbaijani folk dances were presented by professional dancers Namus Zohrab and his wife Aliya, formerly of Baku but now living in Los Angeles.



Back to Index AI 14.3 (Autumn 2006)

AI Home | Search | Magazine Choice | Topics | AI Store | Contact us

Other Web sites created by Azerbaijan International
AZgallery.org | AZERI.org | HAJIBEYOV.com