Autumn 2006 (14.3)
Pages 14-15
Fikrat Abdullayev (1943-2006)
Researched Therapeutic Effects on Saffron on Cancer
Pages 16-17

by Betty Blair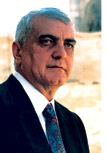 We here on the magazine staff at Azerbaijan International were so saddened by the news of the sudden death of Fikrat Abdullayev on July 17, 2006. We had just published his article about the anti-carcinogenic qualities of saffron in our summer issue. And then, he was gone. He was only 62 years old.

Dr. Abdullayev was born on October 18, 1943, in Baku. He received his Ph.D. from the Institute of Botany at the Azerbaijan Academy of Sciences (1970) and his doctorate in Biological Sciences from the Ukrainian Academy of Sciences in Kiyiev (1989). Since 1997, he had served as Head of the Experimental Oncology Laboratory at the National Institute of Pediatrics in Mexico City.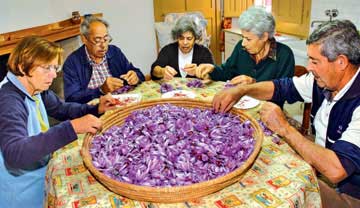 Left: At Antonio Cao's farm in Sardinina, separating the saffron stigmata from the freshly picked crocus blossoms. Care must be taken to pull the three saffron stigmata as close to the base as possible, as longer saffron strands attract higher prices. Left to right: Cecilia Prince (family friend) and Cao Family members: Giovanni, Nanda, Maria and Antonio, who owns the farm.

Photo: Anna Tatti, Sardinia.


| | |
| --- | --- |
| | |
Above Left: New crocus crop harvested on Antonio Cao's farm, November 2006

Right: Pulling saffron stigmata from the crocus blossom. Photos: Anna Tatti, Sardinia.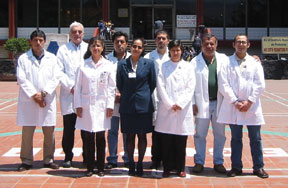 He had been instrumental in organizing the First International Symposium on Saffron Biology and Biotechnology in October 2003 in Albacete, Spain.

In 2004, he participated in the International Conference on Medicinal Uses of Saffron in Iran, and was eagerly looking forward to the Second International Symposium on Saffron which was to be held there in Mashad this October 2006. Visit http://saffron-ir.um.ac.ir.

Above: Dr. Fikrat Abdullayev (white hair, 2nd from left) together with his staff at the Experimental Oncology Laboratory at the National Institute of Pediatrics in Mexico City.
Photo: Anna Tatti, Sardinia.
We commemorate the memory of Dr. Abdullayev's life here with photos of this year's fresh November harvest of crocus blossoms from the island of Sardinia, an island off the coast of Italy

They were sent to us by Anna Tatti whose superb photos from last year's crop from her cousin Antonio Cao's saffron farm were used to illustrate Dr. Abdullayev's article this past summer.

Upon learning of his death, Anna wrote us: "Even though I had never met Dr. Abdullayev, I feel as if I had lost a friend. I read all his articles about his studies and I was planning to ask him more about saffron. I hope he saw the last issue of the magazine with his article and the photos. I'll dearly treasure mine. "Yesterday, I showed his saffron article to my cousins in Sardinia and they were so surprised and proud to see themselves in the magazine because they felt their job was appreciated and rewarded.
Above Left: Samples of this year's saffron crop (stigmata from crocus blossoms) from Antonio Cao's farm.

Right: This year's blossoms have more green foliage, unlike last year, which produced only blossoms. The presence of foliage seems to be one of nature's enigmas and doesn't seem to influence the quality of the saffron. Photos: Anna Tatti, Sardinia

It's stunning the interest the magazine has generated around here about saffron. People begin to realize how precious and valuable this plant is. In the past they simply took it for granted. "Unfortunately, we take too many things for granted. Fortunately, our family doesn't have cancer despite how prevalent this disease is on our island because of large military bases here. We use saffron in many dishes.
Words are inadequate to ease the sorrow of Dr. Abdullayev's family for the inestimable loss they have suffered but it seems he has not really left us. He is still with us. His studies, his research, his cultural and human inheritance cannot die. It is our duty to keep them alive and to continue his work.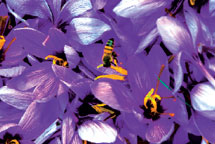 Left: Saffron crocus blossoms: back cover of Azerbaijan International, AI 14.2 (Summer 2006) featuring the superb photography of Anna Tatti in Sardinia.

As an Italian poet once said: 'Sol chi non lascia eredità d'affetti poca gioia ha dell'urna' (The person who leaves no emotional inheritance is the only one who really dies).Readers may send condolences to Dr. Abdullayev's family by signing his Guest Book on the Web at FIKRAT.com

Friends and colleagues from various countries including Azerbaijan, Iran, New Zealand, Greece, Spain and Mexico have already done so. Also, his Web site is a good resource to learn more about Abdullayev's research and publications related to saffron.


Back to Index AI 14.3 (Autumn 2006)
AI Home | Search | Magazine Choice | Topics | AI Store | Contact us

Other Web sites created by Azerbaijan International
AZgallery.org | AZERI.org | HAJIBEYOV.com