Summer 2006 (14.2)
Page-61
Why Hajibeyov Wrote the Opera Koroghlu
by Betty Blair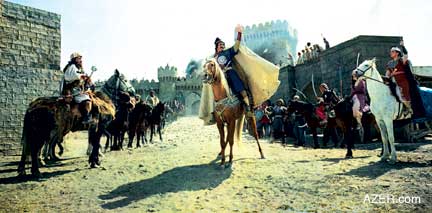 Azerbaijani composer Uzeyir Hajibeyov is remembered for his opera "Koroghlu", based on a regional legend about a young man who organized a rebellion against the khan (king), who had blinded his father out of spite. The plot meshed well with Communist ideology, especially with the modifications that the composer introduced. For example, the national enemies were identified as Turks (instead of the Persians as in the traditional tale).

However, Hajibeyov's decision to write this opera may very well have saved his life. Stalin was present in the audience when Koroghlu was performed in Moscow at the Decade of Azerbaijani Art in 1938.

Mammad Said Ordubadi, who wrote the libretto for Koroghlu, wrote that Hajibeyov had had earlier plans to create a different storyline. According to him, they had worked together on it for nearly a year in the early 1930s - Hajibeyov writing the music and Ordubadi working on the lyrics - before Hajibeyov decided it was too dangerous to pursue this theme.

The original opera had been based on "Kaveh, the Blacksmith". However, such a plot would absolutely have jeopardized their lives. First of all, it was based on a foreign tale: Kaveh was a mythical figure of ancient Persia, memorialized by 10th century Ferdowsi in Persian verse in the "Shahnameh" (Book of the Kings).

Secondly, the plot could have been too closely identified with opposition to Stalin's rule. A simple, honest blacksmith by the name of Kaveh succeeded in leading a popular uprising against the ruthless foreign ruler Zakkak which ended his cruel millennium-long rule.

Zakkak literally becomes a monster through the magic of his deviouis conselor Ahriman. Two serpent heads sprouted up on his shoulders which had to be fed the brains of two human beings everyday. Zakkak's spies used to go out among the people to find victims. Eventually, Kaveh could tolerate it no longer after 18 of his sons were killed this way. So he took off his blacksmith's apron made of leather, wrapped it around his spear (like a flag) and successfully organized an uprising against the evil Zakkak. Obviously, an opera based on such a plot would have spelled serious trouble for its creators. Search Ordubadi at HAJIBEYOV.com.

Back to Index AI 14.2 (Summer 2006)
AI Home | Search | Magazine Choice | Topics | AI Store | Contact us

Other Web sites created by Azerbaijan International
AZgallery.org | AZERI.org | HAJIBEYOV.com