Summer 2006 (14.2)
Page 68-69


Immersed in Culture
Tomoko Imura Creates Web Site about Azerbaijani Artists
by Betty Blair

Tomoko Imura grew up in Japan but has been living in Baku for the past 10 years. She came to study Azerbaijani arts and that's the driving force behind why she recently created a Web site about Azerbaijani culture in the Japanese language. No doubt it's a "first" for Azerbaijan.

Now she's creating materials so that other Japanese can get acquainted with what she is passionate about-Azerbaijani art and music. Most recently she has created a Web site in Japanese that features nearly a dozen articles from Azerbaijan International magazine about artists including: Tahir Salahov, Nusrat Hajiyev, Hamza Abdullayev, Kamal Ahmad, Javad Mirjavad, Togrul Narimanbeyov, Sattar Bahlulzade, Fazil Najafov (sculptor), Alakbar Rezaguliyev (lineoleum prints), Kamil Aliyev (carpet designer) and Gamar Almaszade (ballet dancer).


| | |
| --- | --- |
| | |

Above Left: Japanese Researcher Tomoko Imura came to Azerbaijan 10 years ago to learn more about its culture. She has recently created a Web site in Japanese about Azerbaijani artists. This page here features sculptor Fazil Najafov. Right: Tomoko performing on the traditional stringed instrument called saz, something that she learned in Azerbaijan as well.

"Though many Japanese speak English quite well," says Tomoko, "many of them don't feel comfortable when it comes to reading English. That's why I wanted to create a Web site in Japanese. That makes this information closer to their hearts."

Tomoko has a Bachelor's degree in the History of Art from Japan where she also studied Russian. Then one day she came across some folk art material in the library that featured carpets from the Caucasus. They had bold, bright geometric designs. She had never seen anything like them before. Then she read an article by carpet specialist Latif Karimov who estimated that about 90 percent of the ornamental elements used throughout the Caucasus could be traced to Azerbaijan. As there was no Japanese specialist on Caucasian art, Tomoko decided to try to become an expert. Convinced that it would be impossible to study applied art from reading books, she determined to find her way to Baku.

But first, she detoured to St. Petersburg thinking that she should strengthen her Russian language. Someone had told her that she would need to know Russian to study in Baku.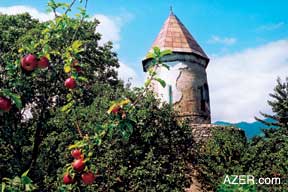 "Friends in St Petersburg cautioned me," says Tomoko. "They said: 'What? You want to study culture in Azerbaijan? There's no culture there!' "But before I had left Japan, someone had showed me a magazine in English. You can guess what journal that was! Azerbaijan International! I knew there was a lot of culture to discover in Azerbaijan."

After nearly 10 months of study in Russia, she came to Baku and found her way to Azerbaijan State University of Culture and Art, only to be informed that the school no longer had a Russian department!

But then the administrator added: "But never mind, you can still study here anyway." "Such an answer really surprised me," said Tomoko. "How could I do university studies without knowing Azeri?" But three years later she graduated with a Master's degree and a Red (Honorary) Diploma besides! And, of course, in the process, she became fluent in Azeri.

Read about Azerbaijani Artists in Japanese at Tomoko's Home Page at http://cosmos2.ed.shikoku-u.ac.jp/~azart-imura/. Contact her at: tomochka@azeri.com.

Also visit AZgallery.org to see the work of nearly 170 Azerbaijani artists and 4,000 samples of their work, visit AZgallery.org-a Web site created by Azerbaijan International magazine.


Search the archives of Azerbaijan International magazine at AZER.com for articles mentioned above that Tomoko has translated into Japanese.


Back to Index AI 14.2 (Summer 2006)
AI Home | Search | Magazine Choice | Topics | AI Store | Contact us

Other Web sites created by Azerbaijan International
AZgallery.org | AZERI.org | HAJIBEYOV.com