Spring 2006 (14.1)
Page 12
Reader's Forum
Thank You Susan Crouch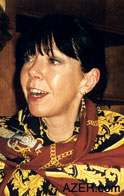 ITE Group PLc was so sad to hear that Susan Crouch had passed away. The news was so sudden, and has left us in profound shock, and a state of loss. Susan was one of the brightest characters not only in the exhibition industry but in the new business world of the post - Soviet era.

Her vision in launching the Caspian Oil and Gas Exhibition in Baku in 1994, was matched by her energy in pursuing its further success. As a result, the exhibition has become one of the most important meeting places for the international oil and gas industry and, of course, for business in Azerbaijan.

Over the years, Susan built up a wide and varied circle of friends and admirers, and ITE was proud to work alongside her, where we enjoyed her unique professionalism, paired with a great sense of fun. She was an inspiration to all of us, and the respect she commanded from all who met her, contributed to the success she brought to the Caspian Oil and Gas Exhibitions and Conferences.

Her unwavering commitment to Azerbaijan was greatly valued by those working in government, culture and business, and was exemplified by her work in the Anglo - Azeri Society. It is typical that her last wishes reflected her continued dedication to the Society.

Susan's contribution to the promotion of British - Azerbaijani relations was rightfully recognized by her own government in the UK, although her natural modesty would never show her immense pride in being awarded an MBE [Member of the Order of the British Empire]. There were many other accolades Susan received for her work, but perhaps none would be dearer to her than the legacy she has left - an illustrious project, which has done more than anything to promote Azerbaijan's potential to the outside world. The memory of this wonderful woman - full of energy, enthusiasm and spirit - will be remembered with fondness by all her friends and colleagues.

On behalf of ITE Group Plc, and our partners in Azerbaijan, ITECA Caspian, we once more send our condolences to her husband, and offer our deepest sympathy.


Edward Strachan
ITE Director, Caspian Region
London
Editor's Note: For other tributes to Susan Crouch, see our last issue, AI 13.4 (Winter 2005). Search at AZER.com.
The 13th Caspian Oil and Gas Exhibition Incorporating Refining and Petrochemicals will take place June 6-9, 2006, at the Sport and Concert Complex named after Heydar Aliyev. The Conference will be held in the Hyatt. Organizers are ITE and ITECA in cooperation with Azerbaijan's Ministry of Industry & Energy, and SOCAR (State Oil Company of Azerbaijan Republic). Visit: CASPIANOILGAS.az or CASPIANOILGAS.co.uk.


Back to Index AI 14.1 (Spring 2006)
AI Home | Search | Magazine Choice | Topics | AI Store | Contact us

Other Web sites created by Azerbaijan International
AZgallery.org | AZERI.org | HAJIBEYOV.com