Spring 2006 (14.1)
Page 22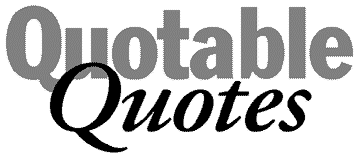 Goodness Lives On - Svetlana Alliluyeva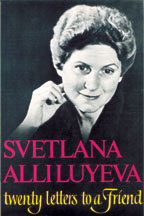 Millions were sacrificed senselessly, thousands of talented lives extinguished prematurely. The tale of these losses could not be told in 20 books, never mind 20 letters. Would it not have been better for these people to have gone on serving mankind here on earth, rather than have their deaths be the only mark they left in the hearts of men.

Above: Svetlana Alliluyeva, daughter of Stalin. "Twenty Letters to a Friend" (written in the summer of 1963). Translated by Priscilla Johnson, McMillan. Harper & Row: New York, 1967.

History is a stern judge. It's not for me, but for history, to decide who served the cause of good and who served vanity and vainglory. I certainly don't have the right.

All I have is my conscience. And conscience tells me that before pointing out the mote in my neighbor's eye, I must first see the beam in my own. There's no one, including me, who doesn't have a beam in his own eye.

We are all responsible for everything that happened. Let the judging be done by those who come later, by men and women who didn't know the times and the people we knew.

Let it be left to new people to whom these years in Russia will be as remote and inexplicable, as terrible and strange, as the reign of Ivan the Terrible. But I do not think they'll call our era a "progressive" one, or that they'll say it was all for the "good of Russia". Hardly...

They will have their say. And what they say will be something new and cogent. Instead of idle whining, they will give voice to a new sense of purpose. They will read through this page in their country's history with a feeling of pain, contrition and bewilderment, and they will be led by this feeling to live their lives differently.

I hope that they won't forget that what is Good never dies-that it lived on in the hearts of men even in the darkest times and was hidden where no one thought to look for it, that it never died out or disappeared completely.

Everything on our tormented planet that is alive and breathes, that blossoms and bears fruit, exists only by virtue of, and in the name of, Truth and Good."
Svetlana Alliluyeva (born 1926), Stalin's daughter by his second wife Nadezhda Alliluyeva, who committed suicide in 1932 in protest against Stalin. Quote from "Twenty Letters to a Friend", page 235.


Back to Index AI 14.1 (Spring 2006)
AI Home | Search | Magazine Choice | Topics | AI Store | Contact us

Other Web sites created by Azerbaijan International
AZgallery.org | AZERI.org | HAJIBEYOV.com