Autumn 2005 (13.3)
Pages 20-23

Queen Aba
Another Masterful Orchestral Work by Farhang Huseinov
by Betty Blair

All ballet photos by Selami Turk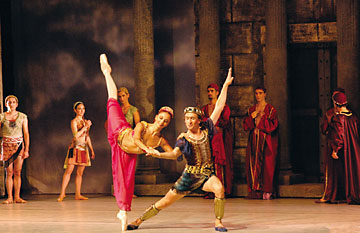 Queen Aba (Ozlem Shenormanlilar) with Teukros King of Olba (Ender Uchdemir).
Photo by Selami Turk.
He's at it again. Azerbaijani composer Farhang Huseinov (1949- ) has written another masterful orchestral work - again based on a socio - cultural theme set outside the borders of Azerbaijan.

The inspiration for this new ballet called Queen Aba are the historical and archaeological roots that date back 2,000 years ago to Queen Aba of Cilicia (ancient name of Southern Turkey) and Mark Anthony (Emperor of Rome) and Cleopatra (Queen of Egypt).

The setting takes place in the Olba Kingdom (near Mersin, Turkey, on the Mediterranean Sea). At that time this region was paying taxes to the Roman Empire. When King Teukros of Olban married Aba and made her queen, he was not aware that in earlier years she had been a female warrior. Enter Mark Anthony who presents his lover Cleopatra Queen of Egypt with the Olba kingdom as gift. Pompey, the Roman general objects since Cleopatra is Egyptian and he attacks the region. But Queen Aba comes to Cleopatra's rescue and, in return, Cleopatra returns the Olban Kingdom to her. Queen Aba succeeds in liberating the Olban Kingdom from the Roman Empire and then continues to rule after her husband's death.
Above: Exquisite performance of Queen Aba and Teukros, King of Olba (Ender Uchdemir) who marries her. Photo: Selami Turk.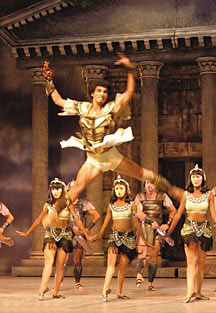 Even the Greek historian Strabo (born 63 BC and who died after 21 AD) mentions Queen Aba in his well-known Geographia. Many archaeological ruins can still be seen in this region today showing what an advanced civilization existed at that time in the region of southern Turkey.

The Queen Aba Ballet premiered on October 13, 2005, at the Mersin State Opera and Ballet Theater under the auspices of the Turkish Ministry of Culture. The production included more than 150 performers, including 70 musicians in the orchestra, 40 dancers and 40 members of the chorus.
The libretto was written by Altay Bayram in 2001 and was choreographed by Ali Hoja and features the following dancers: Ozlem Shenormanlilar (Aba, Queen of Olba), Ender Uchdemir (Teukros, King of Olba), Victoria Haylova (Cleopatra, Queen of Egypt), Ulvi Azizov (Anthony, Emperor of Rome), Mahmut Akyol (Head Priest of Olba) and Zihnibek Ussin (Pompey, Roman General).
Above: Roman General Pompey (Zihnibek Ussin) attacks. Photo by Selami Turk.

Though independence is one of the main themes running through the ballet, more importantly for Huseinov is the illustrious example of Aba as a woman who used her ingenuity, wisdom and diplomatic skills to lead her nation. As Huseinov likes to say: "It happened not 20 years ago, nor 200, but 2,000 years ago!



Above left to right:
Archaeological scenes in Turkey:
1. Archaeological ruins of Olba, at least 2,000 years old.
2. Temple of Zeus Olbius which inspired the stage setting for the ballet.
3. Archaeological ruins of Olba.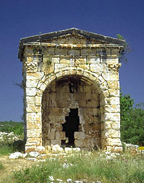 Under the guidance of the Mersin University Archaeology Department, Altay Bayram pieced together aspects of the story that had previously been unknown and created the story line for a dramatic work based on Olban culture, which is Anatolian and based on Hittite culture, along with Roman and Egyptian cultures.

"One of the most significant aspects about this ballet," says composer Huseinov, "is that viewers can still visit Aba's tomb and see the archaeological ruins of the settlement where the story actual took place. You can go and walk in the same valley and touch the same walls that Aba did 2,000 years ago. What an incredible feeling!"
Above: Tomb of Queen Aba, Canytella, Turkey.





Above: Archaeological relief: The Thousand Gods of the Hittites. The people of Olba were descended from teh Hittites.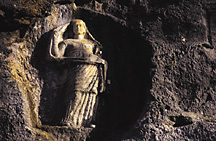 Musical Background
Farhang Huseinov studied violin with Karp Dombayev and composition with Gara Garayev at the Azerbaijan State Conservatory (now Academy) from 1969-1971.

Then he continued his studies at the Moscow Conservatory where he studied Violin with Leonid Kogan and Composition with Aram Khachaturian.
Above: Relief of Queen Aba at Canytella, Turkey.

Upon graduating in 1975, he worked as Kogan's assistant until 1978, when he returned to Baku to teach Violin at the Azerbaijan State Conservatory.

Since 1992 Huseinov has lived in Turkey and been teaching at Jukurova University State Conservatory in Adana, Turkey, where he serves as Chair of the String Department. For the past three years, he has also offered music courses in Haifa, Israel.


Above left: Scene from the Queen Aba Ballet performed by the ballerina Ozlem Shenormanlilar.

Right: Cleopatra, Queen of Egypt (Victoria Haylova) Dances with Mark Anthony Emperor of Rome (Ulvi Azizov). Photos by Selami Turk.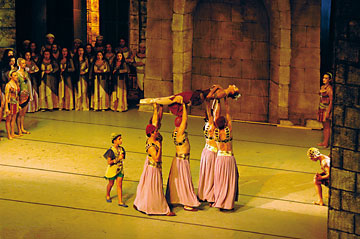 Above: Death scene of Queen Aba. Photo: Selami Turk.
Huseinov has won numerous awards for his musical compositions including two prizes from the United Nations for his musical works - an Oratorio "May Peace Prevail on the Earth" and "Stabat Mater" for Soprano and String Quartet.
In 2001, he took First Prize for "Capriccio Guarani" at the First Jose Asuncion Flores International Composition Contest in Paraguay. This work incorporates folk melodies, not only from Paraguay, but also from China, Japan, Mongolia, Korea and Alaska.
Below: Finale of Ballet. More than 150 artists were involved in performing the ballet, including ballet dancers, musiciians in th eorchestra and members of the chorus.

Photo: Selami Turk.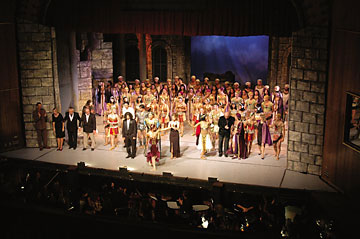 In 1991 Huseinov won a prize in the Japanese Silk Road Competition for his "Concerto for Orchestra:

Traveling Through Time" which led to a commission for the opera, Kodayu (1993), which based on a Japanese sailor's adventures in 18th century Russia.Further evidence of Huseinov's popularity in Japan can be seen in the commission that he received in 2001 from Japanese conductor Yoshinao Osawa to write a work for the Tokyo Symphony.
Editor's Note: Farhang Huseinov, born 1949, passed away in 2010.

Read more: Farhang Huseinov wins Asuncion Prize in Paraguay, 2001.

Back to Index AI 13.3 (Autumn 2005)
AI Home | Search | Magazine Choice | Topics | AI Store | Contact us

Other Web sites created by Azerbaijan International
AZgallery.org | AZERI.org | HAJIBEYOV.com