Summer 2005 (13.2)
Pages 30-31

Hyatt Hotels
10 Years in Baku - Major Milestone in the Service Industry
by Jamila Javanshir





Left: Arif Hashmi, General Manager Hyatt.
On May 19th this year, Hyatt Regency Baku celebrated its 10th Anniversary. It's not just a milestone for them; it represents a milestone in the service industry in Baku as well. It has grown from one renovated building to a huge complex, which is being successfully run by over 600 professionals.

The opening of Hyatt Regency Baku in May 1995 was one of the remarkable events in the business development of Azerbaijan. Hyatt was the first international five-star hotel in Baku. Their presence stimulated extensive development in world-class hospitality infrastructure to cater to the large flow of business travelers to Azerbaijan.

The original historic 40-year-old building which now houses the Regency underwent an impressive renovation in order to provide all the services and facilities demanded by modern business travelers. The remodeling of the old building was a considerable challenge for the project team. Construction took two years before the Hotel opened its doors on May 19, 1995, in time for the 2nd annual Caspian Oil and Gas Exhibition. President Heydar Aliyev personally attended the opening of Hyatt Regency Baku to give his 'blessing' and to be the first VIP to visit the Hotel.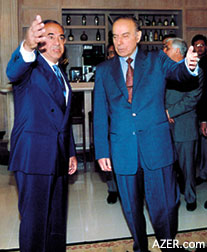 Left: The Park Hyatt complex opened in August 1999. President Heydar Aliyev (right) attended the opening as honored guest of co-owner Paolo Parviz.

The hotel opened with 160 rooms, two restaurants (Beluga Bar and Delicias Restaurant) three meeting rooms (Caspian Rooms). Many of the original features of the building were retained, highlighted by rich fabrics and stunning art work by Azerbaijani artists.

Geared towards business travellers, each room had comfortable working areas, direct international digital phone lines and modem jacks.

Hyatt Regency Baku was also the first hotel to provide executives with an array of communications and secretarial services, including translation, interpreting and computer workstations.

A few months later, Hyatt's extended their dining facilities by opening a Gourmet Shop, which became widely known for its homemade French pastries and freshly brewed coffees and teas. Britannia Pub became a traditional sports pub with a fine selection of draft beers and English comfort food. As the meeting and banquet market expanded, Hyatt Regency Baku found itself at the forefront of the corporate meeting and banquet event circuit.

Conference Center
One year later Hyatt began the construction of the Meeting & Conference Center (780 sq.m.). This included the Guba Ballroom and three additional Conference rooms. Since then the Center has been the host to some of Baku's most memorable events.

Hyatt's Catering and Event Planning has become so popular that it no longer functions on the hotel premises. Hyatt was the first company in town to provide outside catering for both large and small conferences as well as banquets. Whether it was a working lunch in the office, a government conference or gala dinner at the Gulistan Palace, or picnic gathering, Hyatt soon had the ability to take care of everything - food, tables and chairs, set-up and clean-up, enabling the organizer the chance to relax and be a guest at his own event.

Hyatt International Centre
In mid-1999 Hyatt International opened a multi-million dollar, mixed-use development known as the Hyatt International Centre. The complex included the boutique Park Hyatt Hotel, 47 apartments, 8 villas, 14,000 m2 of office space, a 3-storey high-tech Club Oasis Health Club, as well as a 5,000 m2 Entertainment Center, which included the Night Club known as 1033@Izmir Street.




Above: 1. Former Bus terminal where Hyatt Park now stands. 2. The Part Hyatt pool under construction. In the background is the Meeting and Conference which includes Guba Ball Room.
3. View towards International Center Tower 3.

Park Hyatt
Park Hyatt Baku includes 159 deluxe guestrooms, including two floors with exclusive club accommodation. The hotel with its large and comfortable 40 m2 rooms and oversized en-suite bathrooms permeates an aura of luxury and quality, with a setting that is designed to resemble an elegant residence.

However, the construction of a multi-million five-star hotel complex is really not the ultimate success factor of Hyatt Hotels Baku. The most fascinating and, at the same time, the greatest challenge has been to build a strong team of trained staff who can run such a complex operation without compromising the standards of Hyatt's reputation worldwide. Undoubtedly, Hyatt's success in Baku would not have been possible without its people.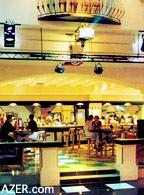 Left: Club 1033 at Izmir. One of the busiest night clubs in town.
The pre-opening management team consisted entirely of expatriate personnel. However, two months before the hotel opened, Hyatt succeeded in forming its first team of 150 staff. Human Resources Department was faced with the gigantic task of training local personnel to become Hyatt Service Professionals.

During the last two weeks prior to the opening of the Hotel, training sessions were conducted all day long. As Hyatt Regency Baku was still under renovation, training had to be arranged either in unfinished rooms or in a secondary school nearby. A three-day familiarization session was conducted for all employees. After that, employees were divided into smaller groups for service skills training, which included a lot of role-playing and on-the-job training.

The majority of employees did not have any previous hospitality service experience. However, the most important criteria for their success was their ability to capture the spirit and culture of Hyatt and to work hard to learn and develop themselves. They wanted to become service professionals and within a short period of time, Hyatt managed to create what they call the Hyatt family, working together to make Hyatt Hotels Baku what they are today.

The success of the Hyatt Regency Baku team was recognized within Hyatt International Corporation. Hyatt Regency Baku was honored with the "Human Resources Excellence Award 1995" - a great achievement for such a new team.

National Staff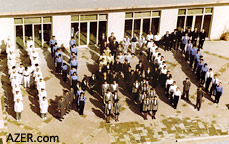 Left: May 1995. Azerbaijan Staff at opening.
Since 1995, the local staff of Hyatt Hotels Baku has expanded to 600 people while the number of expatriate staff has decreased dramatically.

It is amazing to see how many people, who started with Hyatt Regency Baku have developed careers within and beyond Hyatt Regency Baku. In the last few years, Azeri nationals have assumed most of the key managerial positions.

Azeri professionals are also invited to join Hyatt support teams, which are usually formed to help other new Hyatt properties in setting up hotel operation and training employees. Already Azerbaijanis have provided support at the following locations: Hamburg and Mainz (Germany), Zurich (Switzerland), Dubai (UAE), Muscat (Oman), Almati (Kazakhstan), Bishkek (Kyrgyzstan), Seoul (South Korea), Sharm-Al Sheikh (Saudi Arabia), and Hyatt Taba (Egypt),and Mendoza (Argentina).

Awards
In the year 2003, Hyatt Hotels Baku was the third runner up among around 70 Hyatt International Hotels for the 'HYAchiever Excellence Award". This award is based on three key factors: customer focus, employee satisfaction, and financial performance.

Due to rapid business growth, Hyatt continues to employ new personnel. The company works closely with Western University and the Culinary School of Azerbaijan in providing opportunities for professional practice in hotel operation in order to hire the best qualified employees.

Together, the Park Hyatt, Hyatt International Centre, Hyatt Regency Hotel and Hyatt Meeting & Conference Centre, all form a large, centrally located complex that has become a hub in Baku for social and business activities. Hyatt Hotels Baku is grateful to its employees, customers, the local community of Azerbaijan and the hotel owners for their tremendous support during these eventful 10 years.


Back to Index AI 13.2 (Summer 2005)
AI Home | Search | Magazine Choice | Topics | AI Store | Contact us

Other Web sites created by Azerbaijan International
AZgallery.org | AZERI.org | HAJIBEYOV.com