Summer 2005 (13.2)
Pages 90-92

Bolstering the Future
ExxonMobil Committed to Youth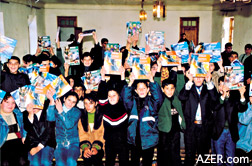 Left: Distribution of Young People's Encyclophedias at the Sabirabad Refugee Settlement at the Community Center built with ExxonMobil funding.

ExxonMobil, the world's leading petroleum and petrochemical company, has been working in Azerbaijan for more than 10 years, where they have been in the forefront among international businesses in their commitment to Azerbaijani youth and education - especially refugee youth.

Dictionaries - Cultural Milestone
One of the very first projects that Exxon undertook was to publish a bilingual Azerbaijani / English dictionary. Ironically, at the exact moment in history when Azerbaijan had gained its independence and youth were clambering to learn English, there were no funds to publish such a significant volume.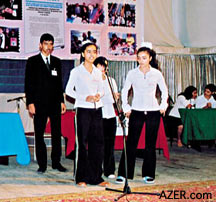 Left: Azeri Language Competition. Young refugees from seven occupied regions (Aghdam, Gubadli, Kalbajar, Fizuli, Lachin, Jabrayil, Zangilan). Afad Gurbanov, renowned Azeri linguist, chaired the judges' Panel.
Exxon stepped in, immediately realizing how important the project was. Professor Oruj Musayev, the compiler of the dictionary, had devoted nearly 25 years of his life in this research. The first volume - Azerbaijani / English dictionary - was published in Cyrillic in 1996. Then ExxonMobil went on to publish two more volumes in the new Latin script. This was essential because one of the first pieces of legislature passed [December 25, 1991] by Azerbaijani Parliament when the country gained its independence was to reclaim the Latin script that had been in use in the late 1920s and 1930s before Stalin imposed the Cyrillic alphabet.

This decision meant that all significant works needed to be republished in the new alphabet - a gargantuan task. So, in 1998, an expanded volume of the Azerbaijani / English dictionary in Latin script came out [45,000 terms, 650 pages].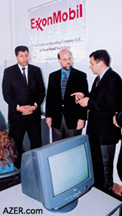 Photo: Internet Resource Center at Bilasuvar Refugee Settlement. Left to

right: Gurban Sadikhov (Cabinet of Ministers), Drew Goodbread (ExxonMobil), Samir Mammadov (Relief International), 2004.
Five years later in 2003, a reverse edition - English / Azerbaijani was published -
a hefty, five-pound volume with 130,000 terms and 1,700 pages.

These dictionaries are, without a doubt, a milestone in the linguistic and lexical history of the Azerbaijani language. Exxon's involvement at that precise moment in time was a determining factor that inspired such work to be done.

Encyclopedias for Youth
Another on-going project since 1999 has been the development of a set of Encyclopedias for Youth. Currently, there are 20 volumes. These are widely distributed throughout schools, especially among children living in refugee settlements, where books are so scarce. Young people there have even used them to successfully prepare for university entrance exams. Professional Azerbaijani writers, artists, and scientists have developed the texts and illustrations.

Seven Schools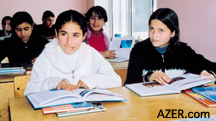 Left: ExxonMobil Books being distributed at the Sabirabad Refugee Settlement.

ExxonMobil has also made significant contributions to Junior Achievement-Azerbaijan, which is committed to educating youth about business, economics and free enterprise.Also with ExxonMobil's support, seven schools have been built in Southern and Central regions: Masazir, Bilasuvar, Beylagan, Saatli along with three schools in Imishli. Relief International and its national NGO partner MADAD Azerbaijan have supervised the construction.

Community Resource Center
Recently, a Community Information Resource Center has been opened in Bilasuvar. The center is equipped with several computers, printers and scanners, and has a 24-hour Internet connection. This center will enhance educational skills and providing access to information technologies.


Back to Index AI 13.2 (Summer 2005)
AI Home | Search | Magazine Choice | Topics | AI Store | Contact us

Other Web sites created by Azerbaijan International
AZgallery.org | AZERI.org | HAJIBEYOV.com