Spring 2005 (13.1)
Page 31

Water Buffalo in Azerbaijan
Prized for Its Milk and Meat
by Dr. Farid Alakbarli
Originally native to Asia, water buffaloes appeared quite early (approximately 600 A.D.) in North Africa and the Middle East. During the Middle Ages, they were introduced into Europe when the Crusaders returned. Outstanding herds are still found in Italy and Bulgaria today. In recent times, water buffaloes have been introduced successfully into Central and South America.



Left: Water Buffalo in foreground; Zebu - humped cattle - in the background. Professor Aghakhan Aghabeyli carried out genetic research that led to the improvement of both breeds.

In Azerbaijan, water buffaloes have been known from ancient times and prized both as work animals and as a source of food - milk and meat. Buffalo steaks are valued more than beefsteaks. Since the 1950s, buffalo meat is also used in the preparation of smoked sausages.

Buffalo milk contains less water but more total solids than cow's milk. It appears thicker than cow's milk because it generally contains more than 16 percent total solids compared with 12-14 percent for cow's milk. Buffalo milk also contains more fat, slightly more lactose and more protein.
Buffalo cheese (Jamish Pendiri) and buffalo yogurt (Jamish Gatighi) are very popular in Azerbaijan. Buffalo yogurt is considered to be the best kind of yoghurt.

Buffalo cheese is pure white, very tasty and nutritious. In many countries, it is revered as the most desirable of cheeses; for example, Mozzarella and Ricotta in Italy, Gemir in Iraq, the salty cheeses of Egypt, and Pecorino in Bulgaria. Genuine Italian Mozzarella cheese is always made from buffalo milk. Recently, Italy has been cooperating with Azerbaijan in producing Mozarella cheese here.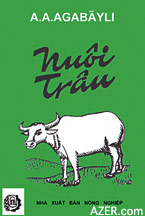 Left: Aghabeyli's book about Buffalo Genetics in Vietnamese.
Dr. Farid Alakbarli works at the Institute of Manuscripts in Baku and has two doctorate degrees - one in Historical Sciences and the other in Biology. His own specialty is medieval medical manuscripts in the Arabic script. To read about the life and scientific contributions of Dr. Aghabeyli's wife, Khadija Aghabeyli, see "Pre-Soviet Era - Growing Up in Baku's Old City" (AI 12.3, Autumn 2004). Contact him: <alakbarli_farid@yahoo.com>.










Back to Index AI 13.1 (Spring 2005)
AI Home | Search | Magazine Choice | Topics | AI Store | Contact us

Other Web sites created by Azerbaijan International
AZgallery.org | AZERI.org | HAJIBEYOV.com