Spring 2005 (13.1)
Pages 69-70

Legends from Azerbaijan
Stone Bride
by Sadnik Pirsultanli

Back to the article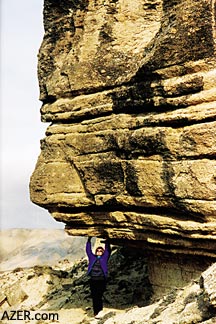 Left: Gobustan is a site where evidence of early civilizations can still be seen today. Located southwest of Baku, it is famous for its petroglyphs depicting early man and animals. Photo: John Connor.

Told by Reza Shahreza oghlu Ismayilov, 90, from Todan Village in the Goranboy region (previously called Shaumyan region).
Once there was a bride who, while washing clothes, wasn't paying attention to her crying baby. At that moment, her father happened to pass by her house. He couldn't understand why his daughter wasn't paying attention to the child, and he started to curse her: "May you turn into a stone! Why don't you comfort your baby?"

After the father had expressed his rage, he looked back and witnessed a terrible scene. The bride, with the baby still in her arms, had turned into stone. The father felt very remorseful for what he had done, but nothing could be undone.

Now when people look at this specific rock, they say: "A father's breath is strong" (Azerbaijani expression). His curse can transform his child into stone or a bird.



Back to Index AI 13.1 (Spring 2005)
AI Home | Search | Magazine Choice | Topics | AI Store | Contact us

Other Web sites created by Azerbaijan International
AZgallery.org | AZERI.org | HAJIBEYOV.com