Spring 2005 (13.1)
Pages 71-72

Legends from Azerbaijan
Mourning Rock
by Sadnik Pirsultanli

Back to the article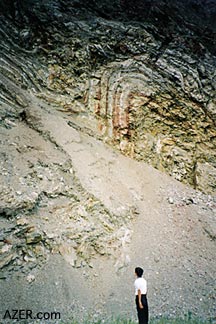 Left: Alti Aghaj (Six Trees) has rock formations that are sometimes referred to as "Candy Cane Mountains". Iron compounds cause the red, cream and pale green coloring. Photo: John Connor.

Told by Govhar Rustam gizi Ahmadova, 90, from Amirvar Village in the Dashkasan region.

In this village, there is a rock located in the middle of a large forest. People call it "the Mourning Rock".

Once a very brave, handsome lad named Alasgar fell in love with the daughter of a rich man. Unfortunately, Alasgar was poor. The girl Alagoz was so beautiful that most of the young men throughout the region had fallen in love with her. One wealthy, but rather stupid, young man especially wanted to marry her. "Wealth seeks wealth" (Azeri proverb); therefore, the girl's father wanted to marry off his daughter to this stupid young man. However, the girl loved Alasgar, who worked all day long on a farm.
Alasgar used to sing this Bayati (folk poem):
May the deer hang out together,
May the nightingales sing with passion,
May my beautiful beloved
Be in my arms right here, right now.
Once Alagoz came to take water from the spring outside the village and she heard Alasgar singing this Bayati. She replied in song:

The deer will hang out together,
Nightingales will sing with passion.
Don't worry, my dear
Your wish will come true.
Alasgar stopped Alagoz as she was returning home with her sahang (a container used for carrying water from the well to home). Alagoz had been wanting Alasgar to propose to her for a long time. After talking for a long time, they agreed to meet at the spring at sunset. Then they would elope and run away. They didn't think that they had any other choice since Alagoz's father was so much against their marriage.

The lovers met at the appointed time and place. But Alagoz's father somehow managed to learn of their plan. The lovers arrived at the rock-their meeting place. Alasgar said: "My dear, when we reconcile with your father, we will build a house right here behind this rock, and we will live in this house."

The girl's father became very angry and came with his people to the rock where the lovers were. He couldn't bear to see his daughter with Alasgar on the top of the rock, so he killed Alasgar with an arrow. He urged Alagoz to return home but, instead, she threw herself down from the rock.

Ever since that day, this rock has been called Mourning Rock, as it bore witness to the death of these two young lovers.


Back to Index AI 13.1 (Spring 2005)
AI Home | Search | Magazine Choice | Topics | AI Store | Contact us

Other Web sites created by Azerbaijan International
AZgallery.org | AZERI.org | HAJIBEYOV.com