Spring 2005 (13.1)
Pages 86-88

BP Current Developments
Production Begins at Central Azeri
by Tamam Bayatli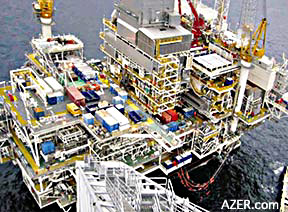 Left: Central Azeri platform view from helicopter.
First Oil production from the Central Azeri development began on February 13, 2005, as part of the Azeri - Chirag - Gunashli (ACG) field, in the Azerbaijan sector of the Caspian Sea.

President Ilham Aliyev of the Republic of Azerbaijan inaugurated the First Oil from the newly built Central Azeri production, drilling and quarters platform at an offshore ceremony on February 18. This event signaled the official beginning of oil production from the Azeri - Chirag - deepwater Gunashli (ACG) Full Field Development.

Located in approximately 128 metres of water 100km east of Baku, Central Azeri (CA) production began from the first of 10 pre-drilled production wells. Two weeks later on February 28, the second well was tied in. These two wells were previously completed, tested and suspended. They have a production potential in excess of 30,000 barrels of oil a day each and will be progressively ramped up into the facilities. These first two wells are a subset of the 10 pre-drilled production wells. BP as operator of the field development plans to bring all 10 wells into production during 2005.

Production will increase through 2005 as the other pre-drilled wells are brought online, prior to further platform drilling over the coming years. Total production from Central Azeri is forecast to be some 35 million barrels in 2005 (equivalent to an average of 93 000 barrels of oil a day).

"The start up of Azeri is an exciting moment both for Azerbaijan and BP as operator of the ACG Project," said David Woodward, BP's Associate President in Azerbaijan. "It signals the beginning of oil production from the ACG Full Field Development, and the culmination of many years of planning, construction and operations delivery."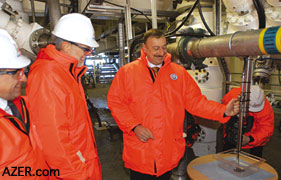 Left: President Ilham Aliyev opens the tap for the First Oil from Central Azeri Platform. BP Azerbaijan President David Woodward and SOCAR President Natig Aliyev look on.
"A team of more than ten thousand people, across many countries has been working on this project over the past three and a half years. I would like to congratulate the government, our partners, employees, all the contractors and suppliers and every person involved in this achievement."

The Central Azeri facilities comprise a 48 - slot production, drilling and quarters (PDQ) platform, a 30 - inch oil pipeline and a 28 - inch gas pipeline from CA to the Sangachal Terminal, expansion of the existing onshore terminal at Sangachal. The development is designed to process 420,000 barrels of oil a day.

In addition to the PDQ, a compression and water injection platform (C&WP) will be installed in Central Azeri in the third quarter this year and bridge - linked to the PDQ to create a major offshore complex encompassing accommodation, drilling, production, processing, compression and re-injection facilities. Oil from Central Azeri will be transported via a new 30 - inch subsea pipeline to the onshore Sangachal Terminal, which has been expanded to receive the additional oil volumes from the ACG field, including three newly built crude storage tanks. Processed oil from Sangachal will initially be transported to market via existing export routes, and through new export routes once the Baku - Tbilisi - Ceyhan (BTC) pipeline is operational later this year.

Gas produced from Central Azeri, beyond that used for reservoir pressure maintenance and fuel, will be exported via the new 28-inch subsea pipeline into the Sangachal Terminal gas processing facilities. From there the gas will be transported, via a newly built gas export pipeline into the Azerigas system for domestic use.
The ACG Production Sharing Agreement (PSA), signed in September 1994, covers the 30-year development of the Azeri - Chirag - Gunashli contract area. It is estimated that 5.4 billion barrels of oil will be recovered during the PSA period. The field is being developed in several phases: Chirag has been producing since 1997 as part of the Early Oil Project (EOP). This has now been followed by Azeri Project Phase 1 - Central Azeri production. Successive phases include West Azeri and East Azeri as Azeri Project Phase 2, scheduled to come on stream in 2006 and 2007 respectively, with ACG Phase 3 - deepwater Gunashli, now sanctioned and expected to begin production in 2008.


Above: 1. Hot oil heater radiant shell, convection box, internal tubing and stack flange erected. 2. Construction of Local Switch Room 4.
The export of Central Azeri crude oil started from the Sangachal terminal on March 3 and took just over two weeks to reach Sangachal terminal where it was treated to achieve the required specifications before it entered the export system. Oil from Sangachal will initially be transported to market via existing export routes, and through new export routes including the Baku - Tbilisi - Ceyhan (BTC) pipeline, which will become operational later this year.

BP Invests Locally




BP recently signed an agreement with the local company BMI - 2 for construction of a new fabrication workshop and upgrade of its facilities. Under this agreement, BP will provide them with a $245,000 loan. The loan covers technical assistance and investment in the local company and is aimed at supporting BMI - 2 in its efforts to align its work practices and capabilities with international standards. Both BMI - 2 and BP have a common interest in developing local capacity in the fabrication services area.

The selection of BMI - 2 for this investment project was conducted by BP through its engineering contractor AMEC. The selection process included visiting seven local companies and inspecting their facilities. Before making the final decision to invest in this company, BP together with AMEC carried out a rigorous market analysis and BMI - 2 was seen as the most promising candidate.

The selection was also based on two additional factors: BMI - 2 is a 100 percent privatized local company that has applicable facilities to provide BP and partners with medium-sized fabrication services. It also has the potential to expand with appropriate technical assistance and investment.

This is viewed as a pilot project for a future supplier financing initiative that BP is currently looking into. The success of this project will depend on BMI-2's ability to perform in accordance with both high technical and non-technical standard.

Community Involvement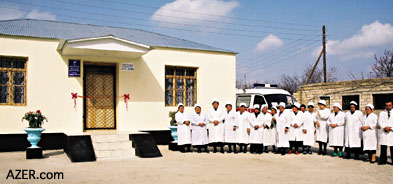 Above: The new community clinic opened in Aran (Yevlakh) which was funded by the Community Investment Program of the Baku - Tbilisi - Ceyhan (BTC) and Southern Caspian Pipeline (SCP).
The Azerbaijan International Operating Company (AIOC) has continued to support local schools around the Sangachal Terminal. As part of this support, AIOC recently implemented a project, which covered 160 sixth graders from all of the four schools located in the Garadagh district where the terminal is based, including three schools for children from internally displaced families from the Karabakh war, temporarily living in the Sahil settlement and the Umid refugee camp. The project was aimed at supporting the schools in their efforts to improve the standards of the teaching process and to provide more opportunities for schoolchildren from needy families to visit places of interest in Baku and tour children's entertainment facilities.

The project started on January 11 and lasted until the beginning of February when children were taken on educational trips to the National Zoo. Altogether eight 7-hour trips were arranged with groups comprised up to 28 children per trip, accompanied by their schoolmasters and representatives of the Parents' Councils and AIOC.

The project covered children who represented the Sangachal Village School No 222, and the refugee camp schools, which include Umid School No 294, Lachin District School No 7, Fuzuli District School No 49. On March 16, the Baku-Tbilisi-Ceyhan (BTC) oil export and South Caucasus Pipeline (SCP) gas export pipeline projects opened a newly constructed clinic in the Aran settlement of the Yevlakh district. This was part of their Community Investment Programmes (CIP). The clinic will serve as a new source of high quality health care for more than 5,000 residents of the central part of the Yevlakh district.

Construction of the new clinic started in December 2004 and lasted three months. Local residents were involved in the construction works and a medical staff of four doctors, two midwives and five nurses were provided with permanent jobs.

The four - room facility offers comprehensive primary health care services including: ob-gyn, adult medicine, pediatrics, laboratory, health educational and dental screening. In addition, special electro-cardiogram and laboratory training were arranged in Baku for the medical staff of the clinic.

"Prior to the founding of this clinic, we did not have access to proper medical services," said one of the Aran residents. "We used to have to travel to the district hospital for many tests and services. It was so inconvenient, especially for older people."

"We are so pleased to be able to expand the availability of proper medical care here in Aran," said Elmi Gadimov, the chief doctor at Aran. "The need for care is tremendous and is growing every day. This new clinic is a wonderful option for the Aran residents. They can now receive high quality health care without leaving the settlement."

Access to health care is a significant problem in some of the districts of Azerbaijan. The people in need of medical care often do not receive proper treatment because of limited medical facilities and limited means of transportation to district hospitals. Many of the facilities that do exist are not in good condition and lack basic laboratory and other medical equipment.

To help address these regional health care problems, BTC/SCP started a two-year Integrated Community Health Development Project (ICHDP) in July 2003 as part of their Community Investment Program (CIP). The project is implemented by International Medical Corps (IMC) which is successfully working in communities in all regions along the two pipelines. As a result of this project, 20 clinics have successfully been constructed and rehabilitated, and more than 40 physicians have acquired new skills as well as being provided with necessary medical equipment.


Back to Index AI 13.1 (Spring 2005)
AI Home | Search | Magazine Choice | Topics | AI Store | Contact us

Other Web sites created by Azerbaijan International
AZgallery.org | AZERI.org | HAJIBEYOV.com