Spring 2005 (13.1)
Page 83

Books
Caucasian Albanian Script





Left: Dr. Zaza Aleksidze (also Alexidze)
Photo: Betty Blair
In 2003, Azerbaijan International published a major article featuring the momentous discovery and decipherment of the Caucasian Albanian alphabet by Dr. Zaza Aleksidze, Director of the Institute of Manuscripts in Tbilisi, Georgia. Search AZER.com for "Caucasian Albanian Alphabet: Ancient Script Discovered in the Ashes" by Zaza Aleksidze and Betty Blair, AI 11.3 (Winter 2003).

Since then two books (Georgian and Azerbaijani) have been published that outline the details about this incredible, modern day discovery of an ancient alphabet that was used in the territory, which is now Azerbaijan.

The books (nearly identical in content) provide an analysis (identification and decipherment) of the original lower layer of the Georgian - Albanian palimpsest, which was discovered in St. Catherine's Monastery on Mt. Sinai (Egypt). Dr. Aleksidze identified these documents to be part of a Christian Lectionary (Service Book) written in the Caucasian Albanian script which probably dates back to the 5th century making it one of the earliest Lectionaries known to exist in the world.


| | |
| --- | --- |
| | |
Above: New books in Georgian and Azeri describing the process of discovery and decipherment of these ancient scripts by Dr. Aleksidze.
The Caucasian Albanian script has been identified as the language spoken by the Udi people who still exist today, although in small numbers. They live in the villages of Nish and Oghuz in the foothills of the Caucasus mountains in northern Azerbaijan and also in the village of Oktomberi in eastern Georgia.
Research is continuing on this issue. Recently the German company Volkswagen provided a grant to purchase equipment highly specialized in reading palimpsests.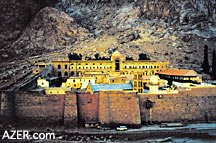 Left: St. Catherine's Monastery in Mt. Sinai, Egypt, where the parchments of the 5th century Caucasian Albanian Lectionary were found.

Dr. Zaza Aleksidze (Tbilisi), Dr. Jost Gippert (Frankfurt), Dr. Jean Pierre Mahé (Paris) and Dr. Wolfgang Shulze (Munich) are in the process of preparing the entire text (facsimile with the transcription and translation). The conclusive results of this research are scheduled to be published in Brussels in 2006.


These books will be of interest to a wide variety of scholars in Caucasian studies, as well as those interested in ancient scripts, liturgical and Biblical studies, and Sinai antiquities.

Georgian: Caucasian Albanian Script, Language and Literature: Discovery in St. Catherine's Monastery on Mt. Sinai by Zaza N. Aleksidze. Tbilisi: Biblical Theological College, 2003. 224 pages, paperback. ISBN 99940-755-1-9.

Azerbaijani: Qafqaz Albanlari Dillandilar (Caucasian Albanians Spoke) by Zaza Aleksidze. Tbilisi: Artanuji Publishing House, 2003. 129 pages, paperback. ISBN 99940-11-61-8. E-mail: zaza_Aleksidze@hotmail.com.


Back to Books
Back to Index AI 13.1 (Spring 2005)
AI Home | Search | Magazine Choice | Topics | AI Store | Contact us

Other Web sites created by Azerbaijan International
AZgallery.org | AZERI.org | HAJIBEYOV.com